Covia 2022 ESG Report: Leveraging Best Practices in Environmental Management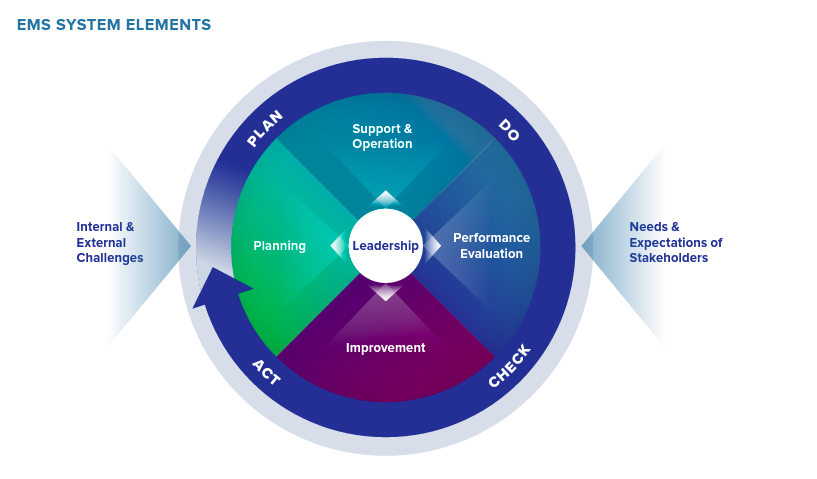 Our dedication to operating sustainably is firmly embedded in our company culture, and we believe that understanding and managing our environmental impact necessarily guides WHERE WE'RE GOING. We have adopted proactive policies and initiatives aligned with our environmental stewardship objectives to help identify areas of importance and detailed expectations for our Team Members and business partners. The framework used to develop our EMS can be applied in other critical aspects of our business, including Safety & Health and Quality Management, furthering our alignment with international standards.
Our Environmental Statement outlines our comprehensive approach to protecting and preserving the environment and defines our obligations to:
Conform with applicable environmental requirements and industry standards;
Understand our potential impacts on the environment to minimize risks and liabilities; and
Practice responsible land management throughout the life cycle of our operations.
We incorporate environmental targets into our leadership compensation structure, as well as our company-wide performance review processes, to help us better track progress and incentivize advancement of our environmental stewardship priorities.
We expect all Covia Team Members and business partners to comply with this statement, and we regularly evaluate performance to ensure we are operating in alignment with our environmental stewardship objectives. Additionally, we promote regulatory compliance at each of our sites through rigorous oversight practices and by fostering a culture of accountability among our Team Members.
Our Environmental Management System 
We remain committed to continuous improvement with respect to our environmental performance and are focused on driving consistency across our systems and processes to meet the needs of our business and our stakeholders. In 2022, we began the phased rollout of our new Environmental Management System (EMS), based on the internationally accepted ISO 14001 standards. The new system, which we developed and finalized in 2021, enables improvements in overall environmental performance by providing:
Enhanced predictability, consistency, and efficiency in managing our environmental obligations;
Effective targeting and allocation of our environmental management resources;
Proven frameworks for high-impact activities, such as pollution prevention, land management, and water usage; and
Standardized data collection and reporting mechanisms to effectively measure, monitor, and share progress with our stakeholders.
A comprehensive risk assessment and gap analysis resulted in the deployment of the new EMS at five sites in 2022: Elco, Illinois; Tamms, Illinois; Marston, North Carolina; Canoitas, Coahuila; and Lampazos, Nuevo León. We plan to continue the EMS rollout process to additional sites over the course of 2023.
Continuous Improvement Efforts Help Advance Environmental Performance 
For several decades, Covia has maintained a sharp focus on continuous improvement to enhance our operational performance, foster innovation, and importantly, reduce our environmental footprint. Each year, we track improvement projects across our sites, identifying the specific issues to be addressed, solutions implemented, and project outcomes. In 2022, we completed 130 improvement projects across our footprint, with approximately half of those projects contributing to progress against our Goals that Inspire.
"Covia's Continuous Improvement Process (CIP) originated within the Operations department in 1989. Since then, CIP has expanded its impact across the company and demonstrated its value over and over again. CIP is a process-driven, long-term strategy that will continue to sustain the innovative culture we are building to support our plans for significant future growth." – John Quinn, Quality Director, Ottawa, IL
Clean Industry Certification in Mexico 
In accordance with our focus on environmental compliance and continuous improvement, our Ahuazotepec, Puebla; Tlaxcala, Tlaxcala; and Lampazos, Nuevo León plants continue to maintain the Mexico Clean Industry certification.
This is an independent, voluntary environmental compliance assessment program that seeks to safeguard the country's ecological balance.
The environmental audits conducted at each of the three plants focus on evaluating the respective site's environmental management system, as well as environmental compliance and alignment with best practices in the areas of water usage, waste reduction, energy efficiency, soil conservation, air quality, and protection of natural resources.