Vanishing No More: Restoring a Dying New York Wetland With Community Volunteering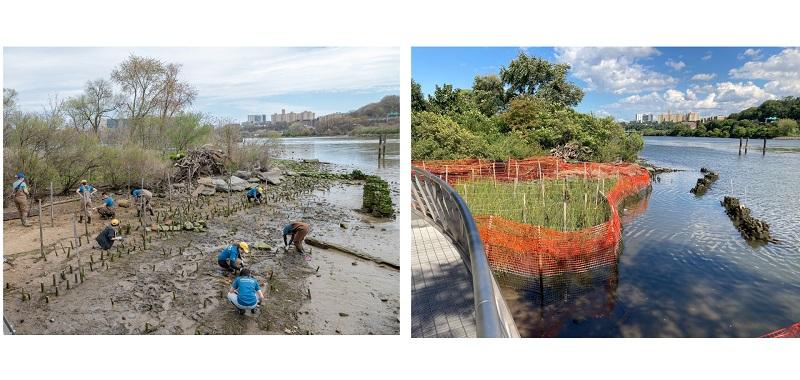 Wetlands at Sherman Creek Park – Before and after successful establishment and growth of marsh grass plantings. Photo Credit: Craig Warga (L), Ben Hider – benhiderimages.com (R)
New York Harbor is cleaner and healthier than it has been in many years and the recent sightings of dolphins and whales are good indicators of the renewed health of New York City's waterways. Among the many reasons for these improvements are the local community organizations working to protect and restore our ecosystem of rivers, estuaries, and wetlands that support diverse wildlife in our waters and help mitigate the impacts of climate change. Bloomberg partners with a number of nonprofits around the world to support our environment through local action, including New York Restoration Project (NYRP).
Sherman Creek Park, a once illegal dumping ground along the Harlem River is now one of the few thriving wetlands in New York City, thanks to the intervention of the team at NYRP alongside groups of volunteers. Wetlands are crucial in the fight against climate change as it is estimated that they can sequester ten times more carbon than tropical forests. For decades, wetlands had disappeared dramatically in New York with only about 10 percent of its historic freshwater wetlands remaining, according to the Natural Areas Conservancy.  At the heart of NYRP's wetlands restoration work was the immediate threat of climate change-induced erosion taking over parkland in the neighborhood.
NYRP introduced an ecosystem-based solution called a living shoreline in 2020 consisting of an artificial oyster reef with specialized concrete blocks called Oyster Castles and native plantings to build a new habitat. This unique solution slows water levels and allows the water to deposit sediment naturally. To support the habitat, NYRP enlisted hundreds of local community and corporate volunteers to help remove nearly 25,000 pounds of trash and 17,280 pounds of compostable materials. Volunteers also planted dozens of native shrubs and ground cover. 
"Building a resilient shoreline that will improve the park and habitat for years to come has been an incredible experience. We could not have done it without Bloomberg and we think it's a great example of how to adapt more of NYC's shoreline in the years to come," said Jason Smith, NYRP's Director of Northern Manhattan Parks.
In the spring of 2022, Bloomberg employees helped plant 3,000 spartina grass plugs as part of ongoing conservation efforts to protect the park and restore the wetlands. These native marsh grasses, alongside the adjoining artificial oyster reef, are seeing positive changes and growth that are encouraging for the community. There's an increase in blue crabs and snapping turtles in the area. Bloomberg employees will continue to lend a hand by helping remove invasive plants and clear the shoreline of debris to help NYRP continue their incredible transformation of one of Manhattan's last remaining wetlands. Today, Sherman Creek Park and the Living Shoreline serve as an outdoor classroom welcoming hundreds of visitors from the surrounding community including local schools in Washington Heights.
Around the world, Bloomberg employees helped support wetlands by volunteering locally with a diverse range of nonprofit partners doing incredible work to protect our waterways, parks, communities, and planet. In California, we joined the Friends of Ballona Wetlands to help revitalize the last coastal wetland in Los Angeles – Ballona Creek. We also partnered with Save the Bay to clean up the wetlands along the Martin Luther King, Jr Shoreline in Oakland. Employees in Washington DC joined the Anacostia Watershed Society for a Wetland Restoration Workday in the wetlands of Kingman Island. In Baltimore, we teamed up with the  Living Classrooms Foundation at the East Harbor Campus. In Miami, we joined the 40th Anniversary Baynanza Cleanup in Biscayne Bay, and in Brazil, we joined our environmental partner Limpa Brasil in Sao Paulo. Employees in Asia also helped maintain the Pulau Ubin mangrove in Singapore, the Arakawa wetlands in Tokyo, the wetlands in Nanji Hangang Park in Seoul, and the Pak Nai wetland area in Hong Kong. In addition, employees in Sydney volunteered at Duck Pond at Centennial Parklands, in London at the Perivale Meadow Wetlands in London, and in Dubai at the Ajman Al Zorah mangrove. Throughout all of these projects, employees helped remove invasive phragmites plants and other invasive species, as well as debris that would otherwise end up in the wetlands, on our beaches, and in the ocean. In many cases, we also helped plant native wetland grass and plants to help grow and revitalize the native habitat.
Volunteering locally to support the organizations around the world working to maintain and  restore coastal wetlands is just one important piece to achieving a cleaner and safer planet for future generations. 
At Bloomberg, we're tackling the climate crisis from every angle. Find out more about how Bloomberg Philanthropies is working to fight climate change around the world by turbocharging the clean energy transition, protecting the ocean, and supporting sustainable cities.