Stephanie A. Smith Named as One of Savoy Magazine's Most Influential Executives in Diversity & Inclusion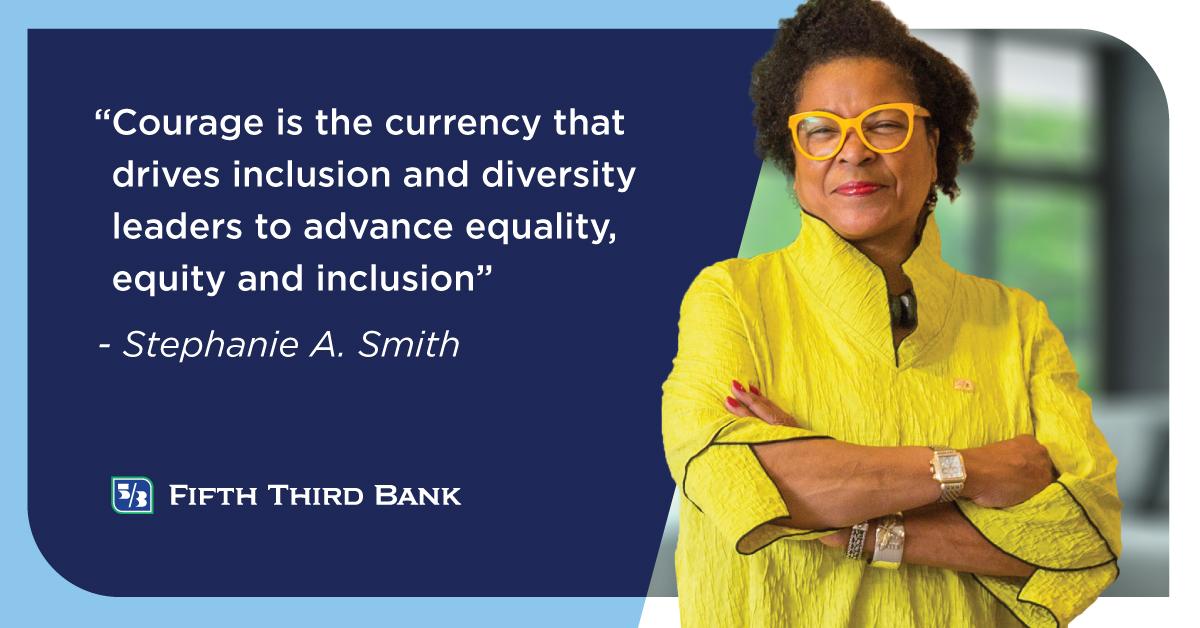 CINCINNATI, March 9, 2023 /3BL Media/ – Stephanie A. Smith, chief inclusion and diversity officer for Fifth Third Bank, National Association, has been named as one of Savoy magazine's 2023 Most Influential Executives in Diversity & Inclusion. The list comprises executives who have made a positive impact in corporate diversity in some of the world's leading corporations and organizations.
With more than 20 years of expertise, Smith is responsible for executing a holistic internal and external strategy that supports Fifth Third's employees, customers and communities. Her oversight includes inclusion and diversity programming for the Bank's enterprise and regional business resource groups, regional inclusion councils, supplier diversity, Project Search, neurodiversity and strategic sustainability initiatives, among others. Under her leadership, the Bank's spending with diverse suppliers increased by more than 900%. With numerous recognitions, she is leading Fifth Third's transformation in delivering long-term sustainable value, both internally and externally. 
Smith also has been recognized as one of Savoy Magazine's Most Influential Women in Corporate America, the National Diversity Council's 2020 Top 50 Chief Diversity Officers, and she won Career Mastered Magazine's 2020 Career Mastered Diversity Leadership Award. Through her leadership Fifth Third has been named as a 2023 America's Top Corporations for Women-Owned companies by the Women's Business Enterprise Council, the Best of the Decade list by Minority Business Network magazine, and the National Minority Supplier Development Council's Forefront 50 Award for leveling the playing field for minority businesses.
"Savoy is proud to present the 2023 Most Influential Executives in Diversity & Inclusion," Savoy CEO & Publisher L.P. Green II said. "These innovative trailblazers have led proactive efforts to positively impact corporate diversity and inclusion for some of the country's highest-performing companies throughout and beyond the U.S. market We offer congratulations and appreciation to these executives recognized for their inspiring leadership and for leading by example."
The full 2023 Most Influential Executives in Diversity & Inclusion list is available online at www.savoynetwork.com, through which the spring issue may be purchased. The magazine also is available nationwide via Amazon.com.

About Savoy
Savoy magazine is a quarterly, national publication covering the power, substance, and style of African American lifestyle. From business to news, sports to entertainment, design to technology, Savoy is a cultural catalyst that highlights timely topics and drives positive dialogue on and about Black culture. Connect with Savoy on Twitter – www.twitter.com/savoynetwork, Facebook – www.facebook.com/savoymagazine and LinkedIn – www.linkedin.com/company/savoy-magazine.

About Fifth Third
Fifth Third is a bank that's as long on innovation as it is on history. Since 1858, we've been helping individuals, families, businesses and communities grow through smart financial services that improve lives. Our list of firsts is extensive, and it's one that continues to expand as we explore the intersection of tech-driven innovation, dedicated people and focused community impact. Fifth Third is one of the few U.S.-based banks to have been named among Ethisphere's World's Most Ethical Companies® for several years. With a commitment to taking care of our customers, employees, communities and shareholders, our goal is not only to be the nation's highest performing regional bank, but to be the bank people most value and trust. Fifth Third Bank, National Association is a federally chartered institution. Fifth Third Bancorp is the indirect parent company of Fifth Third Bank and its common stock is traded on the NASDAQ® Global Select Market under the symbol "FITB." Investor information and press releases can be viewed at  www.53.com.

CONTACT
Tiffaney Hardy (Media Relations)
Tiffaney.Hardy@53.com | 513-534-0162