Kimberly-Clark's Alison Lewis and Lori Shaffer: Embrace Equity and Stay True to Yourself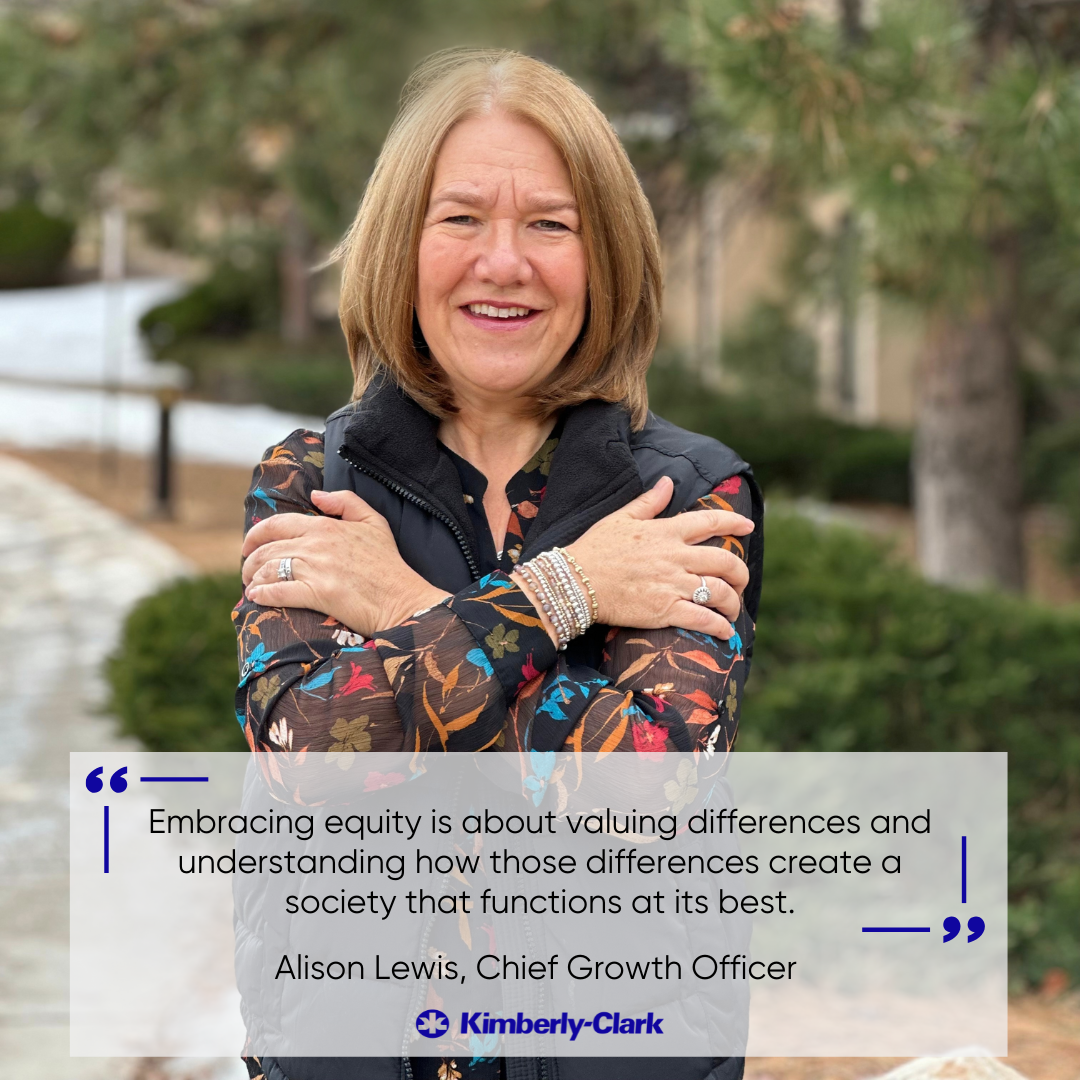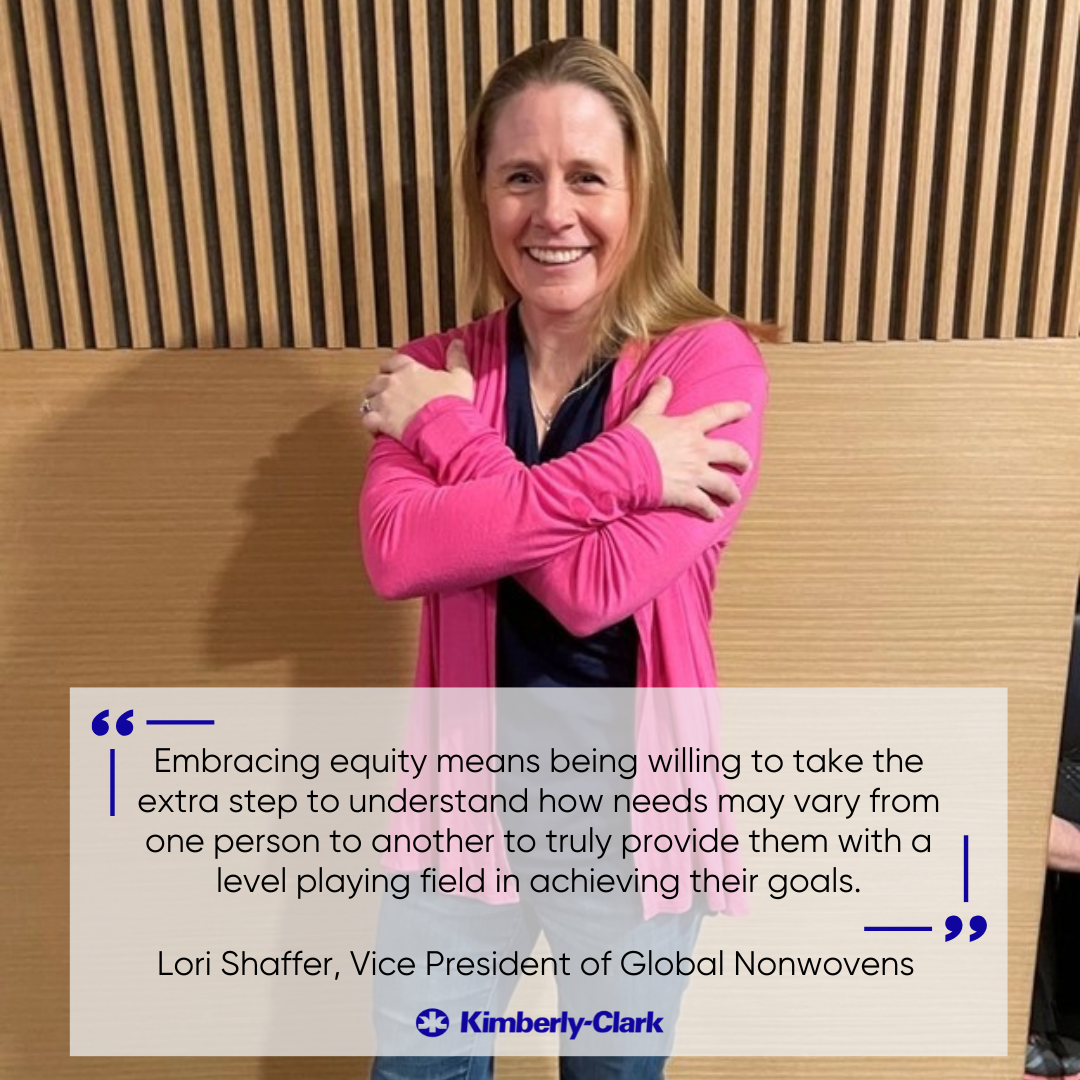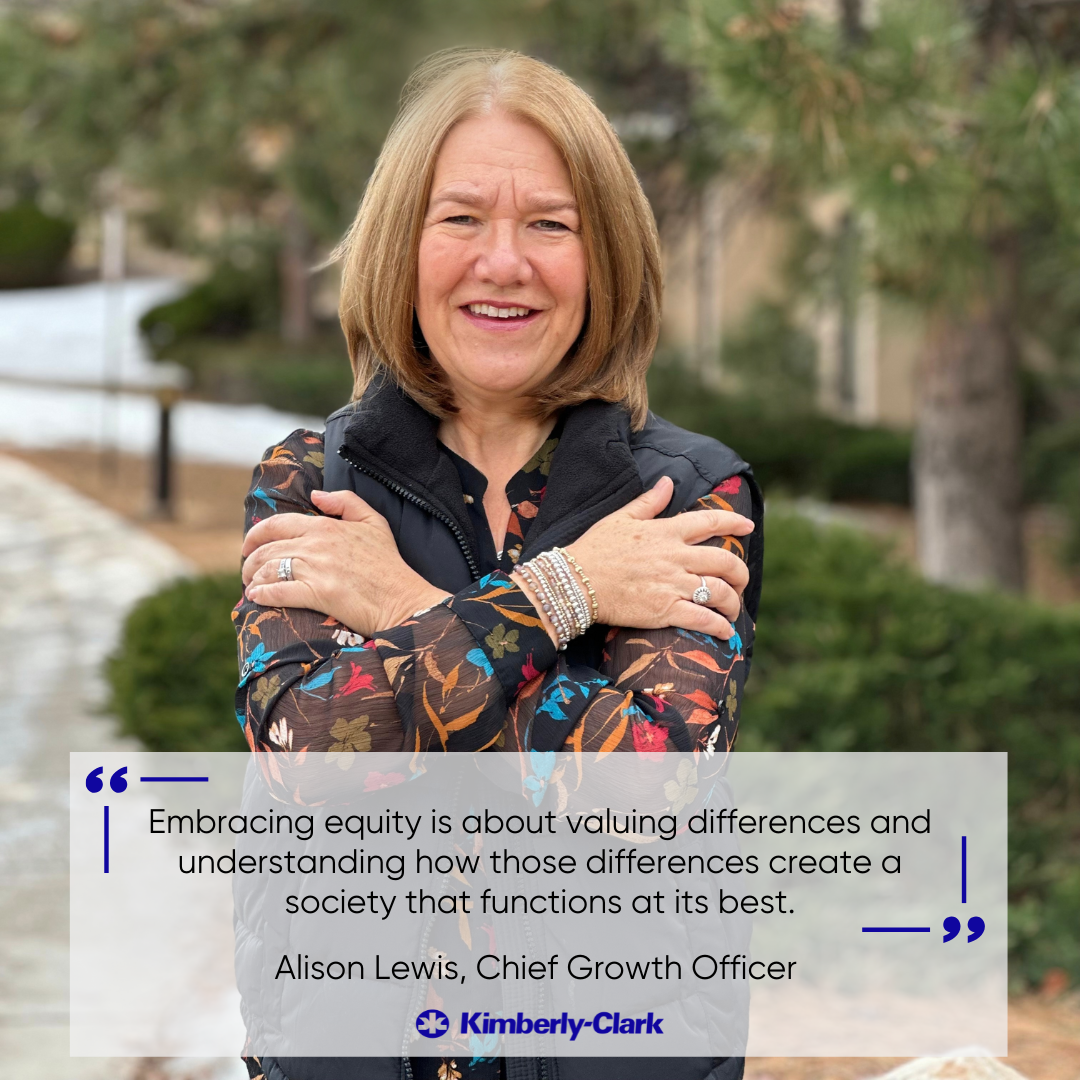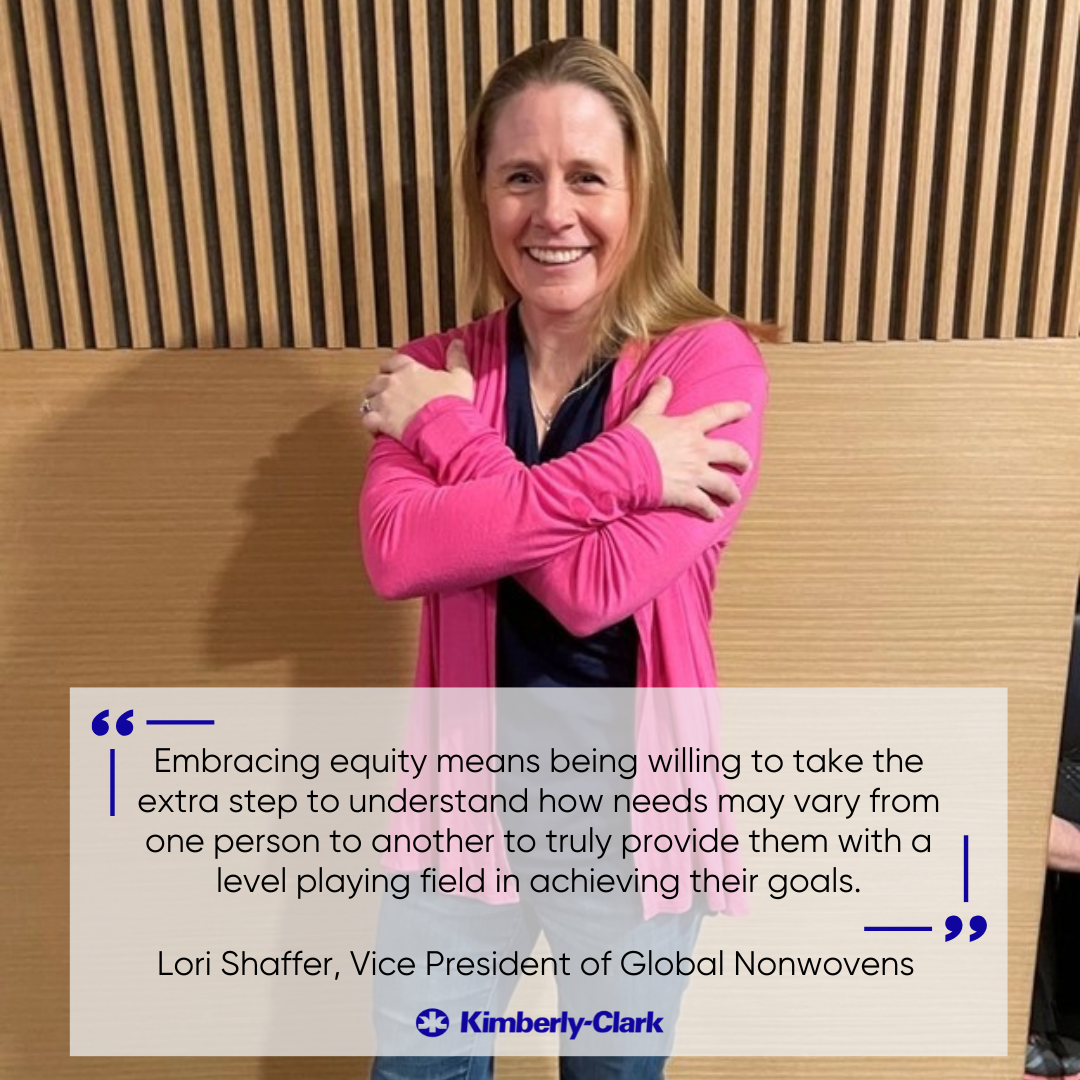 Alison Lewis, Kimberly-Clark's chief growth officer, and Lori Shaffer, the company's vice president of global nonwovens, are committed to driving positive change for women and girls around the world. In honor of International Women's Day, we spoke with Alison and Lori about the power of embracing equity, steps that organizations can take to better support women in the workplace and at home, the women who inspire them, and what they hope for moving forward. 
This is part 1 of a 2-part series – part 2 runs on March 7 
 
Q: Why is International Women's Day important to you? 
AL: I grew up in a Canadian household where my parents and grandparents both believed I could achieve anything I wanted. As a child, I played with race car toys and hockey sticks. No one thought I should only play with dolls and pom-poms, and that was over 50 years ago!
Throughout my life, I've been surrounded by men who understood that women are just as important and as capable as them. I'm also a mother of three boys, and I know they've seen (and fully support) women's equity and equality because it's their norm.
I am where I am today in my career because of my former male managers who believed in me, lifted me up and gave me opportunities to grow. Some of my career choices have also been possible because my husband stayed home to care for our boys. Shared accountability between men and women is critical, whether it's related to parenting, juggling dual careers, etc.
LS: I have three kids, including two daughters ages 12 and 5 – because of them, I'm driven to continuously work to break down barriers and make situations more equitable for women so they'll have less of a battle in front of them when they grow up. It's important to bring to light the challenges facing women, and that's something I talk about often with my daughters.

Q: This year's International Women's Day theme is #EmbraceEquity. What comes to mind when you hear this? What's the difference between equity and equality? 
AL: Embracing equity is about valuing differences and understanding how those differences create a society that functions at its best. Countless studies show that societies that embrace equity have a greater chance of higher gross domestic product (GDP), productivity and general well-being. Equality implies similar treatment of all people, but equity recognizes each person's different circumstances and provides them with what's needed to succeed.
LS: Embracing equity means being willing to take the extra step to understand how needs may vary from one person to another to truly provide them with a level playing field in achieving their goals. For example, it may be that a stepping-stone for career success might involve taking on a role at some stage that requires travel.
While this role may be open to all, implying equality, it may present unique personal challenges for a single mom with small children. Understanding this and being willing to provide support – such as creative childcare solutions – takes more effort on behalf of the employer, but it creates equity by recognizing that each person may need something different to succeed.

Q: Can you tell us more about the social programs through which Kimberly-Clark is partnering with local nonprofits and global NGOs to advance gender equality around the world?
LS: Millions of women and girls are stigmatized and discriminated against simply because they menstruate, and many women and girls miss work and school when they're on their periods. Kimberly-Clark's Kotex® She Can Initiative works to ensure a woman's period never stands in the way of her progress by fighting the barriers caused by period stigmas, promoting access to education, and helping open doors so women gain equal opportunity.
We're partnering with NGOs around the world, including Plan International and Girl Up, to eliminate period stigma, deliver critical menstrual hygiene education, and uplift women and girls, and these efforts ultimately connect to our purpose of Better Care for a Better World. In partnership with Plan International, we reached 1.8 million individuals across eight countries in 2022 with our menstrual hygiene management programs. These programs, which took place in Brazil, Colombia, China, Nigeria, Vietnam, India, Peru and Guatemala, educated girls, boys, teachers, parents and community members.
Last year, our Kotex® Peru team partnered with Plan International to develop the 'Normalicemos lo Normal' (Let's Normalize Normal) campaign, which aimed to normalize menstruation and combat misconceptions. This successful campaign included digital actions (social networks), billboards, radio and television interviews, press releases, videos, and a social experiment with a television spotlight, ultimately reaching thousands of people across the country with critical information about menstruation.
In 2022, we also launched a partnership with Girl Up in Chile and Argentina. Together, Girl Up and the Kimberly-Clark Foundation are providing leadership training and tools for girls to become gender equality advocates and activists for education around period poverty and period stigma. As part of this, we are actively engaged with the Girl Up Alumni Mentorship Program, where mentors (including several Kimberly-Clark employees) spend six months helping mentees advance their leadership skills along with their educational, career and personal goals – all while building a supportive and long-lasting connection.
In addition to the She Can Initiative, I love our partnership with HATCH NextGen where we sponsor girls in underprivileged areas of the U.S. so they can participate in a guided science, technology and math (STEM) program focused on addressing challenges in their respective communities. This year-long program includes monetary support as well as mentoring to ensure these girls have the resources required to be successful, giving them an opportunity to experience the possibilities of a career in STEM.

Q: How is Kimberly-Clark harnessing the power of data and technology to drive positive change for women and girls? 
AL: The reach of many menstrual education programs is often limited due to cost or stigma. To help lower the barrier to access and reach more people, our Kotex® brand is leading the category in reinventing menstrual health education through a new educational gaming experience that I am so excited about!
Period Planet is a free, immersive adventure game where players demystify the menstrual cycle. The game helps users understand all things related to periods and learn about menstrual cycle misconceptions. Period Planet is an example of self-learning at its best and targets both boys and girls since boys have a key role to play in fighting the stigma. The gamified experience is designed to be engaging for teens today by leveraging popular game formats and incentives.
The game is digital, so users are able to play on their own time, relieving the burden of shame or embarrassment. In addition, the technology is low bandwidth, so the platform is widely accessible to users and doesn't require a gaming system.
The program is also aligned to school curriculum content, and based on the initial soft launch in Australia, the response has been very positive. Period Planet is officially launching in Australia in March, and our Kotex® brand has plans for future launches in other regions as well.