JetBlue Brings "Fly Like a Girl" Event to Fort Lauderdale as Part of Commitment to South Florida
For the 9th Year, JetBlue's Fly Like a Girl Event Fosters Youth Interest in Aviation Careers, Inspiring the Next Generation of Aviators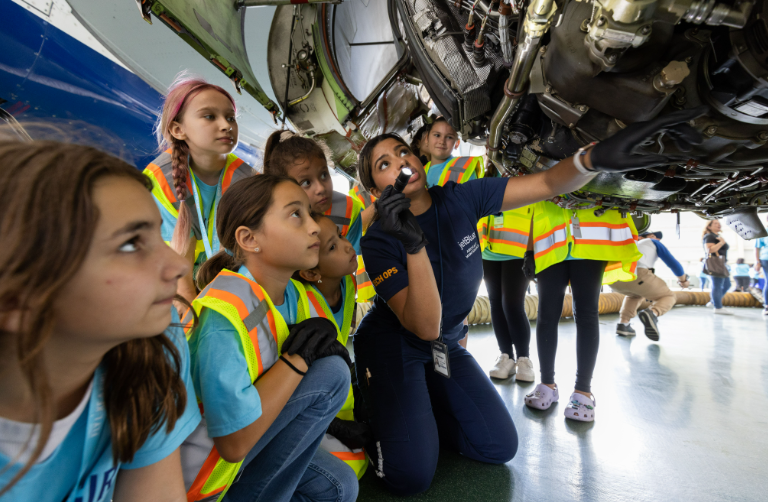 NEW YORK, April 3, 2023 /3BL Media/ - On Saturday, April 1, JetBlue (Nasdaq: JBLU) brought its signature Fly Like a Girl event to Fort Lauderdale, one of the airline's six focus cities, for the first time. Fly Like a Girl events offer girls access to different careers in the aviation industry and the opportunity to learn directly from women crewmembers who help keep the airline running. In partnership with the airline's Women in Flight Crewmember Resource Group (CRG), the Diversity, Equity and Inclusion team, the Corporate Social Responsibility team and the JetBlue Foundation, the event supported more than 100 local youth ages 8-14 as they joined JetBlue to learn more and inspire interest about careers in aviation. The event was led by Ursula Hurley, JetBlue's chief financial officer and president of the JetBlue Foundation, with local government officials, Congresswoman Debbie Wasserman Schultz who represents Florida's 23rd District in the U.S. House of Representatives, and Senator Nan Rich, Vice Mayor Broward County, in attendance.
"We are excited to bring our signature Fly Like a Girl event to our beloved Fort Lauderdale focus city for the first time, furthering our commitments to our South Florida communities and beyond," said Ursula Hurley, president of the JetBlue Foundation. "As we near our 10-year JetBlue Foundation anniversary, we are proud of how far we have come, but realize that our work is far from over when it comes to continuing to break down barriers of entry into careers in aviation. Through our Fly Like a Girl event, we can inspire more young girls to see themselves within the aviation industry and STEM fields by having them interact and learn from our incredible women crewmembers who continue to pave the way for future generations of aviators."
"I commend JetBlue Airways for encouraging young girls to pursue a career in aviation," said Rep. Wasserman Schultz. "Aviation is a field that is traditionally and heavily male dominated. Programs like this one will help expand opportunities for young girls to increase female representation in the industry."
"I'm excited that JetBlue is hosting their signature foundation event "Fly Like a Girl" in Fort Lauderdale for the first time. This event gives children, especially girls, the chance to learn about the aviation industry, and foster their interest in a career in aviation. Congratulations to JetBlue for engaging young girls in this exciting opportunity!" said Senator Nan Rich, Vice Mayor Broward County.
"At JetBlue, we believe every child should have the opportunity to learn about the rich and robust careers within the aviation industry," said Icema Gibbs, vice president CSR and DEI, JetBlue. "One of most proactive ways we can inspire the next generation of aviators is through educational initiatives that encourage students and provide access to pursue STEM paths as early as possible. We are proud to bring our annual Fly Like a Girl event to more communities throughout our network to demonstrate the variety of successful career paths for women and underrepresented groups within aviation, allowing imaginations to soar to new heights."
Fly Like a Girl is JetBlue's annual event that aims to promote interest in Science, Education, Technology and Mathematics (STEM) fields and reach future aviators as early as possible to showcase the various career possibilities in the aviation industry. The airline's commitment to diversity is focused on creating opportunities like Fly Like a Girl across its network. The JetBlue Foundation and JetBlue's Diversity, Equity and Inclusion and Corporate Social Responsibility teams share a common goal of ensuring more women are present in the hangars, airports, corporate offices and boardrooms of the future. Through leading by example, JetBlue's Women in Flight CRG aims to foster and encourage girls to follow a STEM path.
JetBlue's Fly Like a Girl event, held this year at Jetscape Services in Fort Lauderdale, offered girls access to different careers in the aviation industry and the opportunity to learn directly from women crewmembers. The girls not only had the opportunity to interact with women JetBlue crewmembers, but they were also able to board an Airbus A320 aircraft. Guests included students from JetBlue Foundation partner organizations and family members of JetBlue crewmembers. Participants were part of a series of experimental activities, briefings and professional panels with crewmembers from different branches of the airline including pilots, brand design managers, technical operators, and more.
For more information visit jetbluefoundation.org.
This event arrived on the heels of JetBlue's recent announcement of plans for more low-fare, high-value flights in South and Central Florida. After its planned combination with Spirit, JetBlue expects to reach more than 250 flights a day at Fort Lauderdale-Hollywood and 200 in Orlando by 2027, including a long-awaited service between Fort Lauderdale and Tallahassee starting in January 2024. Since making Fort Lauderdale and Orlando JetBlue focus cities, the airline's much-loved experience – with the most legroom in coach (a), free seatback entertainment, free Fly-Fi high-speed internet (b), free snacks, and friendly service – quickly positioned it as a preferred carrier in both regions. JetBlue has a long history of collaborating with Broward County and the Greater Orlando Aviation Authority (GOAA) on projects to grow and to improve the customer experience at each airport, as well as its surrounding communities to pave the way for continued growth in the region in the years to come.
About JetBlue
JetBlue is New York's Hometown Airline®, and a leading carrier in Boston, Fort Lauderdale-Hollywood, Los Angeles, Orlando and San Juan. JetBlue carries customers to more than 100 destinations throughout the United States, Latin America, Caribbean, Canada and United Kingdom. For more information and the best fares, visit jetblue.com.
(a) JetBlue offers the most legroom in coach based on average fleet-wide seat pitch for U.S. airlines.
(b) Fly-Fi® and live television are available on all JetBlue-operated flights. Availability and coverage area may vary by aircraft. Details on inflight wi-fi and entertainment: https://www.jetblue.com/flying-with-us.
Forward Looking Statements
This press release contains various forward-looking statements within the meaning of Section 27A of the Securities Act of 1933, as amended, or the Securities Act, and Section 21E of the Securities Exchange Act of 1934, as amended, or the Exchange Act, which represent our management's beliefs and assumptions concerning future events. These statements are intended to qualify for the "safe harbor" from liability established by the Private Securities Litigation Reform Act of 1995. When used in this press release, the words "expects," "plans," "intends," "anticipates," "indicates," "remains," "believes," "estimates," "forecast," "guidance," "outlook," "may," "will," "should," "seeks," "goals," "targets" and similar expressions are intended to identify forward-looking statements. Additionally, forward-looking statements include statements that do not relate solely to historical facts, such as statements which identify uncertainties or trends, discuss the possible future effects of current known trends or uncertainties, or which indicate that the future effects of known trends or uncertainties cannot be predicted, guaranteed, or assured. Forward-looking statements involve risks, uncertainties and assumptions, and are based on information currently available to us. Actual results may differ materially from those expressed in the forward-looking statements due to many factors, including, without limitation, the COVID-19 pandemic and government-imposed measures to control its spread; risk associated with execution of our strategic operating plans in the near-term and long-term; our extremely competitive industry; risks related to the long-term nature of our fleet order book; volatility in fuel prices and availability of fuel; increased maintenance costs associated with fleet age; costs associated with salaries, wages and benefits; risks associated with doing business internationally; our reliance on high daily aircraft utilization; our dependence on the New York metropolitan market; risks associated with extended interruptions or disruptions in service at our focus cities; risks associated with airport expenses; risks associated with seasonality and weather; our reliance on a limited number of suppliers; risks related to new or increased tariffs imposed on commercial aircraft and related parts imported from outside the United States; the outcome of lawsuits filed against us related to our Northeast Alliance with American Airlines Group Inc.; the occurrence of any event, change or other circumstances that could give rise to the right of JetBlue or Spirit Airlines Inc. ("Spirit") or both of them to terminate the Merger Agreement; failure to obtain certain governmental approvals necessary to consummate the merger with Spirit (the "Merger"); the outcome of the lawsuit filed by the Department of Justice and certain state Attorneys General against us and Spirit related to the Merger; risks associated with failure to consummate the Merger in a timely manner or at all; risks associated with the pendency of the Merger and related business disruptions; indebtedness following consummation of the Merger and associated impacts on business flexibility, borrowing costs and credit ratings; the possibility that JetBlue may be unable to achieve expected synergies and operating efficiencies within the expected timeframes or at all; challenges associated with successful integration of Spirit's operations; expenses related to the Merger and integration of Spirit; the potential for loss of management personnel and other key crewmembers as a result of the Merger; risks associated with effective management of the combined company following the Merger; risks associated with JetBlue being bound by all obligations and liabilities of Spirit following consummation of the Merger; risks associated with the integration of JetBlue and Spirit workforce, including with respect to negotiation of labor agreements and labor costs; the impact of the Merger on JetBlue's earnings per share; risks associated with cybersecurity incidents; heightened regulatory requirements concerning data security compliance; risks associated with reliance on, and potential failure of, automated systems; our inability to attract and retain qualified crewmembers; our being subject to potential unionization, work stoppages, slowdowns or increased labor costs; reputational and business risk from an accident or incident involving our aircraft; risks associated with our reputation and brand; our significant fixed obligations; our substantial indebtedness; financial risks associated with credit card processors; restrictions as a result of our participation in governmental support programs; risks associated with seeking short-term additional financing liquidity; failure to realize the value of intangible or long-lived assets; risks associated with disease outbreaks or environmental disasters affecting travel behavior; compliance with future environmental regulations; the impacts of federal budget constraints or federally imposed furloughs; climate change; changes in government regulations in our industry; acts of war or terrorism; global economic conditions or an economic downturn leading to a continuing or accelerated decrease in demand for air travel; and risks associated with the implementation of 5G wireless technology near airports that we operate in. It is routine for our internal projections and expectations to change as the year or each quarter in the year progresses, and therefore it should be clearly understood that the internal projections, beliefs, and assumptions upon which we base our expectations may change prior to the end of each quarter or year. Any outlook or forecasts in this press release have been prepared without taking into account or consideration the Merger with Spirit.
Given the risks and uncertainties surrounding forward-looking statements, you should not place undue reliance on these statements. You should understand that many important factors, in addition to those discussed in this press release, could cause our results to differ materially from those expressed in the forward-looking statements. Further information concerning these and other factors is contained in JetBlue's filings with the Securities and Exchange Commission, or SEC, including but not limited to, JetBlue's 2022 Annual Report on Form 10-K and Quarterly Reports on Form 10-Q. In light of these risks and uncertainties, the forward-looking events discussed in this press release might not occur. Our forward-looking statements speak only as of the date of this press release. Other than as required by law, we undertake no obligation to update or revise forward-looking statements, whether as a result of new information, future events, or otherwise.
JetBlue Corporate Communications
Tel: +1.718.709.3089
corpcomm@jetblue.com
Source: JetBlue