First Analysis of Food Sector Climate Transition Plans Finds Much Progress Is Needed by 2030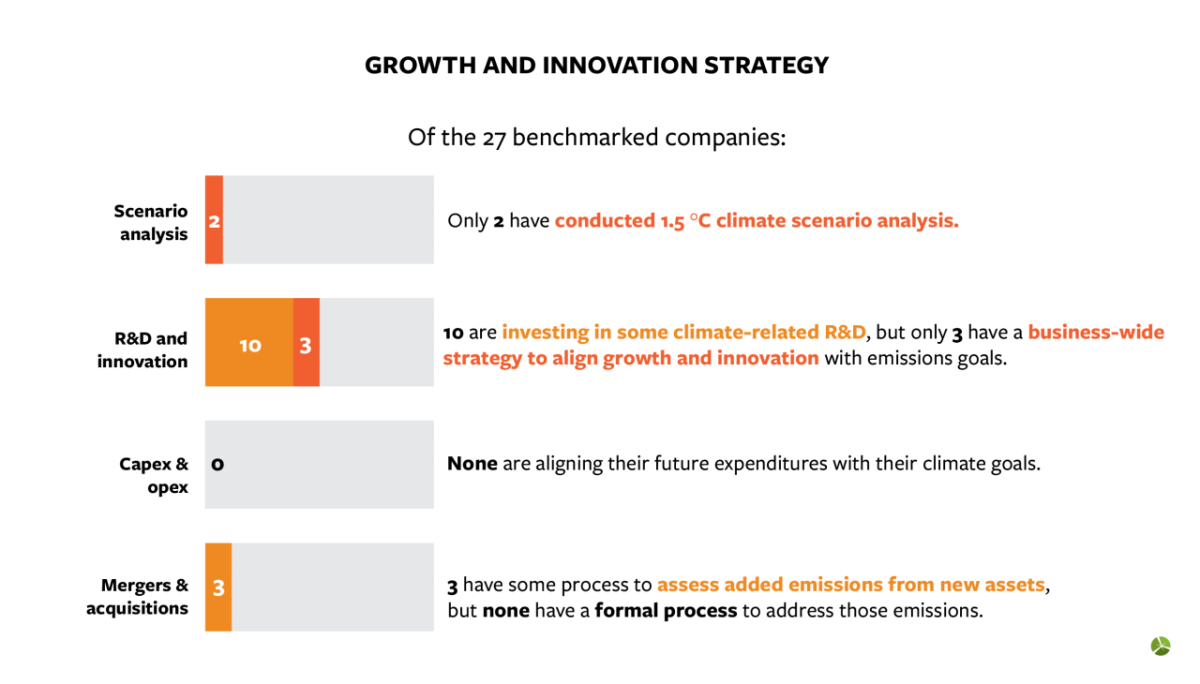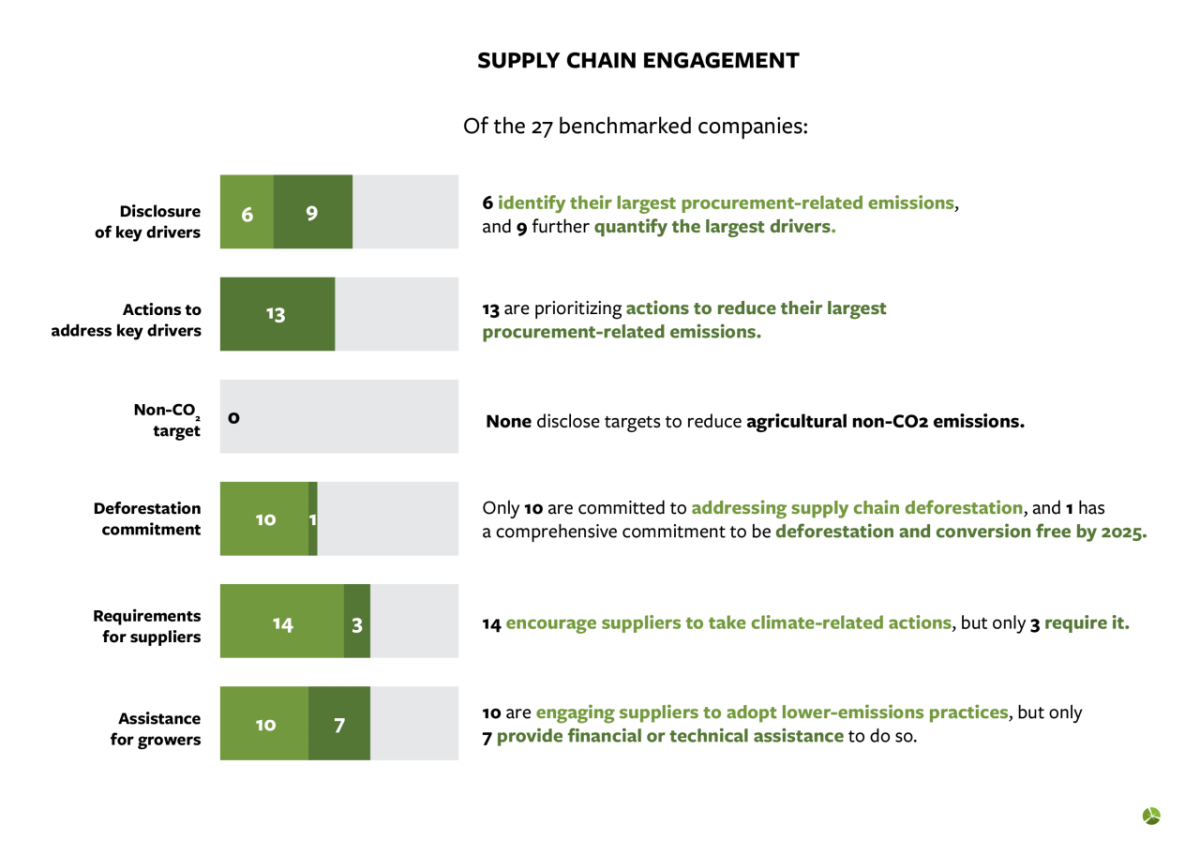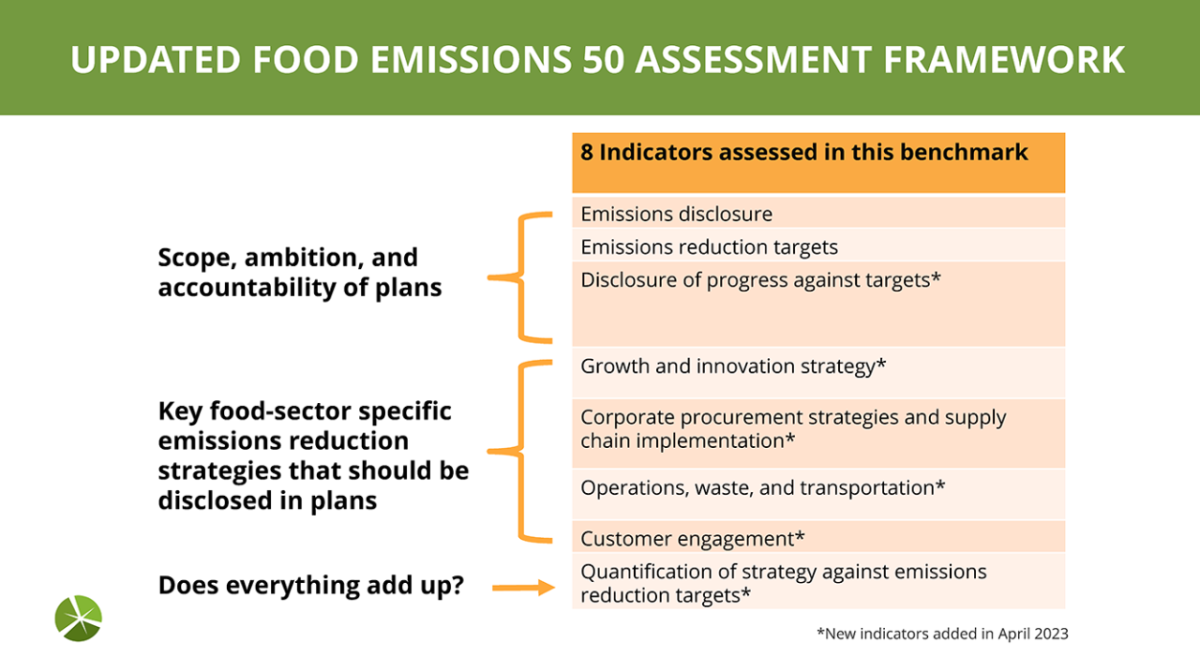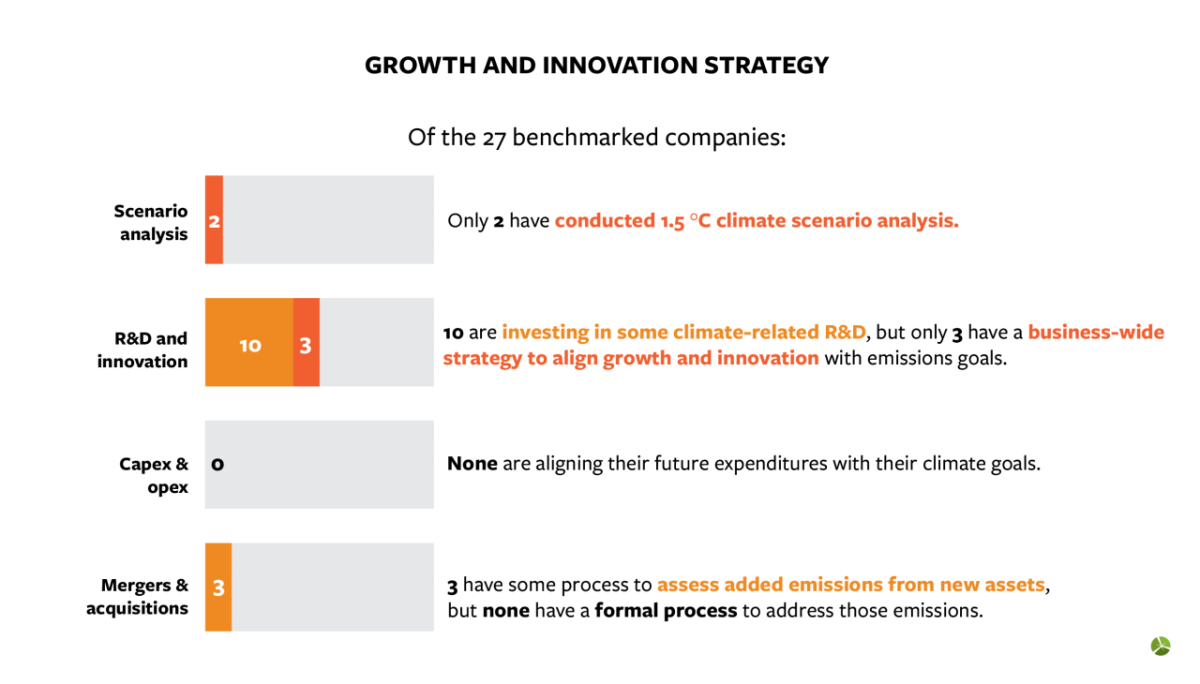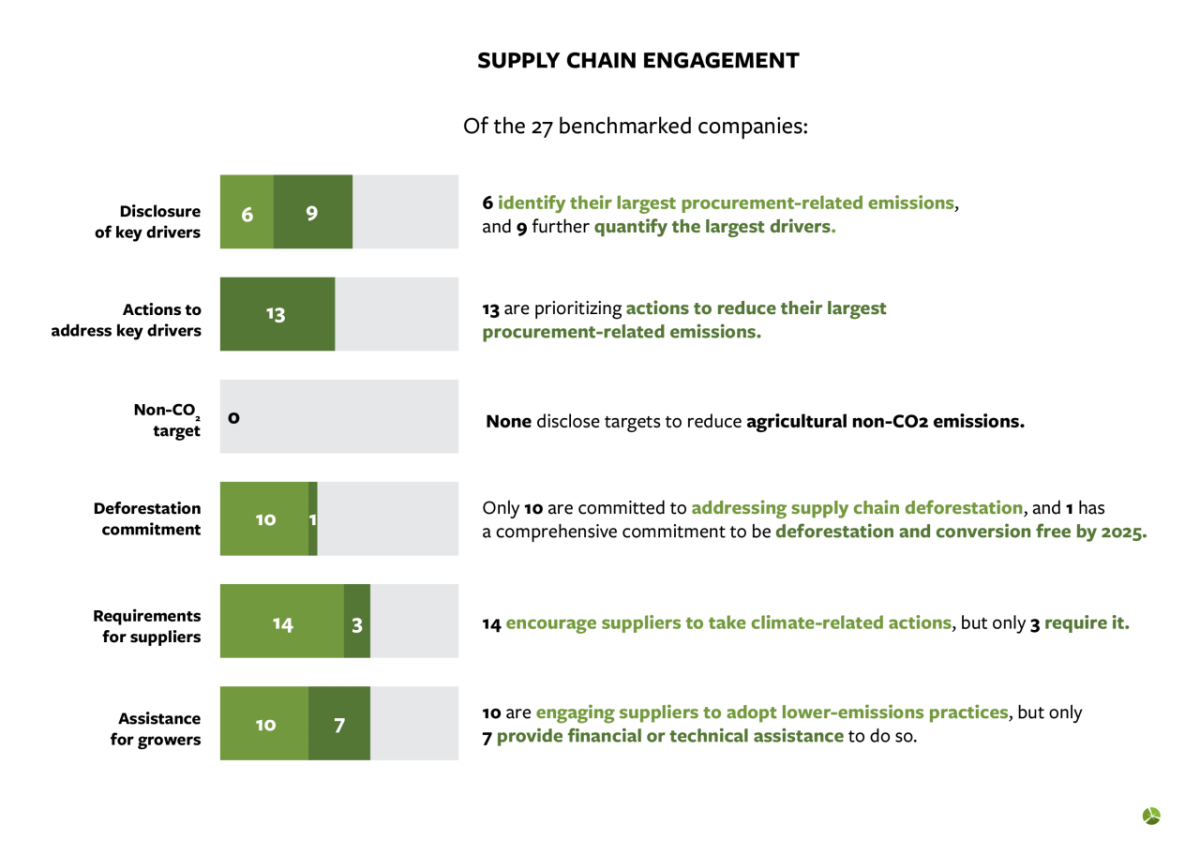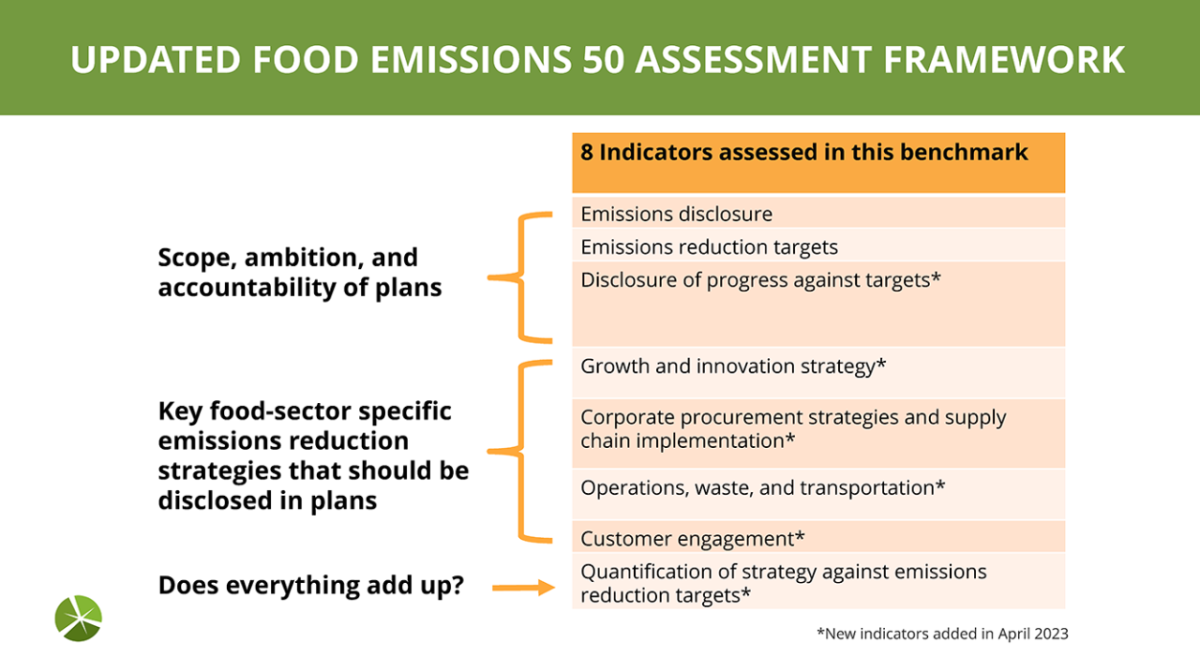 Major food companies are setting ambitious targets to reduce their greenhouse gas emissions, but a new Ceres analysis found that many of them are far from implementing the necessary actions to align with and accelerate the transition to a zero emissions economy.   
For the first time, Ceres assessed whether companies engaged through its Food Emissions 50 initiative are disclosing and implementing key elements of food sector climate transition plans that will help them achieve their public climate-related commitments.  
Only the 27 Food Emissions 50 companies that have disclosed scope 3 emissions from purchased goods and services and have set targets to reduce those emissions were included in this new analysis. This is because these emissions from corporate supply chains account for approximately 80% of food companies' total emissions, and climate transition plans should chart the path a company will take to achieve compressive and ambitious greenhouse gas emissions reduction targets. 
Ceres found that none of these companies are disclosing all elements of climate transition plans needed to assure internal and external stakeholders they will be able to achieve their targets.  
"Our new analysis reveals that though more focus companies are publicly committing to reduce their greenhouse gas emissions, those commitments are not translating into robust and transparent actions that will support fulfilling those commitments at the speed and scale necessary to avoid more catastrophic climate change," said Nako Kobayashi, a manager working on the Ceres Food Emissions 50 initiative and author of the analysis. "Setting goals aligned with a zero emissions economy is a start, but investors and other stakeholders need to know how companies intend to achieve their goals." 
The 27 companies were assessed against six new indicators that are now included in the Food Emissions 50 benchmark framework to track corporate strategies to achieve their emissions reduction targets. The new indicators draw directly from the recommendations in the Investor Guide to Climate Transition Plans in the U.S. Food Sector and cover the distinct areas within a company's business that should be aligned with its emissions reduction targets, including growth strategy, procurement, operations, and customer engagement. 
Ceres assessed companies based on publicly available data. The assessment builds on emerging recommendations for climate transition plans and highlights how companies can leverage existing avenues of corporate disclosure to communicate key elements of their climate transition plan. Though some companies may opt to release a standalone report, none of the Food Emissions 50 companies have disclosed a standalone "climate transition plan."  
The analysis showed that there is a considerable opportunity for the focus companies better align their growth and innovation strategies with a zero emissions future to ensure that they can meet their emissions reduction targets while achieving goals for business growth. Only two assessed companies, Starbucks and Archer Daniels Midland, have conducted a 1.5-degree-aligned climate scenario analysis focused on transition risks, and no companies are explicitly aligning future capital and operational expenditures with climate goals.  
Another important takeaway is that many assessed companies are tackling scope 3 emissions from their supply chains – the source of the majority of emissions in the food sector. This is great progress, but more targeted climate action is needed. Just over half of the assessed companies are identifying the main drivers of emissions in their supply chains. However, General Mills, Mondelez, and Conagra are among the only nine companies that quantify the relative contribution of the different drivers to their overall greenhouse gas emissions footprint. And likely because few companies have assessed or disclosed main drivers, even fewer have concrete commitments tied to these drivers like targets for agricultural methane and no deforestation and conversion policies.   
Notably, none of the assessed companies are publicly quantifying how their efforts will help achieve their emissions targets. Though data availability can be challenging, forward-looking projections are essential for both internal and external stakeholders to understand a food company's path to reach its emissions goals and whether additional actions are needed to address any gaps in current plans.  
"The insights from the Food Emissions 50 benchmark will help investors and the food companies they are engaging with on developing and implementing comprehensive climate transition plans," added Kobayashi. "So, it will be critical for all focus companies engaged in the initiative to estimate the emissions reductions they expect to see from the actions and to adjust their strategy if necessary to achieve their emissions reduction goals by 2030." 
Food Emissions 50 is an investor-led initiative that engages 50 of the highest-emitting food companies in North America to accelerate progress toward a zero emissions future.  
About Ceres 
Ceres is a nonprofit organization working with the most influential capital market leaders to solve the world's greatest sustainability challenges. Through our powerful networks and global collaborations of investors, companies, and nonprofits, we drive action and inspire equitable market-based and policy solutions throughout the economy to build a just and sustainable future. For more information, visit ceres.org and follow @CeresNews.  
Media Contact: Bridget Vis, vis@ceres.org