Female Leaders Share Why Employee Resource Groups Are 'Good for People, Good for Business'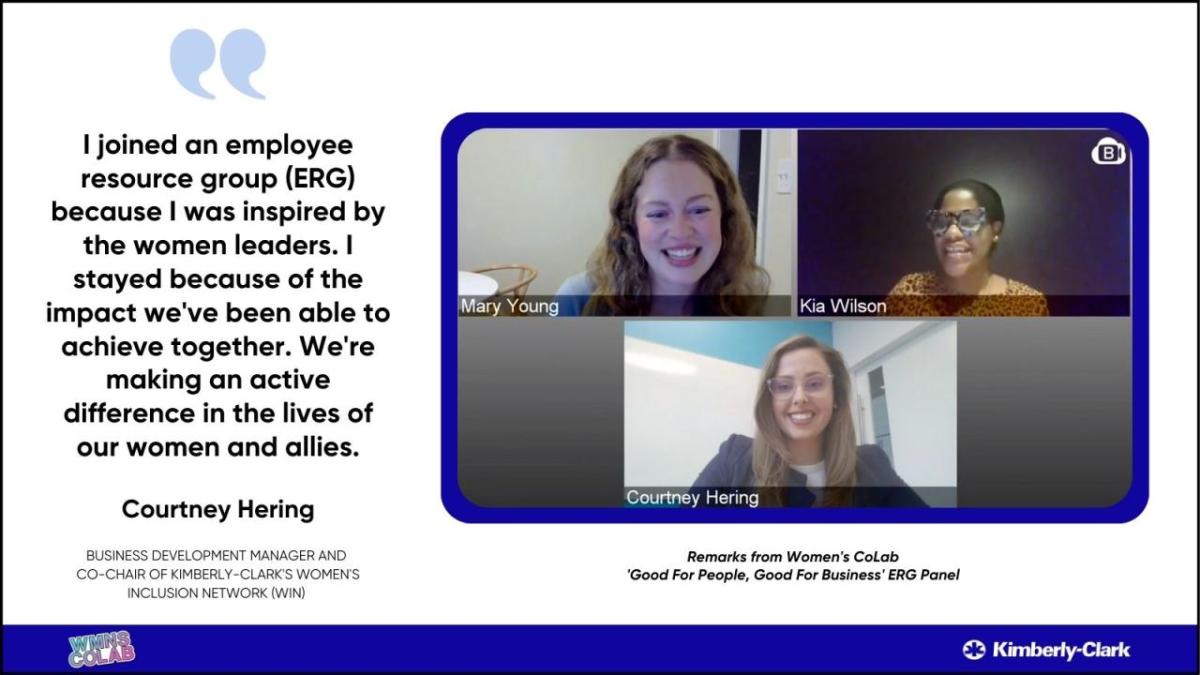 What is the biggest challenge facing working women today, and how can employee resource groups (ERGs) help address it? Courtney Hering, Kimberly-Clark's business development manager and co-chair of the company's Women's Inclusion Network (WIN), recently answered this question during a conversation with female ERG leaders Kia Wilson from Verizon and Mary Young from LinkedIn as part of the Women's CoLab 'Good For People, Good For Business' ERG panel.
Courtney also shared insights she has gained from both participating in and serving as a leader of WIN, the pivots WIN has made to effectively reach female employees across all levels in an ever-changing environment, how to ensure that an ERG's mission and vision are aligned with the needs of the broader organization, and more.
Check out the full ERG panel here.
About Kimberly-Clark 
Kimberly-Clark (NYSE: KMB) and its trusted brands are an indispensable part of life for people in more than 175 countries. Fueled by ingenuity, creativity, and an understanding of people's most essential needs, we're committed to our purpose of Better Care for a Better World. Our portfolio of brands, including Huggies, Kleenex, Scott, Kotex, Cottonelle, Poise, Depend, Andrex, Pull-Ups, GoodNites, Intimus, Neve, Plenitud, Sweety, Softex, Viva and WypAll, holds No. 1 or No. 2 share position in approximately 80 countries. We use sustainable practices that support a healthy planet, build strong communities, and ensure our business thrives for decades to come. To keep up with the latest news and to learn more about the company's 150-year history of innovation, visit kimberly-clark.com