Bank Gives Students Time With Junior Achievement as Part of Innovation Award
Junior Achievement and U.S. Bank have been connected for decades through volunteer events, grant awards and other partnerships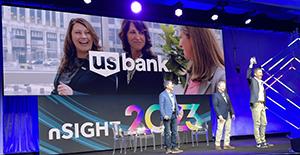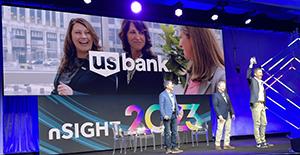 Originally published on U.S. Bank company blog
At the Junior Achievement BizTown simulated city in St. Paul, Minnesota, 80 middle schoolers from Hope Academy were recently given the opportunity to be bankers, relationship managers and even CEO for a day.
Students partnered with U.S. Bank employees to experience real-life financial situations, including running a business, earning a paycheck, and managing debit cards and checking accounts. The educational lessons, immersive activities and active participation in a simulated economy are designed to give students experiences they can draw from for the rest of their lives.
"Junior Achievement is dedicated to empowering young people with the knowledge and skills they need to plan for their future," said Sara Dziuk, Junior Achievement North CEO. "This important work depends on dedicated partners who help increase the impact for students across our region. We are grateful for the time, skills and resources that U.S. Bank provides students and our organization."
U.S. Bank was recently honored with nCino 2023 Financial Services Impact Award, which included giving the bank the opportunity to direct a $5,000 donation to a nonprofit of its choice. U.S. Bank selected Junior Achievement North, and the donation enabled more students to attend the BizTown event.
As an advocate of Junior Achievement USA, Gunjan Kedia, vice chair and head of Wealth, Corporate, Commercial and Institutional Banking at U.S. Bank, has served on the JA USA board since January 2020.
"JA's mission aligns closely with U.S. Bank values and what we strive to deliver to the communities we serve," Kedia said. "We are proud to support JA programming and play an active part in positively changing the lives of young people."
Junior Achievement and U.S. Bank have been connected for decades through volunteer events, grant awards and other partnerships. In 2022, U.S. Bank gave over $1.2 million to Junior Achievement, including foundation grants, employee contributions and local market contributions. In addition, U.S. Bank employees volunteered for more than 4,500 hours with Junior Achievement chapters around the country.
nCino, through its cloud-based platform, is designed to help financial institutions modernize and more effectively onboard clients, make loans, manage the loan lifecycle and open accounts. The Wealth, Corporate, Commercial and Institutional Banking product team at U.S. Bank has led the rollout of the nCino platform for its clients, resulting in recognition for innovation and delivering enhanced customer experiences.
To watch a brief video highlighting Junior Achievement, click the image at the top of this page.