3 Ways Mobile Fueling Helps Your Fleet Do More in a Day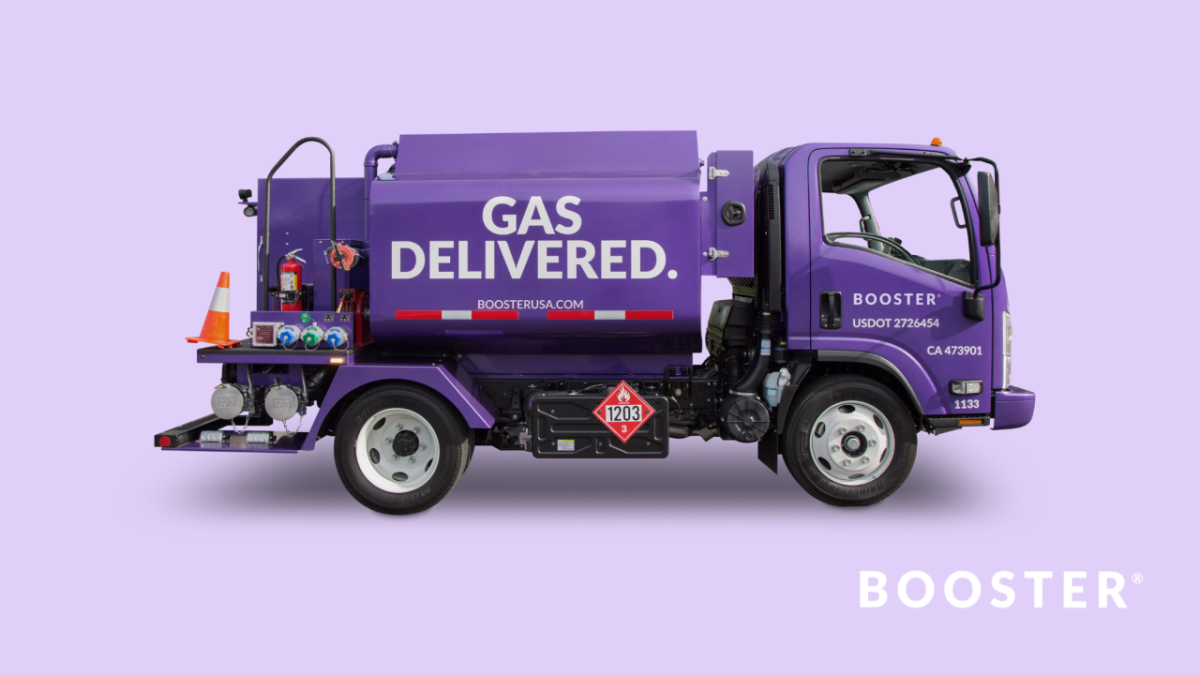 As a fleet manager, you likely face a daily barrage of duties around organizing fueling errands, planning routes, fielding calls from drivers when things don't go to plan, figuring out how to lower emissions while staying profitable; the list goes on. On top of your busy schedule, your drivers are likely pushing to get more done during work hours, especially as demand for last-mile delivery and convenient on-demand services skyrockets. 
We get it — you and your drivers both need more time in the day to focus on the actual business goals you're trying to accomplish. At Booster, we're here to help. Check out these three ways our mobile fueling service can boost your fleet productivity:
1. Give Drivers Some Time Back
One of the most time-consuming tasks a fleet faces each day is fueling. According to Booster customer data, about 61 hours of paid labor per fleet driver are spent going to and from the pump annually — not a great look for fleet efficiency or fleet productivity. But what if you could take this fueling errand out of the equation?
Our mobile fuel delivery platform fuels fleet vehicles on-site during off-hours so your drivers can start each shift with the fuel they need, ready to go. This saves time, simplifies routes, and adds productive hours back into driver days, so they can spend their time on core business objectives like delivering packages or making service calls. It even makes renewable fuels more easily available to fleets eyeing sustainability gains. Plus, mobile fueling with Booster can save fleets $1,600 per vehicle annually on average.
2. Optimize Performance with Data
Another way to unlock unprecedented fleet productivity relies on fleet data insights. Booster's fleet data portal generates detailed reports and analytics that provide valuable insights into fleet operations, fuel usage, and driver behavior to give fleet managers the knowledge to make more effective decisions about routing, fueling, fleet maintenance, and more.
Booster's Fleet Portal also comes with responsive customer care and support. Fleet managers can submit feedback on their Booster service experience and receive product updates, new feature alerts, and maintenance notifications. With this support, fleet managers can stay informed and quickly address any issues.
With this window into fleet performance, fleet managers can optimize routes, identify fuel-saving opportunities, and prioritize maintenance tasks, all contributing to long-term fleet efficiency.
3. Make Financial Management a Breeze
Managing the finances and logistics associated with fueling takes significant time and creates an administrative burden. Many fleet managers still handle billing with paper filing systems and hundreds of fuel transaction receipts. It doesn't have to be this way. 
Booster's platform provides real-time access to billing data, enabling fleet managers to track fuel expenses at a quick digital glance. The platform also allows fleet managers to schedule fuel deliveries in advance and all at once, ensuring that fuel is always available when needed — no route changes are required. By automating fueling coordination and finance management, fleet managers can free up more time in their workdays to focus on critical fleet efficiency tasks like maintenance, safety, and compliance.
Fleet managers should consider implementing these three key strategies to realize significant efficiency gains both in the field and in the office. By outsourcing fueling errands, streamlining finance management, and leveraging data insights, fleet managers can increase productivity at all fleet levels to access budget savings, route optimization, and better driver performance. 
Interested in mobile fueling for your fleet? Visit boosterusa.com.