Webster Bank's Samantha Yang Honored in Profiles in Diversity Journal 2023 Asian Leadership Awards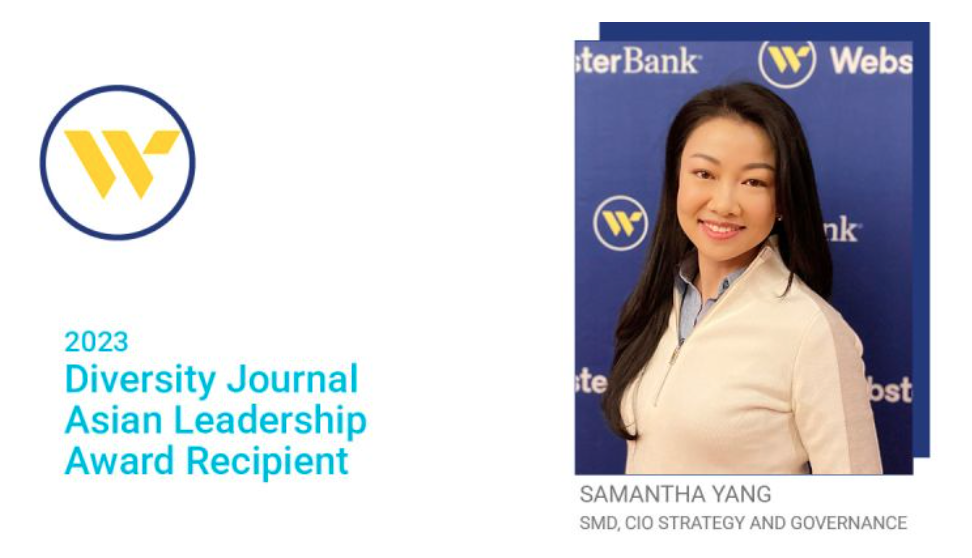 Congratulations to Webster Bank's Samantha Yang for her inclusion in Profiles in Diversity Journal 2023 Asian Leadership Awards. We applaud Samantha for her dedication to our Webster clients, and her commitment to providing mentorship and growth opportunities for the next generation of leaders.
"It's a privilege to be honored in the 2023 Diversity Journal. This award and my commitment to help others in realizing their potentials to grow into future leaders is an outcome of the trust, guidance and coaching I received from numerous mentors," Yang said.
For more than two decades Profiles in Diversity Journal has showcased and honored individuals who have blazed new trails, led the way, mentored others, advanced diversity and inclusion in the workplace and the community, and excelled in their chosen fields.
At Webster Bank, we believe that diversity, equity, inclusion and belonging (DEIB) is critical to our growth and success as a leading commercial bank. This commitment starts with Webster's senior leadership team, who work to ensure that our commitment to DEIB is integrated with the way we do business.
Meeting the increasingly diverse needs of our clients is a key to our long-term success, and having a workforce with diverse backgrounds and experiences better helps our clients and the communities we serve achieve their financial goals.
Our Diversity, Equity, Inclusion and Belonging Council serves as a platform where senior leaders and representatives of our various business resource groups shape the strategy and actions of our DEIB efforts. The Council makes recommendations on ways to integrate DEIB in the areas of education and awareness, talent development, employee engagement, and client and community service.
Congratulations to all this year's outstanding honorees. Read more about Samantha and the other honorees in the Profiles in Diversity Journal.