Webster Bank Corporate Responsibility Report: Office of Corporate Responsibility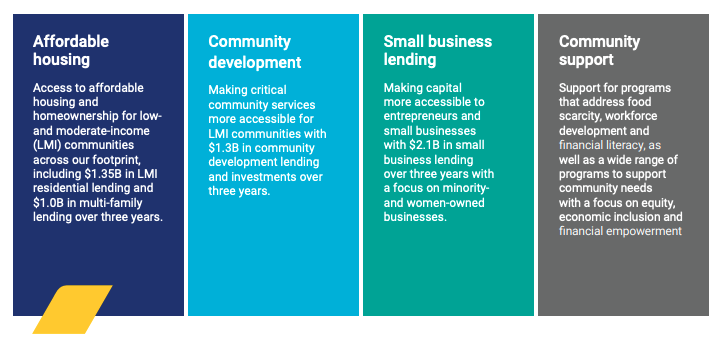 Originally published in Webster Bank's 2022 Corporate Responsibility Report
In 2022, Webster's merger with Sterling National Bank increased our capabilities and scale, allowing us to build on both companies' long-standing records of citizenship, sustainability and responsibility. As part of these efforts, the new Office of Corporate Responsibility (OCR) was established.
Reflecting our shared values of integrity, collaboration, accountability, agility, respect and excellence, OCR manages all community-facing activities across the company, including Supplier Diversity; Community Reinvestment Act (CRA) and Fair and Responsible Banking; Community Investment, Engagement and Philanthropy; Government Relations and Public Affairs; and ESG efforts.
Led by Chief Corporate Responsibility Officer Marissa Weidner, OCR partners with Human Resources to drive our Diversity, Equity, Inclusion and Belonging efforts. OCR also provides oversight of Community Engagement and Philanthropy programs related to Webster's Business Resource Groups.
The OCR oversees Webster's $6.5 billion, three-year Community Investment Strategy, providing opportunities for individuals in our communities to excel. In developing the strategy, Webster worked with more than 100 community groups across the footprint, listening to their needs and concerns.
The Community Investment Strategy has four key focus areas: (see chart above)
Affordable housing
Community development
Small business lending
Community support
Community Liaison Officer Program
Webster's new Community Liaison Officer (CLO) Program was launched in 2022 as part of our Community Investment Strategy. Working in partnership with the Office of Corporate Responsibility, the CLOs provide support and financial education to LMI and minority borrowers. They also work to increase lending opportunities to meet local credit needs, especially for first-time homebuyers. The CLOs cover territory surrounding their base locations in the Northeast, and partner with existing banking centers in their respective territories to provide additional support.
Community Liaison Office video
Webster Finance Labs
The Webster Finance Labs are a signature OCR initiative, designed to help nonprofit partners in LMI communities create opportunities for students to gain the skills needed for economic empowerment and financial success. 
Three Webster Finance Labs were launched in 2022: Yonkers Partners in Education (Yonkers, New York), Eagle Academy Foundation (Bronx, New York) and Wakeman Boys and Girls Club (Bridgeport, Connecticut). The Labs provide support for technology and curriculum, and also offer volunteer opportunities for Webster colleagues. Each Finance Lab is funded with a $100,000 grant from the Webster Bank Charitable Foundation. 
Additional Finance Labs are planned for launch in 2023.
To learn more about Webster Bank's commitment to corporate responsibility, visit our CR webpage.
For full details about Webster Bank's 2022 Corporate Responsibility Report, visit here.