Project Ybá Beekeeping Initiative: Creating a Sweet Path To Empower Amazon Communities
By learning to breed stingless bees, the Amazon rainforest community of Vila Mamorana in Brazil is seeking to find a new route to sustainable earnings.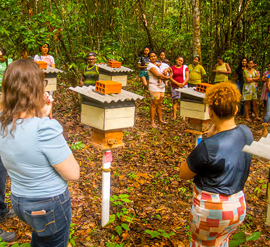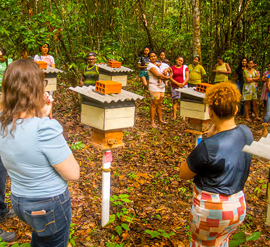 Originally published in Dow's 2022 INtersections Progress Report
In collaboration with the Peabiru Institute, Dow expanded the scope of Project Ybá: Conservation that Transforms to include meliponiculture, or the breeding of stingless bees. Launched in 2021, Project Ybá has empowered an Amazon community surrounding our operations in Breu Branco, Pará, Brazil, by developing a local cooperative that will sell the renewable bioactive products from Dow's rainforest conserved area. The goal is to contribute to increasing community and family incomes while conserving the rainforest. Members of the Vila Mamorana community, formed mostly by women of color, were selected to carry out the sustainable extraction of seeds from the forest – including from the andiroba tree.
The meliponiculture initiative will supplement income from the bioactive harvest and was supported through Dow's ALL IN ERG Fund. For initial production, 50 bee boxes with hives were installed. These have the potential to produce 50 kilograms (kg) of honey by December 2023. If the community chooses to double the number of beehives, honey production could reach 100 kg by the end of 2024.
"With this initiative, we want to contribute to the social development of the community through the production of honey in order to increase the income of these families and promote the conservation of the Amazon rainforest and ecosystem services of the bees," said Ana Carolina Felix, sustainability director at Dow Consumer Solutions for the Americas. "The intention is to empower the community of Vila Mamorana and enable sustainable alternative earnings between andiroba crops. Bio-extractivism and now meliponiculture are pillars of Project Ybá."
The project also promotes the creation of a tree nursery with species that, in addition to increasing food security for these families, are attractive to local bee species. These insects are responsible for the pollination of 70% of the forest's main crops, such as açaí berries and cocoa. In addition, the initiative includes training on biology, bee behavior and beekeeping, environmental education, and entrepreneurial skills for the women participating in the project.