Pride 2023: Your Story, Your Power
Celebrating Pride Month 2023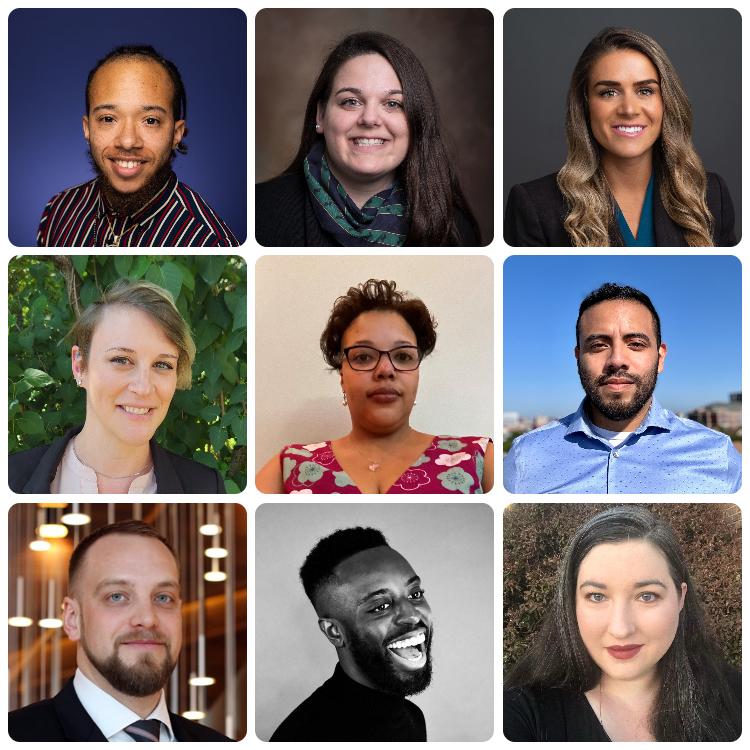 Top to bottom, left to right: Christian Cephas, Emily Davidson, Mary, Louise (ML) Dixon, Jen Fox, Nia Grant, Ronald Mora, Matthias Schmidt, Cory Yeboah, Joie Young-Broin
PRIDE @ T. Rowe Price, our associate-led business resource group (BRG), is hosting an event focused on how inclusive storytelling principles and active listening can help build a safer, more inclusive workplace and support the LGBTQ+ community in the ongoing struggle for inclusion and equality.
As we mark Pride Month as both a personal and communal celebration of visibility, perseverance, and dignity, a few of our associates highlighted the importance of creating space to share their lived experiences as members and allies of the LGBTQ+ community.
Christian Cephas, Administrative Services Team Lead, Technology Business Management
Pride to me means living life every day as my true, authentic self, without the fear or worry of the thoughts and opinions of those around me. I'm a pansexual transgender African American male, and there are so many different boxes that I don't fit into that someone meeting me for the first time would never know at first glance. And honestly, I love it because it has allowed me to enter many spaces that others like me have not been able to join to advocate and educate about the LGBTQ+ community and beyond. I take pride in the many layers of me and hope that I can continue to use my voice and platform to educate others.
Emily Davidson, Brand Historian and Corporate Archivist
Until the Bi-Visibility Day event last year, I felt invisible as an LGBTQ+ person—at work, out in the world, even within the PRIDE BRG—because I'm "just" bisexual and my partner of over five years is a man. When I'm walking down the street holding his hand, I'm being my authentic queer self, but the world sees me as just another heterosexual woman. In the past, when I've been out with a woman, I'm just another lesbian at the farmer's market. I've known who I am for a long time. I'm not confused or closeted. It's not "just a phase." So this year, I've decided to own my identity (even if no one else can see it) and accept that, yes, Pride is for me too.
Mary Louise (ML) Dixon, Regional Investment Consultant, U.S. Intermediaries
All my life I've embraced my identity in communities that tend to be more resistant to change, whether it is living in affluent suburban areas of New England or spending my career in financial services. What I have found is that telling my story not only breaks down stereotypes and misconceptions for those with minimal exposure to the LGBTQ+ community, but it also provides a sense of belonging and validation for those struggling on a similar journey. In light of recent patterns of discrimination across the country, hopefully my voice can help change a few minds to broader acceptance and inclusivity. I take pride in representing a firm like T. Rowe Price that made diversity an initiative long before it was an industrywide trend.
Jen Fox, Client Processing Supervisor
Pride Month remains, for me, a celebration of evolution and understanding in my life. From watching a good friend's mom come out in the 90s, to supporting my sister's fiancé though his transition, I have been able to watch personal stories grow and bloom into beautiful lives. My own narrative was a very quiet one for a long time. Spending my teens and 20s figuring out myself and my relationship to the world as a bisexual woman was challenging, but coming to T. Rowe Price has presented me with an opportunity to not only feel confident in my own sexuality, but also supported by and welcomed into a community. This June, I plan on continuing to hold myself up and make room for others so that we can all bring our full, inclusive selves to our everyday lives.
Nia Grant, Senior Administrative Assistant, Global Information Organization
Pride Month is a celebration of self. After living in the closet for so long, having a whole month dedicated to celebrating, sharing, and loving with the community is everything. Not everyone is able to and not everyone is accepting, so being in a space with loving and supporting friends and families helps to build and maintain our community.
Ronald Mora, Senior Analyst, Data Management and Reporting
To be a first-generation American is to be aware early in life about the disadvantages and privileges you are raised with. The struggles of immigrant parents to pursue a better life were continually acknowledged during my upbringing. While I was raised to understand these disadvantages in reference to myself, as a queer man of color, I had to face new and unknown challenges about my identity without the help of my traditional family. Facing these new struggles forced me to not only grow myself, but to also build my own queer community to share the burden we all face. Throughout all of this, I have repeatedly learned the value of engaging with the LGBTQ+ communities around me to not only support myself, but to help those who find themselves in positions I have encountered. Having the space and support at T. Rowe Price through the PRIDE @ T. Rowe Price BRG allows me to not only learn more from my queer colleagues, but to also continue mentoring and advocating for their goals and challenges.
Matthias Schmidt, Managing Legal Counsel 
Being out and proud is something I wear as a badge of honor. I am extremely happy that I have reached a point in my life in which I want to be my unapologetic self without any excuses. In my life, I have been on different sides of the closet, and this experience taught me that feelings can change and that this is OK as long as you stay true to yourself and that you don't forget that it's your life and your story and you don't need to justify it to anyone but yourself. My advice to everyone is: Love yourself, be yourself, and enjoy life because it's great. Happy Pride!
Cory Yeboah, Brand Marketer
To me, Pride is an act of resistance through queer joy. It's our collective, unapologetic moment to bask in the sun regardless of whatever hate or circumstances we face. My journey to living authentically was dark and marred with shame and self-doubt. Even when I did come out, I still felt like I had to put myself in a box to be accepted. It wasn't until I found safe spaces where I could truly be seen that I came to understand the power of being me unapologetically.
Joie Young-Broin, Compliance Specialist, Special Correspondence Group
Pride, in many ways, was a foreign concept to me when I was just coming out, because, like so many people in the community, I had been taught that who I was was something to be ashamed of. Instead of announcing who I was "loud and proud," I whispered my truth with fear and hope. My time at T. Rowe Price has been a big part of my journey to fully embracing Pride; it is the first workplace where I felt able to be fully out. The individual and institutional support I received was, in many ways, life changing. It wasn't always a grand gesture; in fact, it was mostly small showings of support and quiet conversations. Small steps transforming into revolutionary changes, mutual support, and a vast supply of hope—that's what Pride means to me.
As we celebrate Pride Month and other celebrations of diversity, we invite you to learn more about our diversity, equity, and inclusion initiatives and how our differences bring us together at troweprice.com/diversity.