New Holland's Precision Farming Tech Inspires Mongolian Farming Community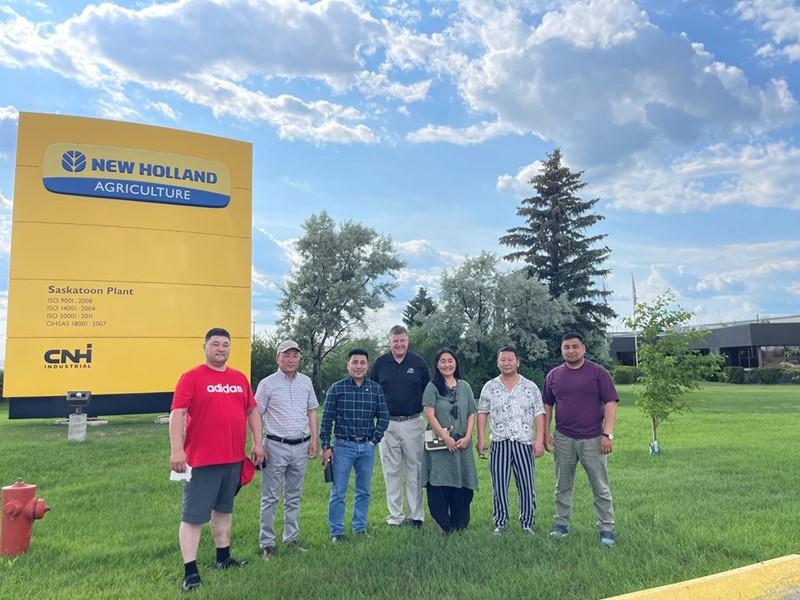 Ensada organized a tour to the New Holland plant in Canada, where learning about the precision air drills proved to be a promising solution to lack of rainfall for crops in Selenge province.
Ensada Tractron LLC – Developer of Agribusiness recently lead a tour of a New Holland plant (a brand of CNH Industrial) in Saskatoon, Canada. Though Ensada has organized several international tours for its local farmers in Mongolia in recent years, this particular visit provided a glimpse as to how Mongolia's agriculture sector can improve sustainable production through precision farming technologies.
More than 40 percent of the country's grain is grown in the Selenge province. However, crop production has recently been hindered by environmental obstacles, driving a growing interest for agri-tech solutions among the Mongolian farming community.
"In Selenge, farmers face challenges due to limited rainfall and need for an efficient way to conserve water and soil. Seeing farmers here in Canada successfully combat similar issues using New Holland's tractors, combines, and especially the precision air drills, has been inspiring. These machines enable farmers to practice no-till farming, conserving soil moisture and preventing soil erosion, both of which are critical for our farms back home," said Batnasan Dorlig, CEO of Shuren Taria LLC, one of the visiting farmers.
At the CNH Industrial facility in Saskatoon, the group was introduced to the cutting-edge production technology behind New Holland's precision air drills, GPS-guided tractors, soil analysis and crop monitoring technology. Renowned for implementing world-class manufacturing (WCM) processes, the New Holland Saskatoon plant also houses a ground-breaking research and development center.
"New Holland not only understands the needs of farmers but also builds top-notch machinery to fulfil those needs. The production of the air drill was extraordinary - it is truly a masterpiece of technology and engineering. I am excited about the possibility of introducing such effective tools and technologies to Mongolia," Dorlig expressed.