New Holland Presents Biomethane Tractor at the Aapresid Congress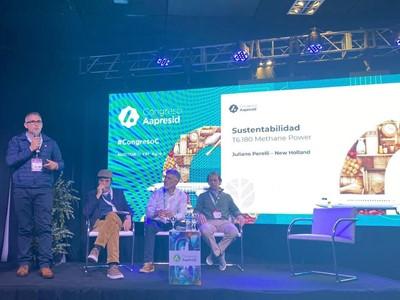 During the event, the brand participated in a panel focused on the bioeconomy.
New Holland Agriculture, a brand of CNH Industrial, recently attended the 31st Aapresid Congress, the Argentine Association of Producers in Direct Sowing, which took place at the Metropolitan Convention Center of Rosario, Santa Fe, from August 9 to 11.
The motto of the 31st Aapresid Congress was "C, element of life", in reference to Carbon and the importance of improving soils to fight climate change. With this, New Holland took the opportunity to present the T6 Methane Power tractor, which has been recently acclaimed for its performance and sustainable design.
"It is a pleasure for us to participate in this renowned Congress that is synonymous with innovation and technology, representing attributes for our brand. The T6 Methane Power tractor features the latest technology and is powered by nature itself. In this way, we include our customers in the challenge of producing more and in an increasingly sustainable way," said Tomás Liceda, Commercial Director of New Holland Argentina.
With the T6 Methane Power tractor, the reductions in matter emissions exceed 90% and achieve a reduction of up to 80% of CO2 compared to a diesel tractor, maintaining the same performance as a similar conventional one. By using biomethane, the carbon footprint of rural property can reach zero. With this, CNH Industrial is proud to showcase its T6 Methane Power tractor as a symbol for its strong commitment to sustainability.