Martin Currie Releases Latest Stewardship Matters Publication Detailing The Firm's Diversity and Inclusion Efforts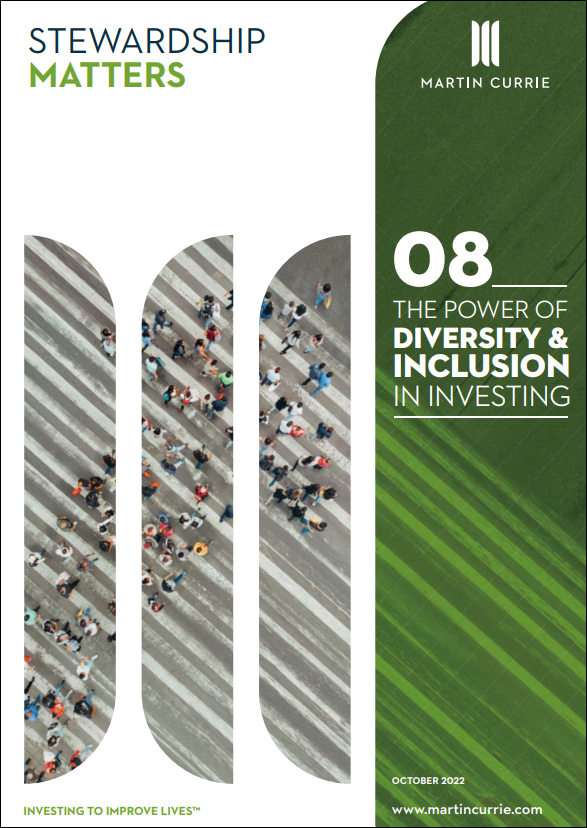 STEWARDSHIP MATTERS – EDITION 8: THE POWER OF DIVERSITY AND INCLUSION IN INVEST…
Martin Currie, the active equity specialist and steward of $18.8 billion in assets under management as of September 30, 2022, released its eighth edition of its Stewardship Matters publication, focusing on diversity and inclusion in investing.
Martin Currie believes that its focus on D&I improves decision making, enables the company to deliver positive outcomes for all stakeholders, and provides credibility when asking investee companies to improve their own D&I.
In acknowledging the firm's continued evolution in this space, Martin Currie set diversity targets, including a 50:50 gender mix for the entire business and at least 40% female investment professionals by 2030. In the 2021 fiscal year, 69% of newly recruited employees were female, which was an improvement from fiscal year 2020 where 58% of new employees were female identifying. By the end of 2021, 39% of all Martin Currie employees and 21% of the firm's investment professionals identified as female.
Martin Currie also engages investee companies on D&I issues, including racial discrimination and improving female representation in the workplace. As an active investor and shareholder, Martin Currie expects that boards of investee companies are at least one-third gender diverse, takes account of diversity when considering candidates for the board and senior positions, discloses the company's policy on diversity, and discloses and reports on gender diversity goals.
The entire Stewardship Matters report can be found here.
About Martin Currie
Martin Currie is a global active equity specialist with leading credentials in sustainable investing, crafting high-conviction portfolios for client-focused solutions. Investment excellence is at the heart of its business. Central to its philosophy is a stock-driven approach, based on in-depth fundamental research, active ownership and engagement and skilled portfolio construction. Martin Currie is rated A+ in all three categories under the Principles for Responsible Investment (PRI) 2020. As a Specialist Investment Manager of Franklin Resources Inc., it also has the backing of one of the world's largest asset management firms.
About Franklin Templeton
Franklin Resources, Inc. [NYSE:BEN] is a global investment management organization with subsidiaries operating as Franklin Templeton and serving clients in over 155 countries. Franklin Templeton's mission is to help clients achieve better outcomes through investment management expertise, wealth management and technology solutions. Through its specialist investment managers, the company offers boutique specialization on a global scale, bringing extensive capabilities in fixed income, equity, alternatives, and multi-asset solutions. With offices in more than 30 countries and approximately 1,300 investment professionals, the California-based company has 75 years of investment experience and approximately $1.3 trillion in assets under management as of September 30, 2022. For more information, please visit www.franklintempleton.com.