Franklin Templeton Supports HBCUFI's Pre-Accelerator Program To Scale Entrepreneurial Education and Training Across HBCU Campuses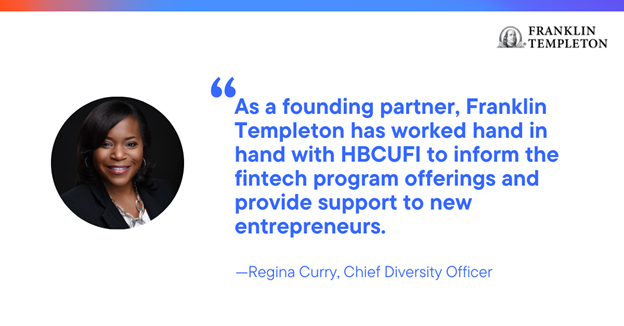 As a founding partner, for Nex Cubed's Historically Black Colleges and Universities Founder's Initiative (HBCUFI), Franklin Templeton is thrilled about the launch of the HBCU Pre-Accelerator Program, which will scale entrepreneurial education and training across HBCU campuses and provide dedicated support to on-campus pre-accelerator programs that support entrepreneurship.
HBCUFI supports entrepreneurs at HBCUs across the nation with the resources to develop and grow tech-enabled solutions that help to close the racial wealth gap. During the 2022/2023 academic year, Franklin Templeton will provide support to the pre-accelerators at Morgan State and North Carolina A&T University, including hands-on support to the new entrepreneurs through its employees who will serve as mentors and advisors.
"As a founding partner, Franklin Templeton has worked hand in hand with HBCUFI to inform the fintech program offerings and provide support to new entrepreneurs. This program is a great opportunity for students at HBCUs to expand their knowledge of the startup landscape and develop key skills they will need in their entrepreneurial journeys and broader careers," Regina Curry, Chief Diversity Officer at Franklin Templeton.
About the HBCU Founders Initiative
Launched by Nex Cubed, the HBCU Founders Initiative (HBCUFI) aims to catalyze investment in African Americans by supporting HBCU students and alumni along their entrepreneurial journey, encouraging them to pursue technology solutions that close the racial wealth gap ranging from increasing access to healthcare, education, and financial services.
From the ideation stage to the investment stage and beyond, the HBCU Founders Initiative offers programs (accelerators, hackathons, industry webinars, and pitch competitions), financial and technical resources, as well as a vast network of advisors committed to supporting HBCU founders pursuing entrepreneurship.
As of the beginning of 2022, over 500 students and alumni from 60+ HBCUs have benefitted from the program. Participants in our programming have raised over $2M for their startups, positioning them to create jobs in their community.
About Franklin Templeton
Franklin Resources, Inc. [NYSE:BEN] is a global investment management organization with subsidiaries operating as Franklin Templeton and serving clients in over 155 countries. Franklin Templeton's mission is to help clients achieve better outcomes through investment management expertise, wealth management and technology solutions. Through its specialist investment managers, the company offers boutique specialization on a global scale, bringing extensive capabilities in fixed income, equity, alternatives, and multi-asset solutions. With offices in more than 30 countries and approximately 1,300 investment professionals, the California-based company has 75 years of investment experience and approximately $1.4 trillion in assets under management as of July 31, 2022. For more information, please visit www.franklintempleton.com.