Franklin Templeton Employees Receive Accolades for Their DEI Work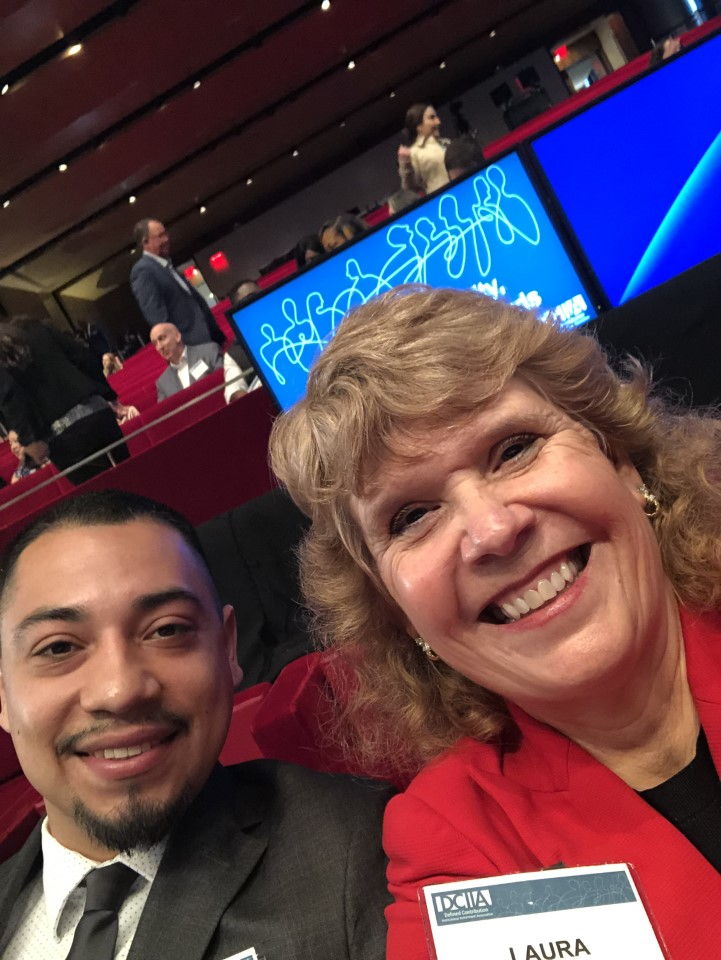 Alejandro Nuñez and Laura Fergerson
Franklin Templeton's Office of Diversity and Inclusion (D&I) nominated Laura Fergerson, President, Franklin Templeton Services; Alejandro Nuñez, Internal Advisor Consultant; and Tiffany Hong, Chief Administrative Officer, for awards recognizing their steadfast commitment to work in the diversity, equity and inclusion (DEI) space. Each was selected from a large pool of candidates to win an award. Read on to learn more.
"These DEI leaders have helped ignite where we are today in so many ways. They have made, and continue to make, a real difference for our employees." 
- Regina Curry, Chief Diversity Officer
Laura Fergerson and Alejandro Nuñez Receive DCIIA DEI Awards
Fergerson and Nuñez were honored by the Defined Contribution Institutional Investment Association (DCIIA) at its DEI Awards, held March 7 at Bank of America's headquarters in Charlotte, North Carolina. The awards recognize individuals who advocate for member organizations' diversity, equity and inclusiveness in two categories: Rising Stars and Leaders.
Fergerson was nominated for her leadership in DEI over the years, including founding Franklin Templeton's first D&I Executive Council and the Women at FT business resource group (BRG). She serves as an executive sponsor of Women at FT and is co-chair of the firm's Americas D&I Executive Council.
"Laura is an inspirational leader who advocates for DEI and drives the DEI conversation forward within the firm and the broader industry," said Regina Curry, Chief Diversity Officer. "We appreciate her using her voice to promote the firm's DEI initiatives, programs and BRG-led events and for positively impacting our colleagues and culture at Franklin Templeton."
Fergerson was honored alongside 24 other senior industry leaders with the DEI Leader Award.
"I appreciate being nominated by my colleagues at Franklin Templeton and being recognized alongside other impressive leaders in our industry," Fergerson said. "I'm so happy to see the progress we've made as a firm, and it was great to be recognized for my leadership."
Nuñez was nominated for his continuous DEI leadership at Franklin Templeton, including founding the HOLA BRG, which advocates for Hispanic and Latino employees and their allies. He serves as co-lead of HOLA.
"Alejandro is a great contributor to the firm's D&I strategy," Curry said. "We appreciate his passion for engaging with colleagues, peers and clients across the financial services industry and supporting the Latino and Hispanic community."
Nuñez was recognized with the DEI Rising Star Award alongside an impressive group of 37 other industry DEI contributors.
"I am proud to be the recipient of the DEI Rising Star Award, representing not only Franklin Templeton, but all the dedicated BRG members who work tirelessly to create a more diverse and inclusive culture in the financial services industry," Nuñez said. "Hearing the stories from other recipients at the ceremony demonstrated to me how significant of an impact we are making in this uphill battle. All the additional hours put into this passion project were worth it, and this award recognized those efforts."
The DEI Awards dinner was also attended by Drew Carrington, Institutional DC Market Segment Leader; Tripp Braillard, Head of DC Distribution, Clarion Partners; and Lavina Mehta, VP, Retirement Investment Solutions.
Mary Beth Glotzbach, Senior Institutional DC Strategist, was recognized at the event for her contributions to DCIIA. She led DCIIA's executive committee for the last three years, first as chair from 2020 to 2021 and then as co-chair for 2022.
Tiffany Hong Honored with Ascend A-List Award
Hong won an Ascend A-List Award, which celebrates Pan-Asian role models for their exceptional contributions and achievements.
She was recognized for her ongoing DEI work, including founding the first D&I Executive Council and the Asian Pacific Islander (API) BRG at Franklin Templeton.
"Tiffany has rallied support from leaders across the globe to raise attention to the harmful effects of anti-Asian racism that occurred during the height of the pandemic. With her driving effort, Franklin Templeton hosted our first of many Courageous Conversations to address the most pressing DEI topics," Curry said.
Hong attended the Ascend A-List Awards Gala on April 3 at the Plaza Hotel in New York City, joined by Annette Babich, Business Enablement Manager and API BRG Steering Committee Member; Thanh Bui, Managing Director, Clarion Partners and API BRG Co-Chair; and Martin Ji, Director, Senior Portfolio Analyst, ClearBridge Investments and API BRG Steering Committee Member. The A-List Awards highlight the power of resilient, impactful and courageous leadership. The honorees, who represent a cross section of Asian ethnicities, were selected for their professional accomplishments and advancement of others in their industries or communities.
"I am honored to receive the award, but the recognition should be to the API BRG leadership team," Hong said. "I am lucky to be part of this amazing community, and I am committing to pay it forward."
About DCIAA
DCIIA is a nonprofit association dedicated to enhancing retirement security. It fosters dialogue among the leaders of the DC community who are passionate about improving DC outcomes.
About Ascend Foundation
The work of the Ascend Foundation includes research and thought leadership reports that surface the lack of Asian advancement in the workplace and corporate boards. The organization's mission is to educate, advocate and enable Pan-Asian business leaders to reach their full potential and make greater positive societal impacts.
About Franklin Templeton
Franklin Resources, Inc. [NYSE:BEN] is a global investment management organization with subsidiaries operating as Franklin Templeton and serving clients in over 155 countries. Franklin Templeton's mission is to help clients achieve better outcomes through investment management expertise, wealth management and technology solutions. Through its specialist investment managers, the company offers boutique specialization on a global scale, bringing extensive capabilities in equity, fixed income, multi-asset solutions and alternatives. With offices in more than 30 countries and approximately 1,300 investment professionals, the California-based company has 75 years of investment experience and approximately $1.4 trillion in assets under management as of April 30, 2023. For more information, please visit franklintempleton.com and follow us on LinkedIn, Twitter and Facebook.