Driving Prosperity, Power, and Progress: Celebrating Hispanic Heritage Month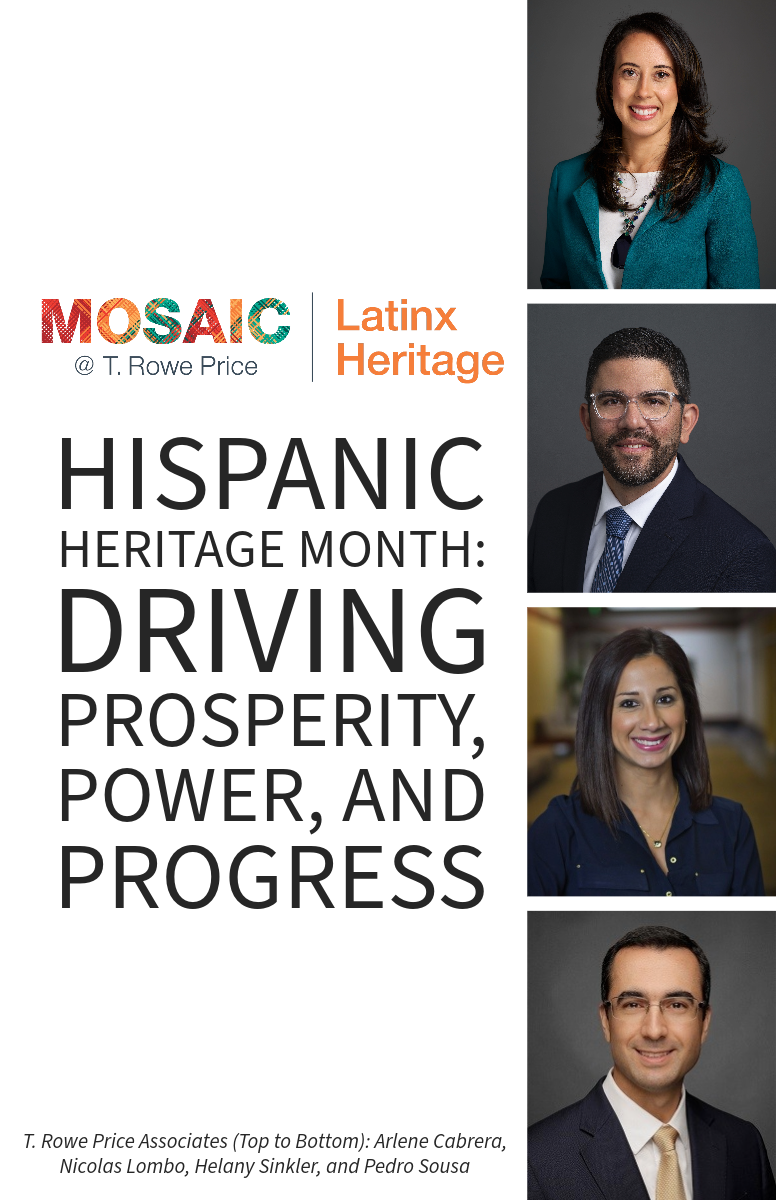 T. Rowe Price
MOSAIC @ T. Rowe Price, one of our firm's associate-led business resource groups, and its Latinx Heritage Community are hosting an educational event focused on how language impacts individuals, culture, and business in important ways.
As we recognize Hispanic Heritage Month, a few of our associates recognize the significant achievements of the Hispanic community in driving prosperity, power, and progress in the United States and around the world.
Arlene Cabrera, Diversity Partner, COO Group and MOSAIC @ T. Rowe Price's Latinx Heritage Community Cochair
This year's theme is about forging your path no matter the odds so that you honor the sacrifices made for you, succeed, and pave the way for others to thrive. It's embracing the mindset that you're deserving, believing in your greatness, and knowing your worth. The contributions made by every Hispanic strengthens the tide of our collective value and creates a beacon of hope and aspiration. There's power in bringing our voice, talent, and experiences to bear and advocating for what we need to maximize our potential. Our authenticity is a superpower that not only elevates our contributions, but allows us to remain prideful of who we are and aspire to be.
Nicolas Lombo, Managing Legal Counsel, U.S. Collective Vehicles
Prosperity, Power, and Progress—these characteristics represent the immigrant's journey. As an immigrant, I would rearrange these as power, progress, and prosperity in a cyclical pattern. Power is not just physical or economic strength, but also the dedication and hard work that sets us on the path to progress. Progress is the advancement—sometimes slow but constant—toward the goal of personal, family, and communal prosperity. Finally, prosperity is the goal of being able to provide for ourselves and others—not just economically, but also socially. We go back to power but now from a different/higher perspective to progress toward a different/higher goal to achieve different/higher prosperity…and the cycle continues.
Helany Sinkler, Diversity Acquisition Program Manager
This is a representation of the Latinx community, both individually and collectively, stepping into our power and greatness, working to forge a legacy that future generations will proudly inherit, build upon, and enrich. I am keenly aware of the struggles and sacrifices my ancestors faced and overcame both in the U.S. and my home country of Honduras. It fuels my determination and commitment to honor them through my contributions and achievements. I seek opportunities to uplift my Latinx community and create positive, lasting impact. The theme stands as a profound recognition and proud celebration of the unyielding grit, greatness, and influence we possess—all of which are propelling the Latinx community forward educationally, economically, politically, and socially.
Pedro Sousa, CFA, Risk and Portfolio Construction Research Analyst 
Living in Europe has given me a renewed perspective on the interplay of prosperity, power, and progress in our Latin American heritage. We have a history of advanced indigenous civilizations melded with the contributions from various waves of immigration and settlement into Latin America. Importantly, we also have Iberian colonial footprints embedded not only in our surnames, but also in the complex course of events and in our culture. As we reflect on this vibrant heritage, let us recognize the Latin Americans who continue to make a positive impact on the global stage today.