CACI's Cyber Range Technology Wins the "Made with Unity Recognition Award"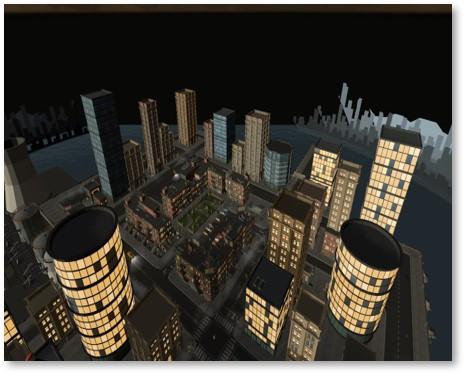 RESTON, Va., September 14, 2023 /3BL/ - CACI International Inc's (NYSE: CACI) engineers are adept at using unexpected resources to drive innovations that create mission critical solutions, as shown by the development of the cyber range training tool, City Block. City Block was recognized as an award-winning capability that is helping the U.S. government to secure the nation from cyber threats. Most recently, City Block won the Made with Unity Recognition Award in the Best Full Spectrum Unity Project category at the Interservice/Industry Training, Simulation and Education (I/ITSEC) Conference.
CACI's City Block technology is a unique digital environment for military and government users to conduct modeling and simulations that train in the protection of critical infrastructure systems from cyberattacks. The complete control systems cyber range offers a gaming environment that provides realistic visualizations of industrial control systems.
Unity is the leading platform for creating and operating interactive, real-time 3D content for not only entertainment, but to enhance experiences and processes across multiple industries.
"For the government and military, defending mission networks, protecting our critical infrastructure, and executing national security missions depends on the integrity of the systems, networks, and data we rely on," said Todd Probert, CACI President of National Security and Innovative Solutions. "Working with Unity allows us to bring these critical tools to life leveraging video game and CGI technologies for an enhanced experience."
Protecting Industrial Systems with City Block
CACI's City Block provides cybersecurity specialists, network administrators, industrial control systems, and operational technology (ICS/OT) security testers with a software-based, cyber-physical modeling and simulation environment to test their industrial systems against intrusions.
City Block technology leverages Unity and merges ICS/OT networks with IT networks to provide a holistic testing and training solution in a scalable, virtual reality (VR) platform for more realistic – and more memorable – testing and training experiences at a fraction of the cost of physical models. This results in more resilient systems and teams that can ensure continuity of operations under the most challenging conditions.
CACI's City Block technology started as a LEGO® model of a "city block" that included an electric substation and traffic lights. The program evolved from there and in 2020, the company completed City Block's first proof-of-concept using the Unity Gaming engine, and CACI has used it exclusively for its cyber-physical interfaces ever since.
"City Block provides customers with a realistic environment for employees to test and train, which can be anything from testing new hardware and software to training personnel on the systemwide effects of a cyber-attack. This award solidifies our position as a leading provider of simulation technology to the Department of Defense," continued Probert.  
The original City Block plastic brick model is now a new permanent display at the San Antonio Museum of Science and Technology. The display leverages technologies used in City Block to teach children about the computer systems that control varying aspects of the world today and helps to preemptively prepare the cyber warriors for the future.
ABOUT CACI
At CACI International Inc (NYSE: CACI), our 23,000 talented and dynamic employees are ever vigilant in delivering distinctive expertise and differentiated technology to meet our customers' greatest challenges in national security and government modernization. We are a company of good character, relentless innovation, and long-standing excellence. Our culture drives our success and earns us recognition as a Fortune World's Most Admired Company. CACI is a member of the Fortune 1000 Largest Companies, the Russell 1000 Index, and the S&P MidCap 400 Index. For more information, visit us at caci.com.
# # #
Corporate Communications and Media:                                           
Lorraine Corcoran                                                              
Executive Vice President, Corporate Communications                  
(703) 434-4165, lorraine.corcoran@caci.com