AccountAbility CEO Sees ESG Metrics as Key Predictors of Corporate Financial Health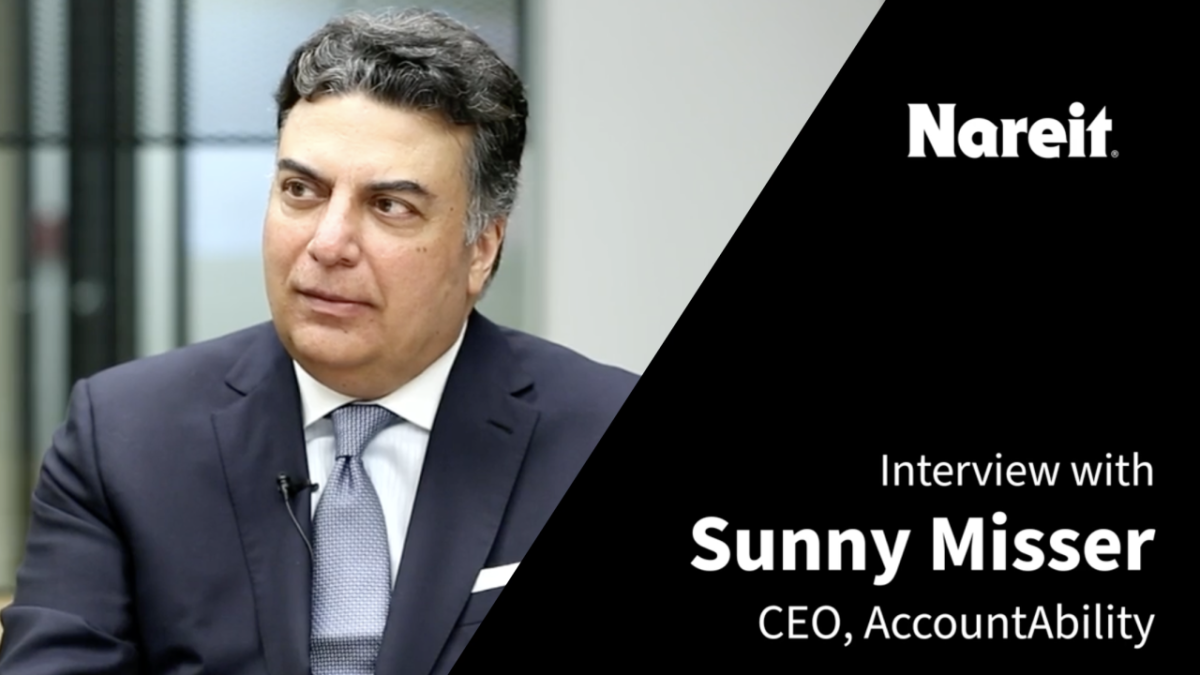 NEW YORK and LONDON, July 12, 2023 /3BL/ - AccountAbility, the trusted global ESG Consulting and Standards firm with a three-decade history in guiding leaders to build better companies, is pleased to announce that CEO Sunil (Sunny) A. Misser recently engaged in an exclusive interview with Nareit, the worldwide representative voice for REITs and listed real estate companies with an interest in U.S. Real Estate and Global Capital Markets.
In the interview, Mr. Misser shared insights on the latest trends in ESG practices, and the evolving landscape of sustainability within the corporate sector. This was framed against the ESG predictions and patterns observed by Mr. Misser over the past decade. Notably, the Consolidation and Standardization of ESG Frameworks and Standards at the highest level, and the significant shift as ESG metrics sit alongside financial metrics in predicting the future health of a company.
"Standardization and Consolidation of ESG Standards, Frameworks, Reporting, and Disclosure has occurred. ESG Metrics are now entering the mainstream of business. With this, ESG metrics will not be used to just report and disclose a company's financial health, but more importantly predict it," comments AccountAbility CEO Sunil (Sunny) A. Misser.
Mr. Misser spoke in detail on emerging ESG Trends that are shaping the corporate agenda, including the impact of geopolitical disruption across all facets of the global economy: Disruption of Supply Chains, Cost of Capital, Managing Inflation, Access and Cost of Energy, and Clear Direction of Monetary Policy. Business will need to respond to this New "G" (Geopolitics) in ESG while maximizing resilience to macro shocks and prioritizing uninterrupted service delivery.
Corporate Boards have long played a key role in setting an organizations culture, values, and business practices. Now, the structure of Boards is changing. Mr. Misser spoke to this trend and the emergence of Boards that will be purpose built with diversity of thinking (beyond just diversity of pigmentation) sitting alongside gender, socio-economic, professional, and cultural backgrounds as central to effective, future-focused Boards.
These emerging trends, as detailed within the AccountAbility 7 Sustainability Trends 2023 Report, together with the economic factors impacting specific geographies and industries, make clear the need for companies to integrate sustainability into their core business strategies to remain competitive and resilient in today's rapidly evolving global market.
The AccountAbility 7 Sustainability Trends 2023 – Highlights
The Net Zero Landscape: Against an unprecedented volume of net zero commitments, what are the risks for those that fail to act, and the opportunities for businesses to lead? 
Stakeholder Activism Is Getting Louder: As businesses face increasing pressure to take a stance and demonstrate actionable progress on a range of ESG issues, how best can leaders balance this with the imperative to maximize shareholder value? 
Geopolitics: The New "G" In ESG: In an era of increasingly globalized business operations, how can organizations address the outsized role that the new G (Geopolitics) is playing in the business landscape? 
Building an Effective, Future-Focused Board: As demands and expectations shift, how best to equip future-focused Boards to meet the requirements of the evolving business environment? 
Next Generation ESG Disclosure and Reporting: A shift from voluntary to mandatory ESG Disclosure is set to heighten attention on corporate sustainability disclosure practices. How will these changes impact ESG Reporting? 
The Road to a Sustainable Value Chain: How can the integration of sustainability criteria into supply chains drive organizational shifts towards a more context-aware and competitive value chain? 
Nature Based Assets Will Drive Valuations: As nature-based assets are increasingly recognized for their significant impact on valuations, what steps can companies take to achieve nature-based performance goals?
AccountAbility is committed to fostering knowledge sharing and collaboration and to helping advance the Global ESG agenda. By engaging in discussions with industry leaders such as Nareit, and with their 7 Sustainability Trends 2023 Report, the firm continues to advance the collective understanding of ESG trends, challenges, and opportunities that are shaping the business landscape.
The full Nareit interview with Mr. Misser can be viewed here.
Download the AccountAbility 7 Sustainability Trends 2023 Report.
About AccountAbility 
AccountAbility is a global Consulting and Standards firm that works with Businesses, Investors, Governments, and Multilateral Organizations to innovate and advance the global Sustainability / ESG agenda by improving the practices, performance, and impact of organizations. The firm focuses on delivering practical, effective, and enduring results that enable our clients to succeed. AccountAbility is a Public Benefit Corporation, operating globally through a highly qualified team from offices in New York, London, Riyadh, and Dubai. The firm is the recipient of multiple business awards from the Financial Times, Forbes, and Capital Finance International. Learn more at www.accountability.org.
Contact: 
Mr. Jon Packer 
AccountAbility 
Head of Marketing & Communications 
Phone: +1 416 543 9179 
Email: jon.packer@accountability.org 
Web: www.accountability.org