AccountAbility 7 Sustainability Trends 2023 Report - Shaping the Global Business Agenda
This Report brings into focus the key sustainability issues and priorities, and the business opportunities they present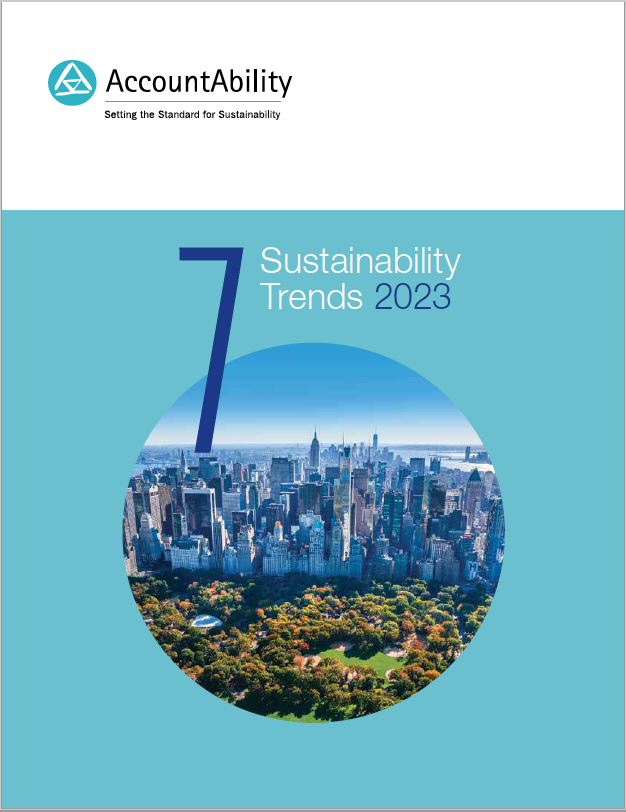 NEW YORK and LONDON, June 21, 2023 /3BL/ - AccountAbility, a trusted global ESG Consulting and Standards firm with a three-decade history in guiding leaders to build better companies, today released the AccountAbility 7 Sustainability Trends 2023 Report. Leveraging the firm's global consulting, research, and standards experience, the report provides timely data, comprehensive insights, and action-oriented guidance to help organizations across industries and geographies make informed sustainability decisions towards meeting their business objectives.
"Consumers and society, as a whole, are expecting more (and different) from business – in an atmosphere of low trust and high expectations," comments AccountAbility CEO Sunil (Sunny) A. Misser. "Today, the sustainability agenda is central to business competitiveness. Leaders recognize the financial imperatives of moving to a more sustainable economy and the business potential this presents. With this 7 Sustainability Trends 2023 Report, we enable organizations to navigate the fast-changing ESG landscape and focus on the meaningful trends that are shaping the business agenda."
The AccountAbility 7 Sustainability Trends 2023 Report provides organizations and businesses with timely and valuable insights into the most pressing environmental, social, and governance issues. In identifying and analyzing these latest trends, challenges, and opportunities in sustainability, the report enables strategic planning, informed decision-making, and effective stakeholder engagement. This report helps organizations align their strategies with evolving sustainability priorities, anticipate future developments, and address risks and opportunities proactively.
Furthermore, the report is designed to enhance investor confidence, supporting sustainability reporting, facilitate knowledge sharing, and promote policy and regulation alignment. The AccountAbility 7 Sustainability Trends 2023 Report is an important tool to help organizations stay at the forefront of these important developments, drive positive change, position themselves as leaders in sustainability, and deliver on their business agenda.
The AccountAbility 7 Sustainability Trends 2023 Report was researched and compiled by the firm's Global Leadership, Consulting, Research, and Standards teams and benefits from the firm's extensive work with prominent global organizations across Industries, including Financial Services, Energy & Extractives, Healthcare & Pharmaceuticals, Real Estate, Consumer Packaged Goods, Telecom & Technology, Foundations, Governments, and others, in jurisdictions including the US, UK, EU, Mid-East, and Asia.
The AccountAbility 7 Sustainability Trends 2023 – Highlights
Navigating The Net Zero Landscape: Against an unprecedented volume of net zero commitments, what are the risks for those that fail to act, and the opportunities for transparent leaders?
Stakeholder Activism Is Getting Louder: As businesses face increasing pressure to take a stance and demonstrate actionable progress on a range of ESG issues, how best can leaders balance this with the imperative to maximize shareholder value?
Geopolitics: The New "G" In ESG: In an era of increasingly globalized business operations, how can organizations address the outsized role that the new G (Geopolitics) is playing in the business landscape?
Building an Effective, Future-Focused Board: As demands and expectations shift, how best to equip future-focused Boards to meet the requirements of the evolving business environment?
Next Generation ESG Disclosure and Reporting: A shift from voluntary to mandatory ESG Disclosure is set to heighten attention on corporate sustainability disclosure practices. How will these changes impact ESG Reporting?
The Road to a Sustainable Value Chain: How can the integration of sustainability criteria into supply chains drive organizational shifts towards a more context-aware and competitive value chain?
Nature Based Assets Will Drive Valuations: As nature-based assets are increasingly recognized for their significant impact on valuations, what steps can companies take to achieve nature-based performance goals?
To download the Report, visit: AccountAbility 7 Sustainability Trends 2023 Report
About AccountAbility 
AccountAbility is a global Consulting and Standards firm that works with businesses, investors, governments, and multilateral organizations to innovate and advance the global Sustainability / ESG agenda by improving the practices, performance, and impact of organizations. The firm focuses on delivering practical, effective, and enduring results that enable our clients to succeed. AccountAbility is a Public Benefit Corporation, operating globally through a highly qualified team from offices in New York, London, Riyadh, and Dubai. The firm is the recipient of multiple business awards from the Financial Times, Forbes, and Capital Finance International. Learn more at www.accountability.org.
Contact: 
Mr. Jon Packer 
AccountAbility 
Head of Marketing & Communications 
Phone: +1 416 543 9179 
Email: jon.packer@accountability.org 
Web: www.accountability.org