Wesco International Inc. Earns ISO 9001:2015 Certification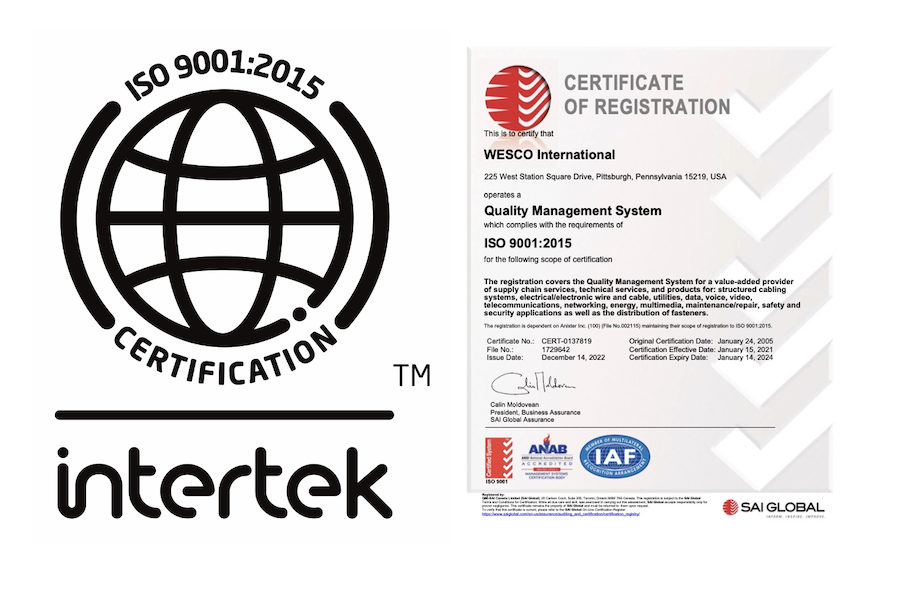 PITTSBURGH, February 16, 2023 /3BL Media/ – Wesco International's (NYSE:WCC) Pittsburgh headquarters is proud to announce that it has successfully registered its Quality Management System to ISO 9001:2015. Wesco is a value-added provider of supply chain services, technical services, and products for: structured cabling systems, electrical/electronic wire and cable, utilities, data, voice, video, telecommunications, networks, energy, multimedia, maintenance/repair, safety and security applications as well as the distribution of fasteners.
To become ISO9001 registered, Wesco started with an assessment of legacy quality management systems and future needs to achieve our vision of being "the best tech-enabled supply chain solutions provider in the world". The outcome is a Lean Quality Management System which reinforces our commitment to continuous improvement across our customer focused sales processes, digital solutions and supply chain operations. With the training and deployment of the new system complete, Wesco was certified by our external registrar for independent validation to the ISO9001:2015 standard.
"Achieving this certification gives us a strategic advantage and opens up opportunities to distinguish ourselves among our competitors in the marketplace. For 100 years, Wesco has upheld high standards of operations and this certification acknowledges this," said Hemant Porwal, executive vice president, Supply Chain and Operations.
"Wesco is dedicated to serving our customers with the highest level of standards of quality and consistency," said Jeff Wood, senior vice president, Operations. "We are focused on building customer confidence by becoming their trusted partner and making Wesco easiest to do business with."
ISO9001 is a set of international standards and guidance documents for quality management and quality assurance. The standard represents an international consensus on management best practices with the aim of ensuring that the organization can, time and time again, deliver the product or services that meet or exceed the customer's quality requirements.
International Standards are strategic tools and guidelines to help companies tackle some of the most demanding challenges of modern business. They ensure that business operations are as efficient as possible, increase productivity, help companies access new markets, improve quality, enhance customer satisfaction, and increase sales.
About Wesco International
Wesco International (NYSE: WCC) builds, connects, powers and protects the world. Headquartered in Pittsburgh, Pennsylvania, Wesco is a FORTUNE 500® company with more than $21 billion in annual sales and a leading provider of business-to-business distribution, logistics services and supply chain solutions. Wesco offers a best-in-class product and services portfolio of Electrical and Electronic Solutions, Communications and Security Solutions, and Utility and Broadband Solutions. The Company employs approximately 20,000 people, partners with the industry's premier suppliers, and serves thousands of customers around the world. With millions of products, end-to-end supply chain services, and leading digital capabilities, Wesco provides innovative solutions to meet customer needs across commercial and industrial businesses, contractors, government agencies, institutions, telecommunications providers, and utilities. Wesco operates approximately 800 branches, warehouses and sales offices in more than 50 countries, providing a local presence for customers and a global network to serve multi-location businesses and multi-national corporations.