Renewable Solutions Roadmap: Global Cellulose Fibers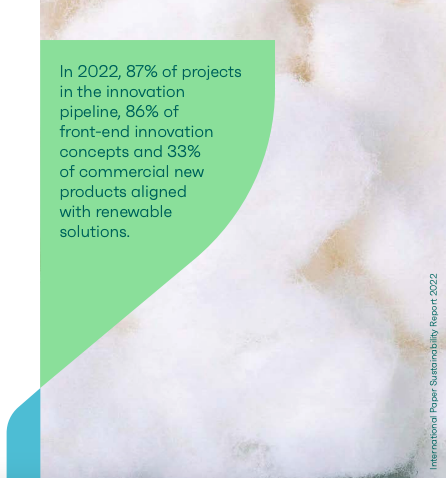 Originally published in International Paper's 2022 Sustainability Report
Align with customers and deliver against market needs across four pillars:
Replacing plastic and petroleum-based materials
We support our customers' goals to increase use of cellulosic materials for absorbent hygiene applications, resulting in improved end-of-life solutions such as recyclability and compostability.
For example, our Helix® fibers create performance advantages with excellent fluid management due to fast liquid acquisition and the impressive ability to wick against gravity.
Reducing life cycle impacts, including greenhouse gas emissions, waste and water use
We focus on ways to make new products with less waste and reduced life-cycle impacts across GHG and water.
In 2022, for instance, we introduced FloraCel®, a new brand for our specialty products. Wood pulps used to produce textiles like FloraCel® serve as extenders to dissolving wood pulp and provide a low-cost, performance-enhancing renewable solution to textile producers.
These wood-based cellulosic products require substantially less land to grow and significantly less water and pesticides than cotton, resulting in reduced life-cycle impact.
Minimizing overall raw material consumption
We optimize manufacturing processes for new products including feminine care pads, resulting in significant reduction and better utilization of raw materials used in production.
For example, our Elegance® fluff pulp improves densification, providing a thinner absorbent core that reduces material use. With greater density, wicking distance and overall utilization increase, Elegance® reduces product weight while maintaining the same excellent absorption properties of all IP's SuperSoft™ fluff pulps. In addition, a thinner product helps optimize packaging, enabling transport of more products per shipment, which could result in fewer trucks on the road. We estimate that the reduction in trucks used to ship products made with Elegance® versus products made with regular fluff pulp from the manufacturing site to the retailer could result in CO2 emissions reductions up to 13%.
Improving end-of-life solutions, including compostability and recyclability
We work with customers to enable use of 100% cellulosic fiber for wipes applications, which can be biodegradable and compostable, unlike those made from plastic.
As a part of this work we focus on achieving a minimum of 50% of projects in the innovation pipeline to support renewable solutions. We do this via customer collaborations and partnerships, as well as by tracking projects within our innovation pipeline that include sustainability and/or renewable attributes. We work closely with target customers to understand their sustainability goals and deliver relevant outcome-based innovative products across all four renewable solutions pillars.
About International Paper
International Paper (NYSE: IP) is a global producer of planet-friendly packaging, pulp and other fiber-based products, and one of North America's largest recyclers. Headquartered in Memphis, Tenn., we employ approximately 39,000 colleagues globally who are committed to creating what's next. We serve customers worldwide, with manufacturing operations in North America, Latin America, North Africa and Europe. Net sales for 2022 were $21.2 billion. Additional information can be found by visiting InternationalPaper.com.