Register Today for Ceres Global—Join Al Gore, John Kerry, and Other Leading Experts in NYC To Set the Course for a More Just and Sustainable Economy!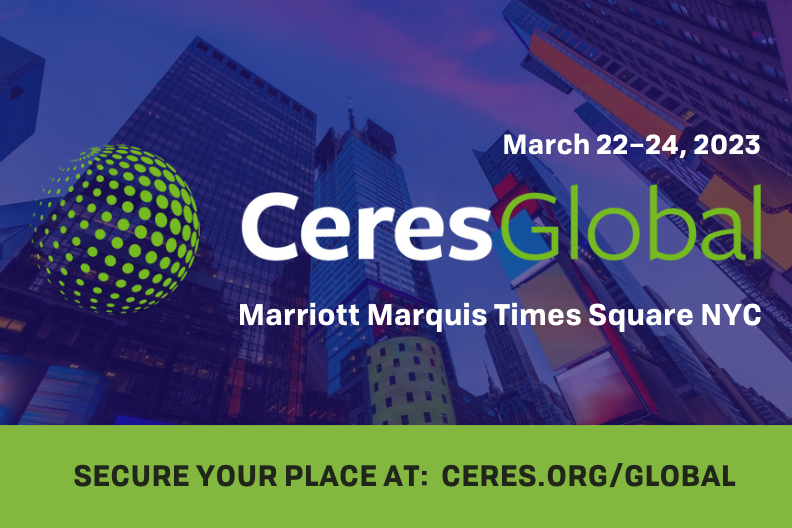 Join us for Ceres Global, Ceres' flagship event taking place in New York City in just a few weeks (March 22–24). At Ceres Global, many of the most influential capital market leaders will come together to set the course for the global action necessary to build a more just and sustainable world by 2030.

DISCOUNT OPPORTUNITY: Take 10% off the registration price by applying the promo code "3BL"!

The climate crisis, water scarcity, and nature loss plague the health and prosperity of our global communities, impact our daily lives, and threaten the economic and financial stability of the world. If we are to tackle the most urgent threats wreaking havoc across the globe today, we must continue to address the systemic risks that fuel them.

The event will bring together influential institutional investors, C-suite executives, national policymakers, and thought leaders to highlight the innovative solutions and leading global initiatives paving the way for a more just and sustainable economy. More than ever before, leaders are acting on our global threats, showing the world just how saving the planet and the economy can be done in the next seven years. They are seizing the opportunities that come with the economic transition, despite a growing and misleading political backlash.

These topics and more will be covered at Ceres Global:
•    Just and Inclusive Economies
•    Decarbonizing High Emitting Sectors
•    Sustainable Finance and Investment
•    Climate Policy
•    Valuing Water
•    Nature and Biodiversity

Register today and join leading experts such as Al Gore (Former Vice President; Founding Partner and Chairman, Generation Investment Management; Founder and Chairman, The Climate Reality Project), John Kerry (U.S. Special Presidential Envoy for Climate), Derrick Johnson (President and CEO of the NAACP), Mary Schapiro (Vice Chair of Global Public Policy, Bloomberg, and Vice Chair of GFANZ), top White House climate officials John Podesta and Ali Zaidi, and many others to learn how leading businesses are driving the circular economy transition and unlocking new business opportunities in the process.

Don't miss out! Find out more and register here.

Questions? Contact global@ceres.org 

About Ceres
Ceres is a nonprofit organization working with the most influential capital market leaders to solve the world's greatest sustainability challenges. Through our powerful networks and global collaborations of investors, companies and nonprofits, we drive action and inspire equitable market-based and policy solutions throughout the economy to build a just and sustainable future. For more information, visit ceres.org and follow @CeresNews.