New Speakers Announced for the 2023 Global Inclusive Growth Summit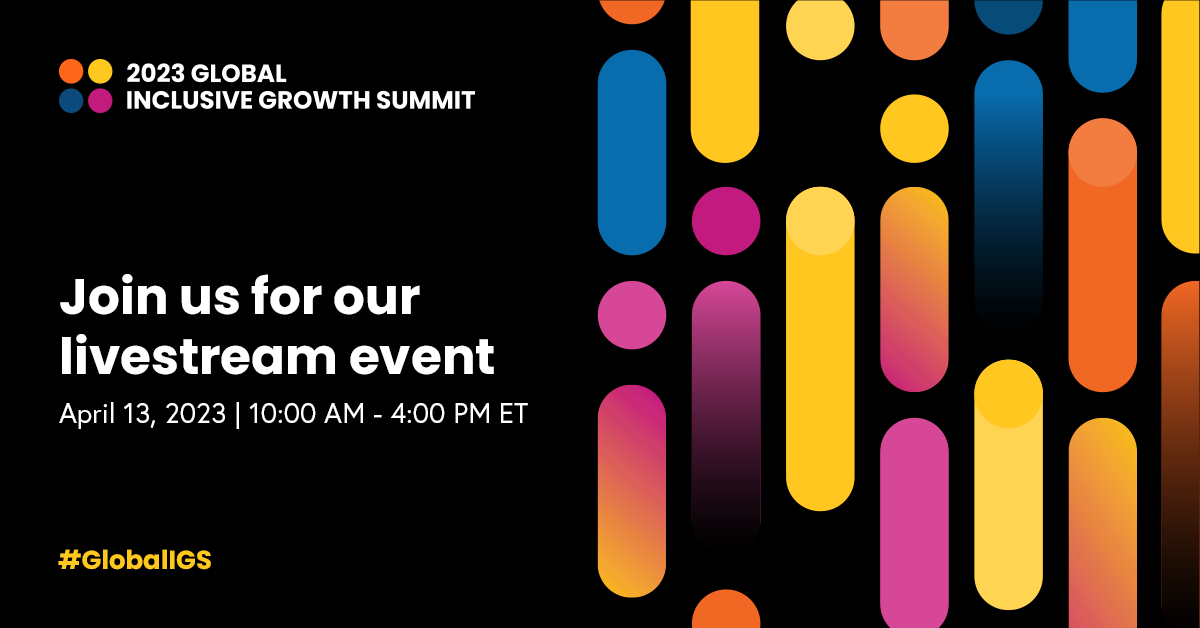 The Mastercard Center for Inclusive Growth
Step into a world of innovation at the 2023 Global Inclusive Growth Summit, presented by the Mastercard Center for Inclusive Growth and The Aspen Institute on Thursday, April 13, 2023.
Featured speakers include:
Hindou Oumarou Ibrahim, President, Association for Indigenous Women and Peoples of Chad
Sonal Shah, Chief Executive Officer, The Texas Tribune
Michael Froman, Vice Chairman and President, Strategic Growth, Mastercard
Dominic Barton, Chair, LeapFrog Investments
Gabrielle Sulzberger, Senior Advisor, Centerbridge Partners
Hamdi Ulukaya, CEO, Chobani
Rachel Kyte, Dean, The Fletcher School at Tufts University
The Honorable Edmund Bartlett, CD, Minister of Tourism, Jamaica
Dan Porterfield, President and CEO, Aspen Institute
This year's event will feature a dynamic and diverse group of global leaders, innovators, and game-changers. With the world facing increasingly complex threats to the environment, economy, and governance, we'll delve into solution-oriented dialogue and ignite action that will redefine the future of inclusive and sustainable growth.
Register now 

Mastercard Center for Inclusive Growth 
The Mastercard Center for Inclusive Growth advances equitable and sustainable economic growth and financial inclusion around the world. The Center leverages the company's core assets and competencies, including data insights, expertise and technology, while administering the philanthropic Mastercard Impact Fund, to produce independent research, scale global programs and empower a community of thinkers, leaders and doers on the front lines of inclusive growth.
The Aspen Institute 
The Aspen Institute is a community-serving organization with global reach whose vision is the creation of a free, just, and equitable society. For 70 years, the Institute has driven change through dialogue, leadership, and action to help solve the world's greatest challenges. With headquarters in Washington, D.C., the Institute has offices in Aspen, Colorado and New York City, as well as an international network of partners. Learn more at www.aspeninstitute.org.
Devex 
Devex is the world's leading independent news organization covering global development. Devex journalists deliver insider reporting from front lines of the fight to achieve the SDGs—driving the most important debates, providing the most critical analysis, and backing it all up with the events, career information, and funding opportunities professionals require. To keep up to date with the must-read global development coverage, join their global community.
Originally published by The Mastercard Center for Inclusive Growth
Check out more content from The Mastercard Center for Inclusive Growth