Mondelēz Snacking Made Right Report: Environmental Resilience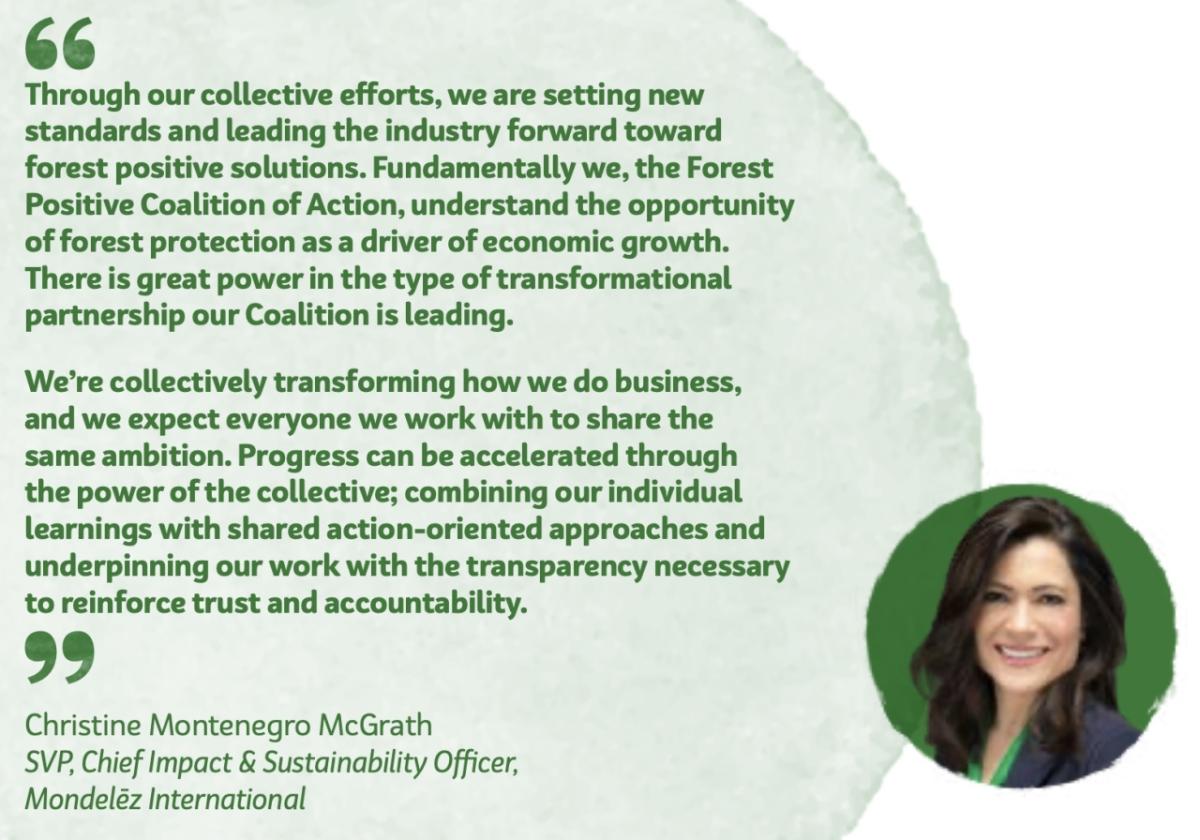 Mondelēz 2021 Snacking Made Right Report
Environmental Resilience
By tackling deforestation, we are helping to combat climate change and promoting sustainable supply of key ingredients.
| Forests Progress | 2018 | 2019 | 2020 | 2021 |
| --- | --- | --- | --- | --- |
| Economic shade trees distributed by Cocoa Life | 1,232,259 | 1,420,082 | 2,216,761 | 4,453,761 |
| Cocoa Life registered farms mapped and monitored in partnership with Global Forest Watch | 93,416 | 149,761 | 167,795 | 198,099 |
| Traceability from plantation to palm mills | N/A | 54% | 83% | 85% |
"Through our collective efforts, we are setting new standards and leading the industry forward toward forest positive solutions. Fundamentally we, the Forest Positive Coalition of Action, understand the opportunity of forest protection as a driver of economic growth. There is great power in the type of transformational partnership our Coalition is leading.

We're collectively transforming how we do business, and we expect everyone we work with to share the same ambition. Progress can be accelerated through the power of the collective; combining our individual learnings with shared action-oriented approaches and underpinning our work with the transparency necessary to reinforce trust and accountability."

Christine Montenegro McGrath
SVP, Chief Impact & Sustainability Officer, Mondelēz International
Reducing Deforestation
We are committed to sourcing our ingredients more sustainably without harming the environment. To this end, we are reducing deforestation in our supply chain. We believe this is critical in order to address global climate change and protect the local ecosystems that farmers need to grow sustainable raw materials.
Focusing for Maximum Impact
Our 2018 Lifecycle Assessment (LCA) helped us focus our efforts for maximum positive impact. Insights indicated that deforestation within our supply chain represents the largest single contributor to our carbon footprint.
Data from our 2020 LCA show the contribution to Mondelēz's total CO2e emissions from 'forest-risk' commodities:
Cocoa and cocoa products: 7,495,962 metric tonnes CO2e
Dairy: 5,211,285 metric tonnes CO2e
Oils: 1,033,524 metric tonnes CO2e
We focus on tackling deforestation in cocoa and palm oil, where we can have the biggest direct positive impact. We continue to take the lead in this issue, for example by requiring palm oil suppliers to adopt forest protection and sustainability policies for their entire supply base, not just the palm oil they supply to us.
We use our influence to drive sector-wide collaboration and change so that together we can end deforestation while enabling farmers to become more productive and climate-resilient, encourage practices that respect land rights, and invest in innovation and technology to increase transparency and measure impact at scale across our value chain.
Collaborating for a Forest Positive Future
As a leading member of the Consumer Goods Forum Forest Positive Coalition of Action, we are committed to moving efficiently and quickly towards a forest positive future. Collectively we are focusing on systemic change and are working with governments, partners at the Tropical Forest Alliance and other stakeholders towards shared action and progress on supply chain sustainability and green economic development. Together, we are participating in and supporting:
Accelerated efforts to remove commodity-driven deforestation from our individual supply chains
Setting higher expectations for traders to act across their entire supply base
Driving more transformational change in these key commodity landscapes
Transparently reporting on progress to promote accountability
In 2021, the first annual report for the Forest Positive Coalition of Action was published. It sets out the aims and progress made by the Coalition in its first year, as everyone involved works together to achieve a forest positive future.
Leading the Way
We were the first company to raise the issue of deforestation in the cocoa industry, at the 2015 United Nations Climate Change Conference, COP 21, in Paris.
We are a founding signatory of the Cocoa & Forests Initiative (CFI) and continue to be a driving force to accelerate industry change. As part of our commitment to the CFI, we have published action plans outlining how Cocoa Life is working to protect and restore forests in our cocoa-growing regions, as well as our targets for 2022.
We are among the first companies to report emissions from land-use change and to include land-use change in our science-based targets.
Partnering with UNDP
Since 2013, Cocoa Life has been partnering with the United Nations Development Program (UNDP) in Ghana on a pioneering program to distribute and register economic trees. Economic shade trees – those planted for purposes other than producing cocoa – diversify the cocoa farms, provide alternate revenue streams, and also make forests more resilient to the risk of pests and disease. Farmers who have planted economic shade trees on their farms have been receiving help registering them with the Forestry Commission in order to guarantee their ownership of the trees.