Michigan Battle of the Buildings Announces Fifth Third Bank DeWitt Financial Center As 2022 Biggest Loser at 2023 Michigan Energy Summit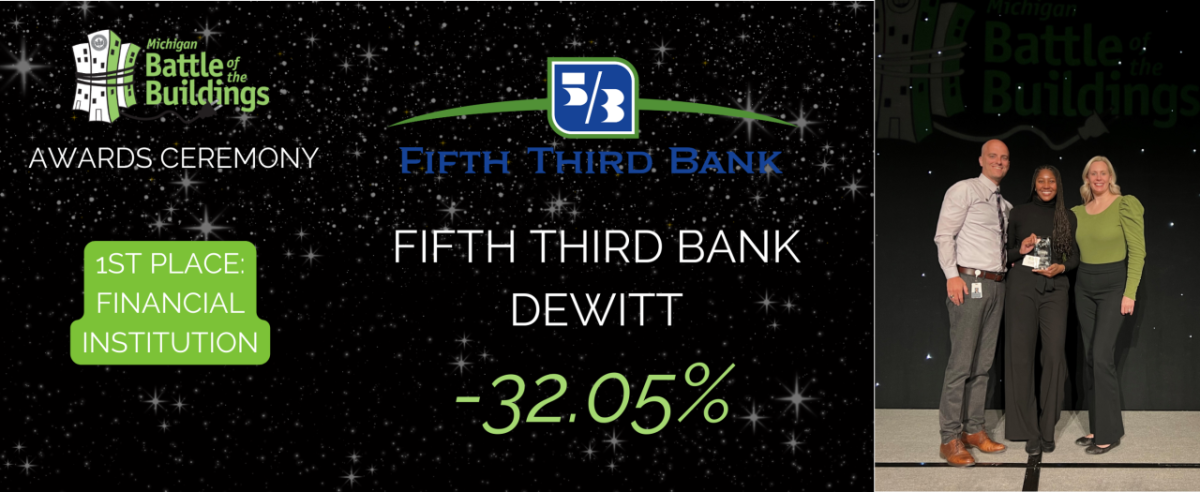 Michigan Battle of the Buildings announced that the Fifth Third Financial Center in DeWitt, Michigan, was a 2022 Biggest Loser in the Financial Institution Category with a 32.05% reduction.
Over 1,500 buildings representing almost 269 million square feet of Michigan commercial real estate competed against each other in 2022 in this biggest loser-styled energy competition. The competitors tracked energy consumption and worked to reduce their energy in various ways—ranging from the education of building occupants to employing highly efficient technology. There were 11 industry-specific categories and winners.
Fifth Third Bank DeWitt was awarded as a 2022 biggest loser at the ninth annual Michigan Energy Summit on April 18, 2023. The full day event was held at the JW Marriott in Grand Rapids, Michigan and included breakout sessions, panel discussions and exhibitors of some of the top leading energy professionals. To learn more about their energy reduction accomplishments and projects read their blog on our website at: https://michiganbattleofthebuildings.org/blog/
For more information about the 2023 Michigan Energy Summit, please visit https://michiganbattleofthebuildings.org/mes2023/
About Michigan Battle of the Buildings
Michigan Battle of the Buildings has been a program of the U.S. Green Building Council of West Michigan since 2014. It is the only statewide biggest-loser styled energy competition in the country. The 2022 Michigan Battle of the Building competitors saved $2.9 million in energy costs and avoided 12,050 metric tons of CO2e which is equivalent to the carbon sequestered by 14,370 acres of US forests in one year! For more information on the program, please visit https://michiganbattleofthebuildings.org/