Join the 2023 Global Inclusive Growth Summit Livestream
Presented by the Mastercard Center for Inclusive Growth and the Aspen Institute on April 13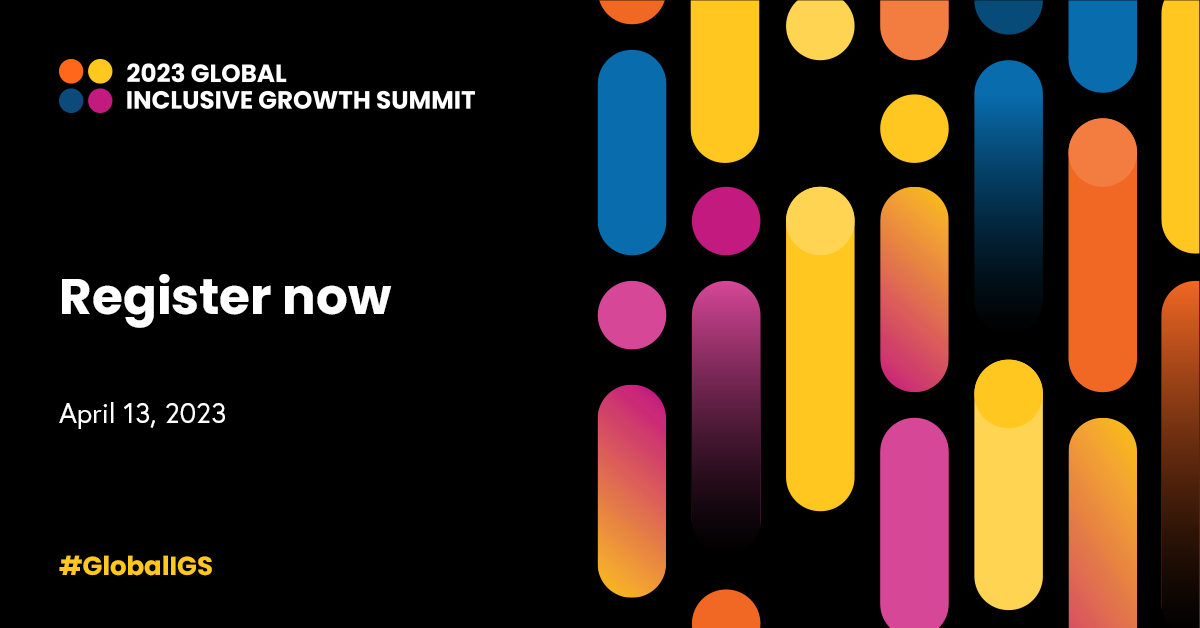 The Mastercard Center for Inclusive Growth
Join the Mastercard Center for Inclusive Growth, The Aspen Institute and a dynamic group of U.S. and global leaders on April 13 for the 2023 Global Inclusive Growth Summit. Alongside the World Bank Group-IMF Spring Meetings in Washington, D.C., the full-day Summit will assemble a dynamic group of U.S. and global leaders for action-oriented discussions on national and international issues.
In a turbulent economic, environmental, and human context, the Summit will enable private sector, social impact and government leaders to reflect on all we have learned on our journeys to build meaningful solutions and partnerships to realize a more inclusive and sustainable future.
Register now: https://bit.ly/3Yu8P6m

Mastercard Center for Inclusive Growth
The Mastercard Center for Inclusive Growth advances equitable and sustainable economic growth and financial inclusion around the world. The Center leverages the company's core assets and competencies, including data insights, expertise and technology, while administering the philanthropic Mastercard Impact Fund, to produce independent research, scale global programs and empower a community of thinkers, leaders and doers on the front lines of inclusive growth.
The Aspen Institute
The Aspen Institute is a community-serving organization with global reach whose vision is the creation of a free, just, and equitable society. For 70 years, the Institute has driven change through dialogue, leadership, and action to help solve the world's greatest challenges. With headquarters in Washington, D.C., the Institute has offices in Aspen, Colorado and New York City, as well as an international network of partners. Learn more at www.aspeninstitute.org.
Devex
Devex is the world's leading independent news organization covering global development. Devex journalists deliver insider reporting from front lines of the fight to achieve the SDGs—driving the most important debates, providing the most critical analysis, and backing it all up with the events, career information, and funding opportunities professionals require. To keep up to date with the must-read global development coverage, join their global community.
Originally published by The Mastercard Center for Inclusive Growth
Check out more content from The Mastercard Center for Inclusive Growth