International Paper Named 2023 Best Company for Women To Work
Women's Choice Award® Names International Paper a 2023 Best Companies to Work for Women, Diversity and Millenials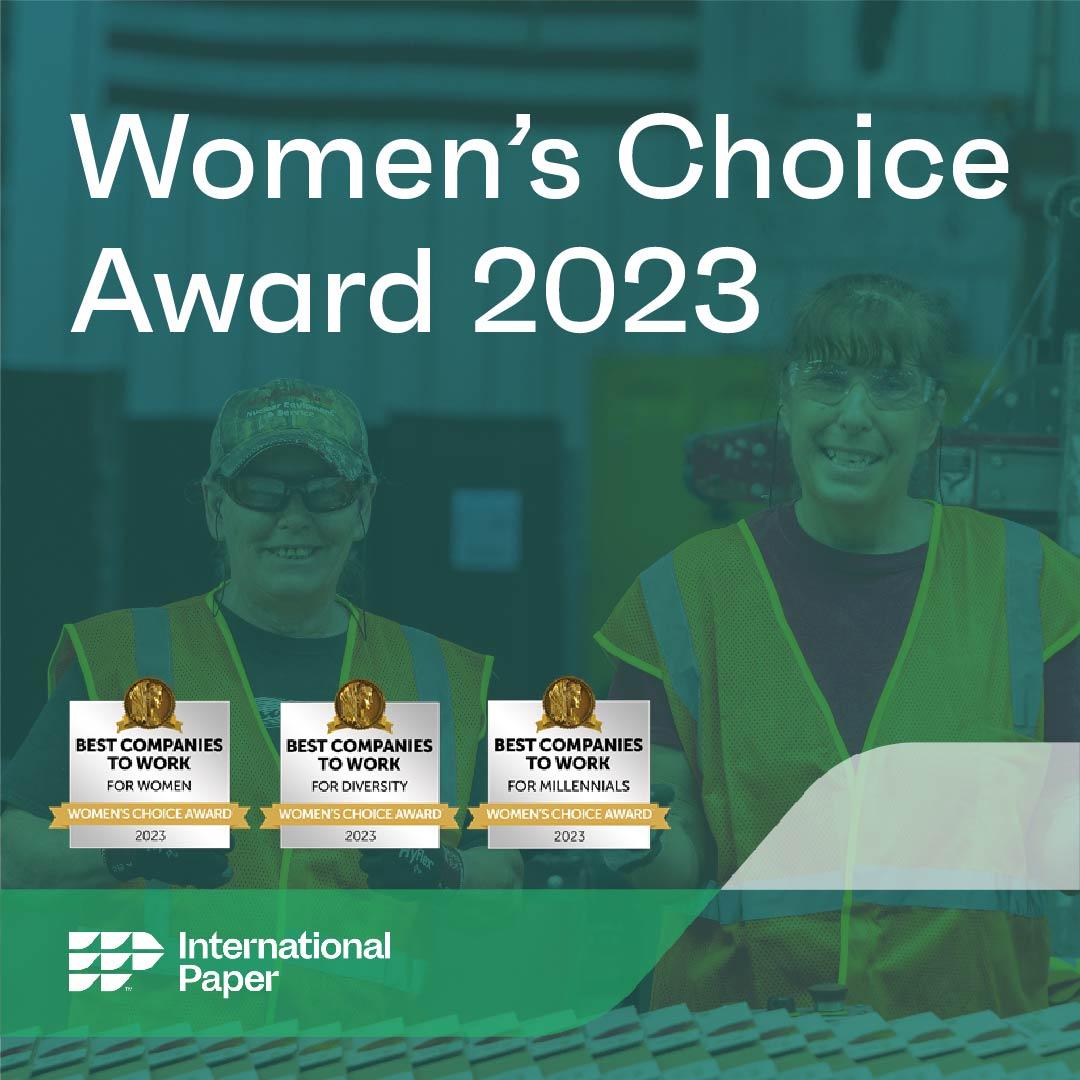 MEMPHIS, Tenn., March 23, 2023 /3BL Media/ - International Paper (IP) was recognized as a 2023 Best Companies to Work for Women, Diversity and Millennials.
"Working for International Paper is defined by our values: safety, ethics and stewardship, and we aspire to include and engage all our employees. Our team members around the world bring different backgrounds, experiences and perspectives to IP, and we consider these are our strengths. We're committed to an inclusive workplace where everyone can make their best possible contribution each day," said Fred Towler, Chief Diversity Officer.
This marks the 6th consecutive year the company has been recognized as a Best Company to Work in one or more of the three categories.
The Women's Choice Award for Best Companies to Work is the only award that reflects the needs and preferences of women based on publicly available data, which aligns with employee and consumer appreciation for corporate transparency. Data was compiled from a variety of publicly available sources, such as the company's sustainability report, and then weighed accordingly. Criteria to earn a place on the Women's Choice Award Best Companies to Work list include:
Female and diverse representation at the workforce, management and board levels
Work-life balance benefits
Partial Time off/ Vacation days
Maternity support, such as paid maternity time off, paid paternity time off, lactation/mother's rooms
Professional development and support opportunities, such as mentorship programs, professional networks, and professional development events
Wellness benefits
The full 'Best Companies to Work' methodology can be found here.
"Validation has never been more important than now and we take great pride in offering an objective and uniform reporting process so women can choose where to work with greater confidence. We recognize that gender discrepancies are very real in the workplace, and it's timely and important to engage and empower women to choose an organization that supports her values" said Delia Passi, CEO and Founder of the Women's Choice Award. "It's an honor to recognize International Paper as a Best Company to Work for their investment in improving diversity, representation, and inclusion in their workforce and their commitment to hire and retain top talent and thereby boosting their competitiveness."
For more information, you can visit https://womenschoiceaward.com/best-companies. Learn more about International Paper at www.internationalpaper.com/about-international-paper
ABOUT INTERNATIONAL PAPER 
International Paper (NYSE: IP) is a global producer of planet-friendly packaging, pulp and other fiber-based products, and one of North America's largest recyclers. Headquartered in Memphis, Tenn., we employ approximately 39,000 colleagues globally who are committed to creating what's next. We serve customers worldwide, with manufacturing operations in North America, Latin America, North Africa and Europe. Net sales for 2022 were $21.2 billion. Additional information can be found by visiting internationalpaper.com.
ABOUT THE WOMEN'S CHOICE AWARD® 
The Women's Choice Award identifies the brands, products and services that are most recommended and trusted by women. Additionally, they recognize the best companies to work for, based on a survey of women indicating what's most important when searching for a job. As the leading advocate for female consumers, WomenCertified Inc.,home of the Women's Choice Award, created the first national award based on the ratings and preferences of women. Consumers can visit the official website at www.WomensChoiceAward.com to learn more.
###
MEDIA CONTACTS:
Kathi Waldhof |Women's Choice Award®                                                           
Business Development                                                                                              
T: (954) 922-0846  x. 2                                                                                                    
KWaldhof@womenschoiceaward.com                                                             
Amy Simpson | International Paper
Media Relations 
T: 901.419.4964
amy.simpson@ipaper.com