Fifth Third Foundation Awards $750,000 Grant to LifeBUILDERS for Continued Revitalization of Detroit's Regent Park Neighborhood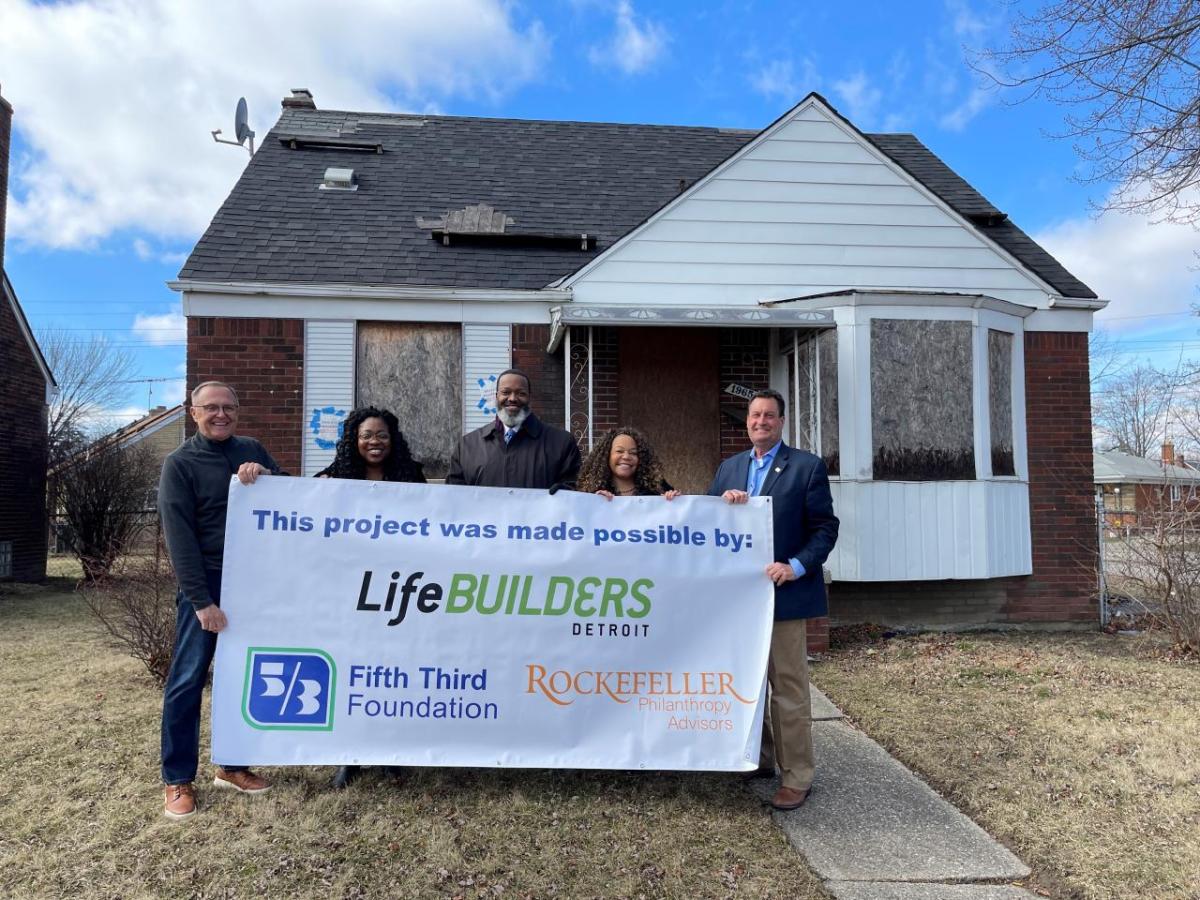 DETROIT, March 2, 2023 /3BL Media/ - The Fifth Third Foundation has awarded a $750,000 recoverable grant to LifeBUILDERS to support the organization's continued revitalization work in Detroit's Regent Park neighborhood. The grant will be used to renovate eight to ten homes over the next three to five years. Regent Park is located within the Gratiot-7 Mile (G7) neighborhood, which is part of the Detroit Strategic Neighborhood Fund program that Fifth Third has invested in since 2019.
The dollars are provided to LifeBUILDERS in the form of a Program Related Investment, or PRI, administered by Rockefeller Philanthropy Advisors. Unlike a traditional grant, PRI dollars will be paid back at below-market rate – in this case, zero percent. This $750,000 recoverable grant is the second largest awarded by the Fifth Third Foundation to date.
"It's a privilege to partner with LifeBUILDERS and support the organization's impactful work in the Regent Park neighborhood," said David Girodat, regional president, Fifth Third. "Since 2005, LifeBUILDERS has brought hope and restoration to a community that had suffered disinvestment for nearly 20 years. Today there are new parks, an early childhood education facility and 81 houses that have been rehabbed and either rented or sold because of the organization's commitment."
Rockefeller Philanthropy Advisors (RPA) oversees the impact investment component of Fifth Third's Empowering Black Futures Neighborhood Program, through a $15M Program Relates Investment Fund. As the fund's fiscal sponsor, RPA is responsible for investment strategy, sourcing, diligence, executing, and monitoring all impact investments into the awarded neighborhoods.
"We are thrilled to bring the impact investment tool to the program, funneling more flexible funding vehicles to support community leaders through the hyper-local efforts of the program. We are honored to partner with LifeBUILDERS to help bring more affordable single-family homes to Detroit's Regent Park neighborhood," said Patrick Briaud, RPA deputy director.
Regent Park is bordered by Kelly Road, Gratiot Avenue, 8 Mile and 7 Mile. LifeBUILDERS has already selected the first two homes and will start the renovation work in in early 2023; it's expected to take six to nine months to complete each home. The turnkey homes will then be sold at both a market/affordable rate, which has been a vital aspect to attracting new homeowners to the community.
"Having the Fifth Third Foundation's support is a tremendous acknowledgement of our efforts and commitment to Regent Park. This grant will allow us to continue our life-changing work in Regent Park and provide hope and encouragement to its residents and the city of Detroit," said Larry Johnson, LifeBUILDERS co-founder. "Also, the Fifth Third gift adds to the continuing support from the City of Detroit thereby accelerating the redevelopment and affordable home ownership opportunities."
With 81 properties renovated to date, LifeBUILDERS says it's on track to reach or exceed its goal of rehabilitating 100 total homes in 2023.
About Fifth Third Foundation 
The Fifth Third Foundation is part of The Foundation Office at Fifth Third Bank, National Association, that serves as trustee, co-trustee or agent for more than 300 private and corporate foundations that grant millions of dollars annually to worthy charities across the United States. The foundations support a variety of causes, from education to the arts and from basic-needs organizations like shelters and counseling centers to environmental projects and animal rescue. People can apply for grants by visiting cybergrants.com
Established in 1948, the Fifth Third Foundation was one of the first charitable foundations created by a financial institution. It supports worthy causes in the areas of health and human services, education, community development and the arts in the states where Fifth Third Bank operates.
About Rockefeller Philanthropy Advisors 
Rockefeller Philanthropy Advisors (RPA) is a global nonprofit organization that currently advises on and manages more than $500 million in annual giving by individuals, families, corporations, and foundations. Continuing the Rockefeller family's legacy of thoughtful, effective philanthropy, RPA remains at the forefront of philanthropic growth and innovation, with a diverse team of experienced grantmakers with significant depth of knowledge across the spectrum of issue areas. RPA staff seeks to accelerate philanthropy in pursuit of a just world. Founded in 2002, RPA has grown into one of the world's largest philanthropic service organizations and has facilitated more than $3 billion in grantmaking in more than 70 countries. RPA also serves as a fiscal sponsor for more than 90 projects, providing governance, management, and operational infrastructure to support their charitable purposes. For more information, please visit www.rockpa.org.
# # #
CONTACT: 
Gina Carrier 
gina.carrier@53.com | 313-230-9775