Fifth Third Bank Surprises Charlotte Babies and Their Families With Gift of College Savings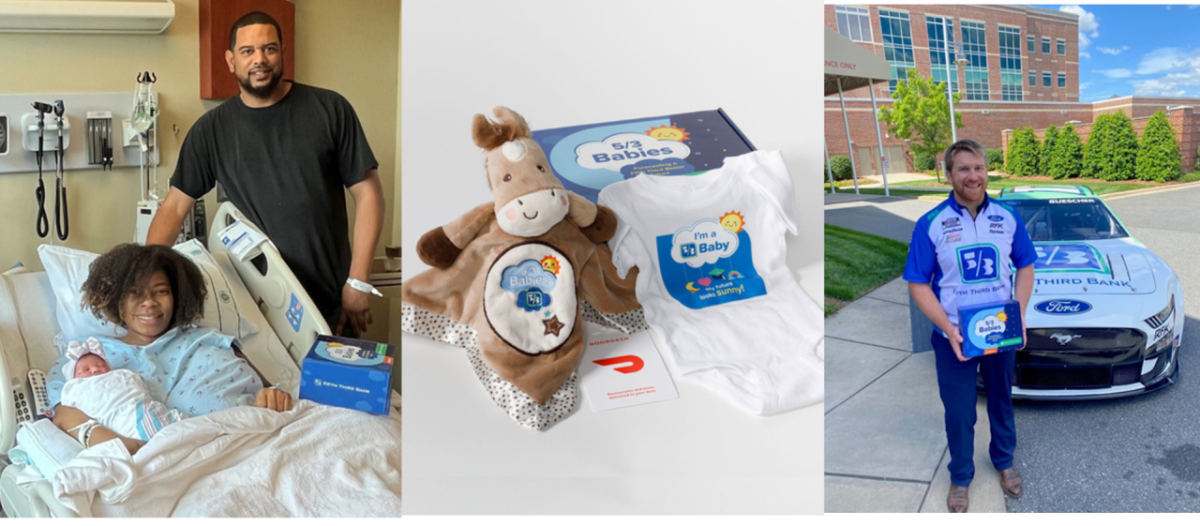 Mom Danielle "DJ" Johnson and dad James Neely with their Fifth Third Baby Prestyn, who was born at Atrium Health Cabarrus in Concord, North Carolina. Fifth Third surprised the family with a gift of college savings for his birthday on May 3. At right, Chris Buescher, driver of the No. 17 Fifth Third Bank Mustang in the NASCAR Cup Series, and father to five-month-old Charley, greeted new moms on Fifth Third Day.
Fifth Third Bank, National Association, surprised 50 newborns and their families for being born on a special day: 5/3. Babies born across nine hospitals in the Charlotte areas on "Fifth Third Day" received a $1,053 Gift of College® gift card to be used toward a 529 college savings account.
"One of the greatest gifts is knowledge and we hope these contributions toward a college savings account will make a difference in the lives of babies born on Fifth Third Day," said Lee Fite, regional president of the Carolinas for Fifth Third Bank. "We are proud to celebrate North Carolina Fifth Third Babies and hope this small gesture will kickstart a lifetime of learning and wonderment."
The new parents also received care packages with a DoorDash gift card, and gifts for the baby including a onesie, milestone blanket and diapers. The 50 Charlotte newborns also received a matchbox version of the NASCAR No. 17 Fifth Third Bank Ford Mustang.
Celebrating new parents, babies and college educations
Between Fifth Third Days in 2017 and 2022, the Bank has gifted 399 babies with $1,053 to go toward a 529 college savings account, in partnership with Gift of College. The Bank has hosted Fifth Third Day Babies in Cincinnati, Chicago, Columbus, Ohio, Grand Rapids, Mich., and Indianapolis. Charlotte and Louisville were this year and brought that total to 493.
Mother to Fifth Third Baby Prestyn, Danielle "DJ" Johnson said, "We were so shocked and thrilled. To get all of those gifts, we were just so elated." Baby Prestyn was born at Atrium Health Cabarrus in Concord, North Carolina.
529s: Investing in your child's future
Opening a 529 account early in a child's life can lead to endless educational and career possibilities. And once a 529 account is opened, friends, extended family, and even employers can contribute as well – creating a circle of support for parents in preparing for their child's future.
"Starting the investing process when a child is brand new provides plenty of time for additional contributions to be made and to compound and grow in value," said Patricia Roberts, chief operating officer of Gift of College and mother of a recent debt-free college graduate. "A gift like this is an investment in a child's future and one of the very best gifts new parents and their child can receive.
"As a mom who's been there, I know the value of starting the savings process early and the many doors educational savings can open down the line. I immediately began sleeping better at night once I knew we had a plan in place for our child's future. Looking back, opening a 529 account when our child was an infant was one of the best decisions we made. "
Children with college savings are more likely to pursue and complete higher education. No matter what path a child chooses to pursue, savings will help make them easier to achieve. And post-secondary education is linked to higher pay, upward mobility, improved health and other valuable benefits.
Sweepstakes for all
You don't have to be born on 5/3 to start saving for a sunny future! This year, Fifth Third is extending its Fifth Third Babies gift of $1,053 to open a 529 college savings plan to all our communities with the 5/3 Babies Sweepstakes1. Parents can enter to win $1,053 by following and commenting on Fifth Third Bank's TikTok, Facebook and Instagram sweepstakes posts between May 10 and 29. Five winners will receive a head start on their college savings fund.
About Fifth Third
Fifth Third is a bank that's as long on innovation as it is on history. Since 1858, we've been helping individuals, families, businesses and communities grow through smart financial services that improve lives. Our list of firsts is extensive, and it's one that continues to expand as we explore the intersection of tech-driven innovation, dedicated people and focused community impact. Fifth Third is one of the few U.S.-based banks to have been named among Ethisphere's World's Most Ethical Companies® for several years. With a commitment to taking care of our customers, employees, communities and shareholders, our goal is not only to be the nation's highest performing regional bank, but to be the bank people most value and trust.
Fifth Third Bank, National Association is a federally chartered institution. Fifth Third Bancorp is the indirect parent company of Fifth Third Bank and its common stock is traded on the NASDAQ® Global Select Market under the symbol "FITB." Investor information and press releases can be viewed at www.53.com. Deposit and credit products offered by Fifth Third Bank, National Association. Member FDIC.
1 No purchase necessary to enter or win sweepstakes. Odds of winning depends on number of eligible entries received. Sweepstakes begins May 10, 2023, at 12:00 AM EST and ends May 29, 2023, at 11:59 PM EST. Must be a U.S. resident at least 18 years old to enter. Sweepstakes is only open to residents of Michigan, Illinois, Indiana, Ohio, West Virginia, Kentucky, Tennessee, North Carolina, South Carolina, Georgia, and Florida.