Fifth Third Bank Announces Second Special Payment to its Front-line Employees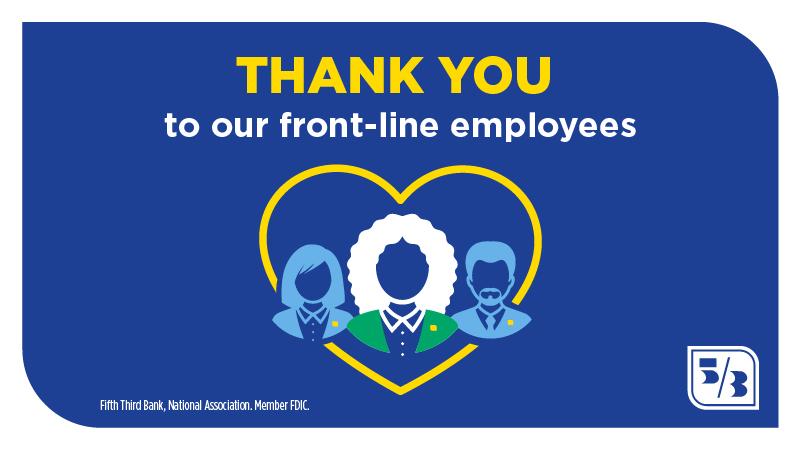 CINCINNATI, November 4, 2021 /3BL Media/ – Fifth Third Bank, National Association, announced a special payment of $1,250 for full-time employees who have provided essential banking services to customers through the ongoing pandemic. It is the second time the Bank has recognized the work of these employees through a special payment program.
"Our employees have gone above and beyond to ensure that we continue to meet the financial needs of our customers – whether it is by phone or in-person," said Tim Spence, president of Fifth Third Bancorp. "Our team has been working on site in our financial centers and office locations every day through the pandemic to serve customers. That has allowed us to keep 99% of our financial centers open. Our employees' efforts to keep customers at the center have been remarkable, and I'm pleased we are able to show our appreciation by providing this special payment."
Eligible front-line, full-time employees, including those in customer service and operations roles, who were in their role between May 10, 2020, and April 5, 2021, will receive their special payment at the end of November. Part-time employees in those roles during the same time period will receive $625. More than 7,500 employees will receive this special payment. Front-line employees also received special payments in April and May of 2020.
"As we have said time and again, we are appreciative and proud of our employees, and it is our ongoing commitment to support them in good times and in challenging times," said Nancy Pinckney, chief human resources officer at Fifth Third. "We especially want to thank those employees who have been front and center helping our customers during the pandemic."
The special payment program is one of many new, competitive benefits that Fifth Third has implemented during the pandemic, including updates to time-away policies, a reload of available sick time, additional vacation days, increased paid medical appointment time and rewards in the Bank's wellness program for receiving COVID-19 vaccinations.
The Bank also has continued to invest in digital options, ensuring that customers can bank when and how they want. Fifth Third has more than 1,000 banking centers as well as Bank Mart® locations, plus a full suite of digital banking tools and resources. Customers can self-serve and access their accounts through  mobile, online and voice banking services, as well as through the Bank's network of approximately 52,000 fee-free ATMs across the United States.
About Fifth Third
Fifth Third Bancorp is a diversified financial services company headquartered in Cincinnati, Ohio, and the indirect parent company of Fifth Third Bank, National Association, a federally chartered institution. As of Sept. 30, 2021, Fifth Third had $208 billion in assets and operated 1,100 full-service banking centers and 2,336 branded ATMs in Ohio, Kentucky, Indiana, Michigan, Illinois, Florida, Tennessee, West Virginia, Georgia, North Carolina and South Carolina. In total, Fifth Third provides its customers with access to approximately 52,000 fee-free ATMs across the United States. Fifth Third operates four main businesses: Commercial Banking, Branch Banking, Consumer Lending, and Wealth & Asset Management. Fifth Third is among the largest money managers in the Midwest and, as of Sept. 30, 2021, had $541 billion in assets under care, of which it managed $61 billion for individuals, corporations and not-for-profit organizations through its Trust and Registered Investment Advisory businesses. Investor information and press releases can be viewed at www.53.com. Fifth Third's common stock is traded on the Nasdaq® Global Select Market under the symbol "FITB." Fifth Third Bank was established in 1858. Deposit and Credit products are offered by Fifth Third Bank, National Association. Member FDIC.
CONTACTS
Beth Oates (Media Relations)
Beth.Oates@53.com | 313-230-9002
Chris Doll (Investor Relations)
Christopher.Doll@53.com | 513-534-2345