From the Fifth Third Bancorp 2020 ESG Report: Financial Inclusion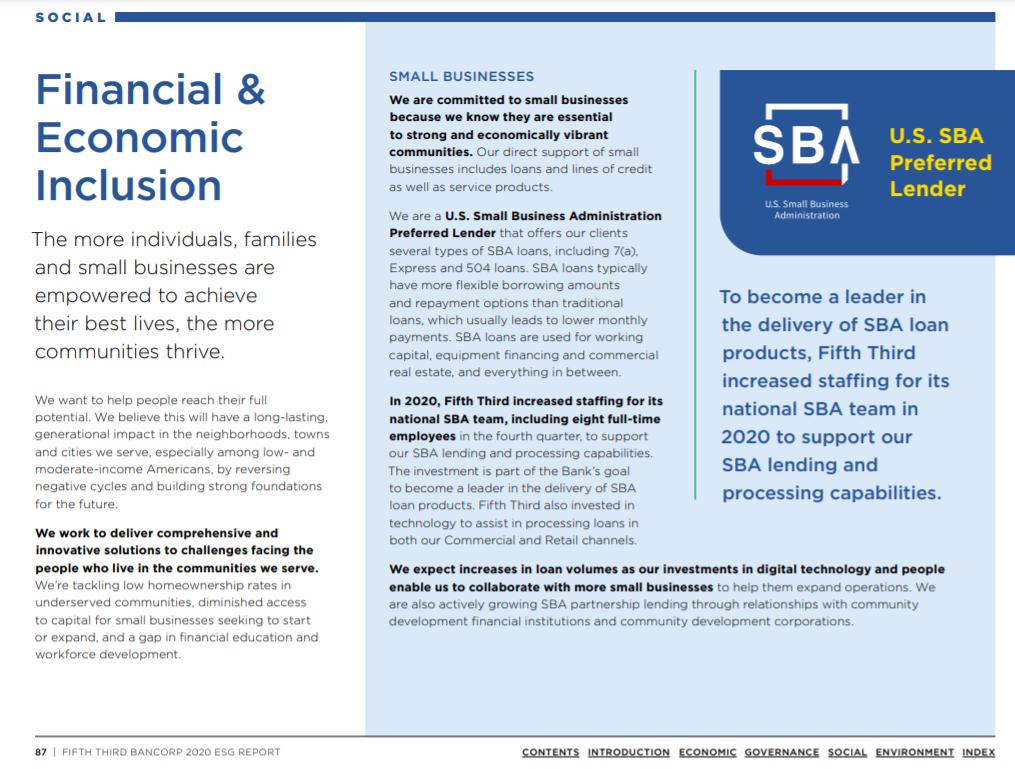 The more individuals, families and small businesses are empowered to achieve their best lives, the more communities thrive. Fifth Third Bank wants to help people reach their full potential. We believe this will have a long-lasting, generational impact in the neighborhoods, towns and cities we serve, especially among low- and moderate-income Americans, by reversing negative cycles and building strong foundations for the future.
We work to deliver comprehensive and innovative solutions to challenges facing the people who live in the communities we serve. We're tackling low homeownership rates in underserved communities, diminished access to capital for small businesses seeking to start or expand, and a gap in financial education and workforce development.
SMALL BUSINESSES
We are committed to small businesses because we know they are essential to strong and economically vibrant communities. Our direct support of small businesses includes loans and lines of credit as well as service products.
We are a U.S. Small Business Administration Preferred Lender that offers our clients several types of SBA loans, including 7(a), Express and 504 loans. SBA loans typically have more flexible borrowing amounts and repayment options than traditional loans, which usually leads to lower monthly payments. SBA loans are used for working capital, equipment financing and commercial real estate, and everything in between.
In 2020, Fifth Third increased staffing for its national SBA team, including eight full-time employees in the fourth quarter, to support our SBA lending and processing capabilities. The investment is part of the Bank's goal to become a leader in the delivery of SBA loan products. Fifth Third also invested in technology to assist in processing loans in both our Commercial and Retail channels.
We expect increases in loan volumes as our investments in digital technology and people enable us to collaborate with more small businesses to help them expand operations. We are also actively growing SBA partnership lending through relationships with community development financial institutions and community development corporations.
To become a leader in the delivery of SBA loan products, Fifth Third increased staffing for its national SBA team in 2020 to support our SBA lending and processing capabilities. U.S. SBA Preferred Lender
Small Business Pandemic Support
Addressing the needs of small businesses during the pandemic was critical for Fifth Third Bank in 2020. We had a No. 53 Small Business Administration ranking prior to the pandemic, and yet we became the No. 13 top Paycheck Protection Program lender in 2020. This was a testament to our commitment to helping our existing customers secure necessary funding and provide financial assistance during their most challenging time.
In 2020, we provided $5.4 billion in PPP loans to our clients, 85% of which were for loans less than $150,000. Ninety-five percent of the companies that received loans had fewer than 50 employees.
As part of our small business lending COVID-19 response, we reached out to clients for hardship support, guidance on hardship requests and loan modifications. We provided payment deferrals up to 90 days, waiving late fees and providing loan modification options for small businesses in need. We also waived select fees for 90 days on business banking deposit accounts and services.
Further, we worked with the SBA to ensure that qualified SBA borrowers of 7(a) and Express Loans were able to participate in the Loan Payment Relief Program. SBA committed to making monthly payments on their behalf for six months.
Coaching and Technical Assistance
In addition to lending, we also place a high value on helping customers navigate the small business ecosystem, which can be complex and difficult, especially for Black-, women- and other minorityowned businesses. We know that resources beyond Fifth Third's are available and see it as our duty to help them access those resources.
One of the more visible ways we do that is through our support of community development financial institutions. CDFIs are private financial institutions that are committed to providing responsible, affordable capital to those who might not be in a position to use traditional banking products or resources. CDFIs are often able to assist small businesses in taking the next step in their growth and development by providing business coaching and technical assistance.
We support CDFIs by providing capital to these organizations as well as working hand in hand with them in the communities that we serve. We have strong partnerships with representative CDFIs in the majority of the markets in which we operate, including Accion, a global nonprofit dedicated to helping small businesses.
In 2020, Accion received COVID-19 funding from the Fifth Third Foundation and the Fifth Third Chicagoland Foundation and the Bank partnered with the organization to reach 2,128 small business owners through a series of educational webinars in May and June. More about these partnerships can be found on pages 106 and 107 of this report.
We also developed Fifth Third Fast Capital, a new digital lending platform designed to help small businesses get quick access to needed capital. Phase 1 of the product was launched just prior to the COVID-19 pandemic and provided unsecured loans of $100,000 or less. The next generation of the product is expected to include robust mobile and digital capabilities. We are deeply committed to serving small businesses through our development and use of enhanced technology.
Capital Access Funds
Fifth Third significantly invests in capital access funds throughout its footprint. These funds, such as Entrepreneurs of Color funds in Detroit and Chicago, are designed as new sources of capital for businesses owned by entrepreneurs of color and businesses that hire primarily people of color. More about our work with these funds, including businesses helped, is on page 106.
For more information about Fifth Third Bank's efforts to improve financial inclusion in the communities it serves, access the Fifth Third Bancorp 2020 ESG Report.