From the Fifth Third Bancorp 2020 ESG Report: Community Needs Assessment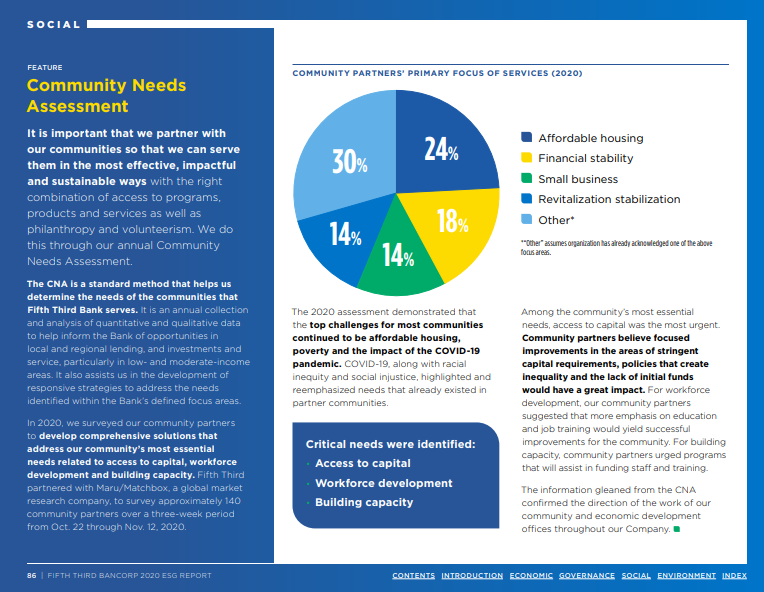 At Fifth Third, it is important that we partner with our communities so that we can serve them in the most effective, impactful and sustainable ways with the right combination of access to programs, products and services as well as philanthropy and volunteerism. We do this through our annual Community Needs Assessment.
The CNA is a standard method that helps us determine the needs of the communities that Fifth Third Bank serves. It is an annual collection and analysis of quantitative and qualitative data to help inform the Bank of opportunities in local and regional lending, and investments and service, particularly in low- and moderate-income areas.
It also assists us in the development of responsive strategies to address the needs identified within the Bank's defined focus areas. In 2020, we surveyed our community partners to develop comprehensive solutions that address our community's most essential needs related to access to capital, workforce development and building capacity.
Fifth Third partnered with Maru/Matchbox, a global market research company, to survey approximately 140 community partners over a three-week period from Oct. 22 through Nov. 12, 2020.
The 2020 assessment demonstrated that the top challenges for most communities continued to be affordable housing, poverty and the impact of the COVID-19 pandemic. COVID-19, along with racial inequity and social injustice, highlighted and reemphasized needs that already existed in partner communities. Critical needs were identified:
Access to capital
Workforce development
Building capacity
Among the community's most essential needs, access to capital was the most urgent. Community partners believe focused improvements in the areas of stringent capital requirements, policies that create inequality and the lack of initial funds would have a great impact. For workforce development, our community partners suggested that more emphasis on education and job training would yield successful improvements for the community. For building capacity, community partners urged programs that will assist in funding staff and training. The information gleaned from the CNA confirmed the direction of the work of our community and economic development offices throughout our Company.
For more information on the Community Needs Assessment and the way Fifth Third Bank serves its communities, read the full 2020 Environmental, Social and Governance Report.