From the Fifth Third Bancorp 2020 ESG Report: Adopting Detroit's G7 Neighborhood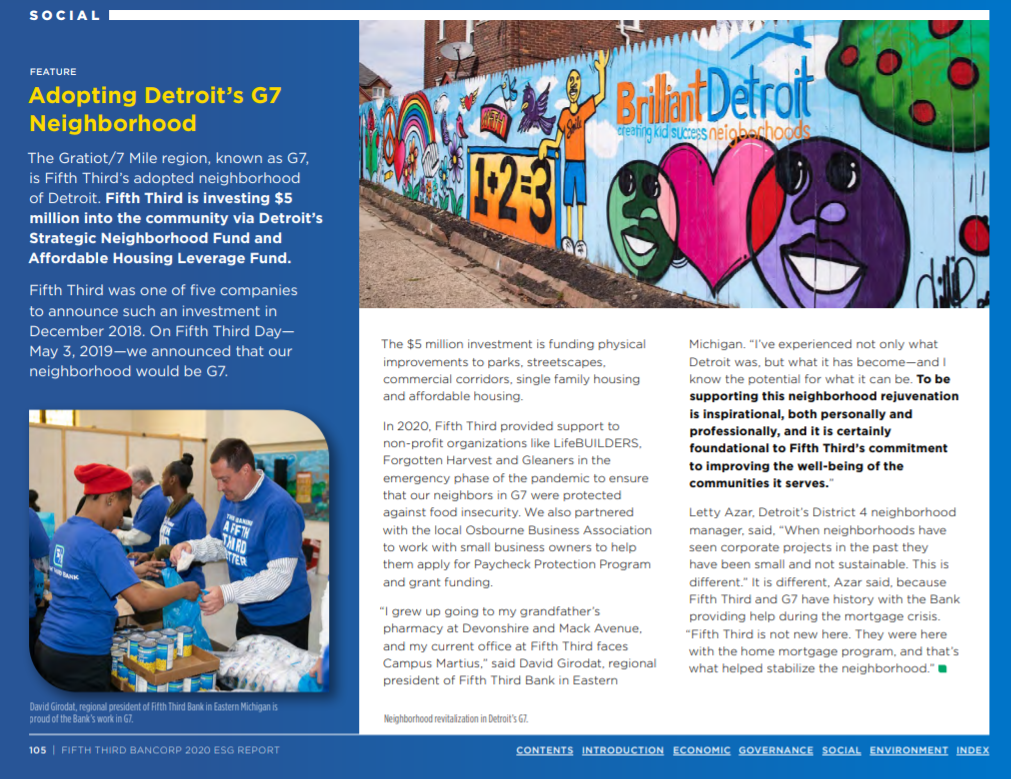 The Gratiot/7 Mile region, known as G7, is Fifth Third's adopted neighborhood of Detroit. Fifth Third is investing $5 million into the community via Detroit's Strategic Neighborhood Fund and Affordable Housing Leverage Fund.
Fifth Third was one of five companies to announce such an investment in December 2018. On Fifth Third Day— May 3, 2019—we announced that our neighborhood would be G7.
The $5 million investment is funding physical improvements to parks, streetscapes, commercial corridors, single family housing and affordable housing.
In 2020, Fifth Third provided support to non-profit organizations like LifeBUILDERS, Forgotten Harvest and Gleaners in the emergency phase of the pandemic to ensure that our neighbors in G7 were protected against food insecurity. We also partnered with the local Osbourne Business Association to work with small business owners to help them apply for Paycheck Protection Program and grant funding.
"I grew up going to my grandfather's pharmacy at Devonshire and Mack Avenue, and my current office at Fifth Third faces Campus Martius," said David Girodat, regional president of Fifth Third Bank in Eastern Michigan. "I've experienced not only what Detroit was, but what it has become—and I know the potential for what it can be. To be supporting this neighborhood rejuvenation is inspirational, both personally and professionally, and it is certainly foundational to Fifth Third's commitment to improving the well-being of the communities it serves."
Letty Azar, Detroit's District 4 neighborhood manager, said, "When neighborhoods have seen corporate projects in the past they have been small and not sustainable. This is different." It is different, Azar said, because Fifth Third and G7 have history with the Bank providing help during the mortgage crisis. "Fifth Third is not new here. They were here with the home mortgage program, and that's what helped stabilize the neighborhood."
Read the full 2020 Fifth Third Bancorp ESG Report online.