From the Fifth Third 2020 ESG Report: Corporate Citizenship and Philanthropy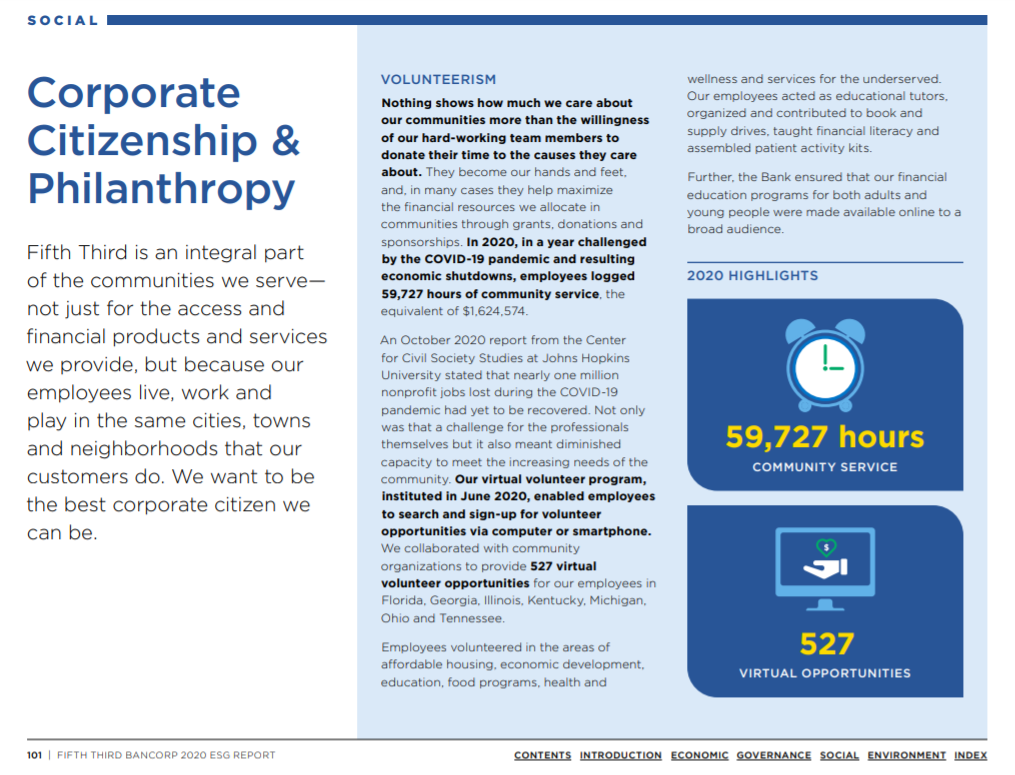 Fifth Third is an integral part of the communities we serve— not just for the access and financial products and services we provide, but because our employees live, work and play in the same cities, towns and neighborhoods that our customers do. We want to be the best corporate citizen we can be.
VOLUNTEERISM
Nothing shows how much we care about our communities more than the willingness of our hard-working team members to donate their time to the causes they care about. They become our hands and feet, and, in many cases they help maximize the financial resources we allocate in communities through grants, donations and sponsorships. In 2020, in a year challenged by the COVID-19 pandemic and resulting economic shutdowns, employees logged 59,727 hours of community service, the equivalent of $1,624,574.
An October 2020 report from the Center for Civil Society Studies at Johns Hopkins University stated that nearly one million nonprofit jobs lost during the COVID-19 pandemic had yet to be recovered. Not only was that a challenge for the professionals themselves but it also meant diminished capacity to meet the increasing needs of the community. Our virtual volunteer program, instituted in June 2020, enabled employees to search and sign-up for volunteer opportunities via computer or smartphone. We collaborated with community organizations to provide 527 virtual volunteer opportunities for our employees in Florida, Georgia, Illinois, Kentucky, Michigan, Ohio and Tennessee.
Employees volunteered in the areas of affordable housing, economic development, education, food programs, health and wellness and services for the underserved. Our employees acted as educational tutors, organized and contributed to book and supply drives, taught financial literacy and assembled patient activity kits. Further, the Bank ensured that our financial education programs for both adults and young people were made available online to a broad audience.
CITIZENSHIP
Citizenship requires more than simple residence in a place; it requires engagement, action and commitment. We exercise our citizenship in communities by being active members of them. We engage in regular Community Conversations within our footprint to ensure we have a pulse on what is happening in each community. Our employees serve on various boards—from major nonprofits to local school and church committees. As a company, it is our job to support our employees' commitments to these organizations by allowing flexible work schedules and accommodations when necessary so they can perform these essential duties. We do not view these commitments as separate from their roles, but as integral parts of our Bank's commitment to good citizenship. Our Human Capital policies, including our military leave guidelines, also support this effort.
UNITED WAY
In 2020, our employees and the Fifth Third Foundation combined to raise over $5 million for United Way agencies across our footprint. Our team members also engaged in virtual United Way activities such as walks to support health and wellness. The Bank also was recognized again in 2020 as one of the top 25 United Way campaigns in our headquarters city. We were No. 2 in 2020, up from No. 3 in 2019.
DISASTER RELIEF
When disaster strikes, Fifth Third is committed to responding strongly and swiftly. When the COVID-19 pandemic hit in March 2020, we funded $8.75 million in grants to support relief, recovery and resiliency efforts. We provided immediate impact grants to 147 organizations like food banks in many of our markets, and we launched major initiatives designed to provide support for adversely-affected small businesses and displaced workers.
Our Fifth Third Foundation also responded immediately when communities in our footprint were affected by severe weather and other events. In 2020, the Fifth Third Foundation made a $200,000 grant to the American Red Cross after tornadoes ripped through central and western Tennessee and a $10,000 grant to the United Way of Midland County to support relief efforts for those affected by the floods that devastated Midland, Michigan.
Fifth Third also works to ensure our employees have help when they are in need. The Fifth Third Cares Fund provides short-term, emergency support to employees or eligible dependents who are facing serious financial hardship as a result of certain unforeseen and unpreventable circumstances, including natural disasters, and who cannot afford housing, utilities and other basic living expenses. The Fund also allows Company employees the opportunity to participate in this effort by contributing to the Fund in support of colleagues who may experience such a hardship.
FEEDING THE HUNGRY
For more than 25 years, Fifth Third has set aside May 3 (five/three on the calendar or Fifth Third Day) as a time to acknowledge the contributions of our employees, thank our customers and give back to our communities. For the last several years, we've celebrated through month-long events and efforts to feed our communities.
In 2020, our event-based Fifth Third Day events were affected by the pandemic, but our commitment remained. We provided over 2.2 million meals through Bank donations to various food organizations across our 11-state footprint and beyond. We also highlighted an opportunity for employees to step up to help feed our community members through the Step Up for Hunger step challenge through Go365. If employees worked together to log 53 million steps between May 8-31, the Bank would donate an additional $53,000 to Feeding America, an amount that would provide 530,000 meals. Also, employees could donate their Go365 bucks to Feeding America, with every $1 donation providing 10 meals. Employee enthusiasm also dictated that we extend our efforts to fight hunger throughout the summer of 2020.
PHILANTHROPY
Our bank has a long history of philanthropic giving. The Fifth Third Foundation, established over 70 years ago, was the first U.S. corporate philanthropic foundation established by a financial institution. Today, Fifth Third's philanthropy is a combination of foundations and Fifth Third Bank corporate giving. In 2020, total philanthropy from Fifth Third was $29.8 million.
The Fifth Third Foundation supports communities served by Fifth Third Bank in the areas of health and human services, community development, arts and culture and education. The Fifth Third Chicagoland Foundation is the successor to the MB Charitable Foundation. Fifth Third Bancorp acquired MB Financial Inc. in May 2019. The Chicagoland Foundation serves the philanthropic needs of the Chicago area in housing and economic development, education, health and human services, and civic and community outreach. Combined, the efforts of the Foundation Office at Fifth Third Bank as well as corporate donations and local community sponsorships enable us to respond to many community needs, including food and feeding programs, health and wellness, revitalization and stabilization, and services to the underserved.
To learn more about the Bank's commitment to corporate citizenship and philanthropy, read the full 2020 ESG Report.