FedEx Earns No. 16 Spot on the Fortune World's Most Admired Companies List
FedEx Remains the Highest Ranked Delivery Company on the Overall List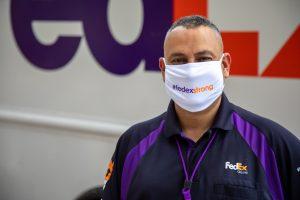 MEMPHIS, Tenn., March 21, 2022 /3BL Media/ - FedEx Corp. (NYSE: FDX) is once again ranked among the most admired companies in the world, according to a survey published in Fortune magazine.
The annual "World's Most Admired Companies" report released today lists FedEx as the No. 16 ranked company overall. The survey measures nine attributes related to the company's financial performance and corporate reputation.
"It is a privilege for FedEx to be recognized as one of Fortune's Most Admired Companies for the 22nd consecutive year," said Raj Subramaniam, President and Chief Operating Officer, FedEx Corporation. "This year's recognition is particularly significant as our team members continue to go above and beyond to deliver for our customers and keep the world moving forward."
This is the 22nd consecutive year that FedEx has ranked among the top 20 in the Fortune Most Admired Companies List. FedEx also retains its position as the highest ranked delivery company on the overall World's Most Admired Companies list.
The Fortune World's Most Admired Companies list is the definitive report card on corporate reputation. Since 1997, Fortune has identified, selected, and ranked the World's Most Admired Companies, identifying the business practices that make these companies highly regarded among their peers.
Survey Methodology
Fortune collaborated with Korn Ferry on this survey of corporate reputation. They began with a universe of about 1,500 organizations comprising the 1,000 largest U.S. companies ranked by revenue, along with non-U.S. companies from Fortune's Global 500 database that have revenues of $10 billion or more. The list was then winnowed to the highest-revenue companies within each industry, a total of 640 across 28 countries, and the top-rated companies were picked from that pool.
To determine the best-regarded companies spanning 52 industries, Korn Ferry asked executives, directors and analysts to rate enterprises within their own industry on nine criteria, from investment value and quality of management and products to social responsibility and ability to attract talent. A company must score in the top half of its industry peer group to be listed.