FedEx and St. Jude Children's Research Hospital Celebrating 11th Purple Eagle Honoree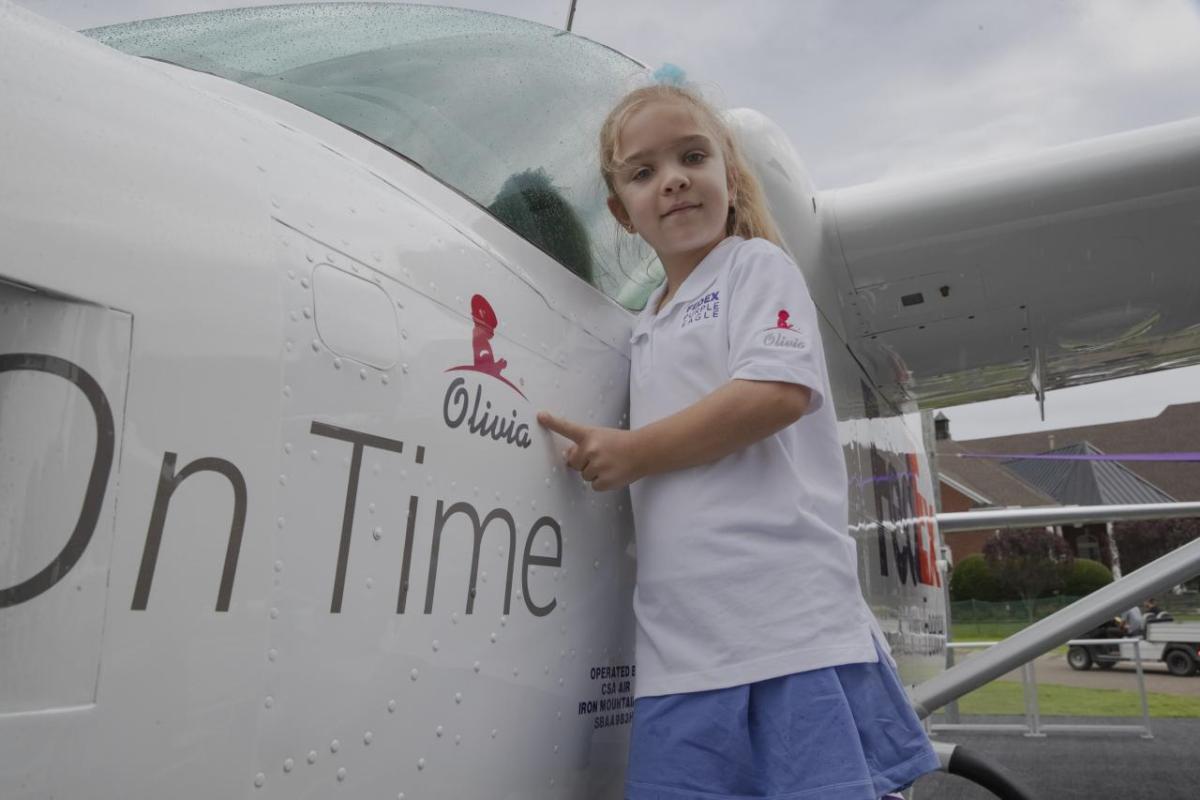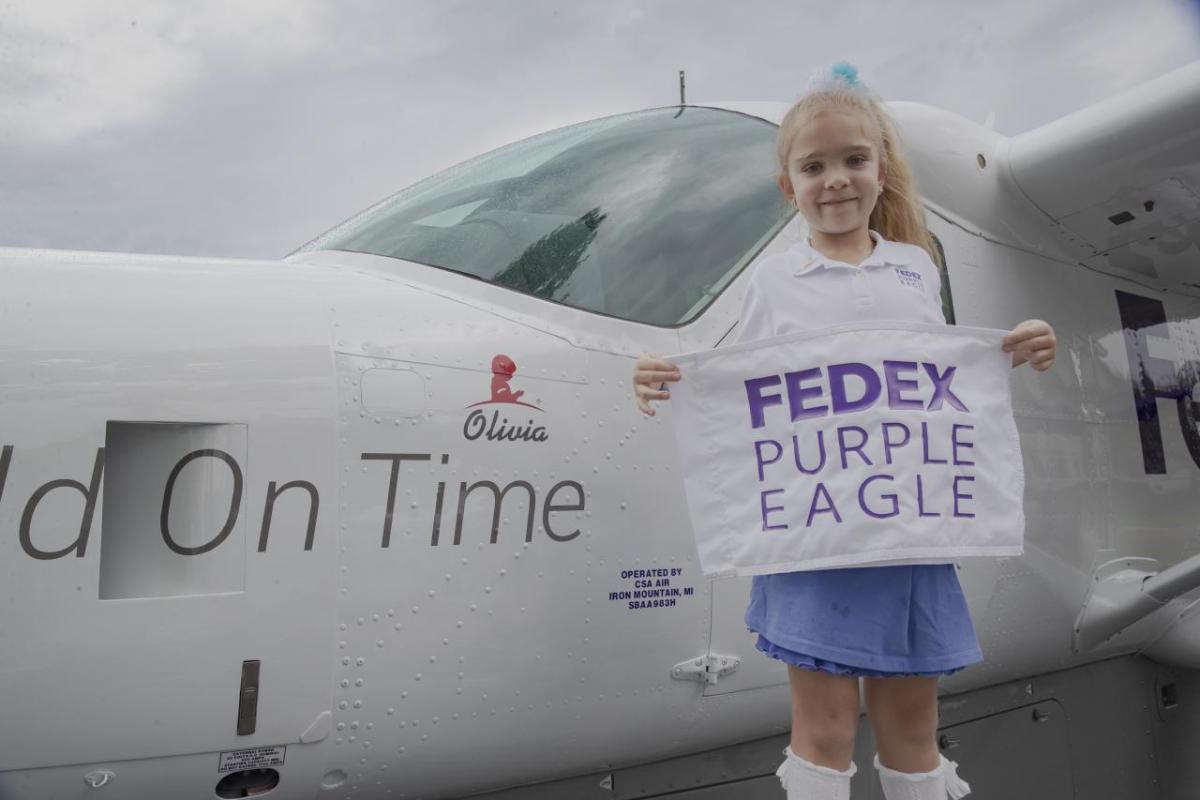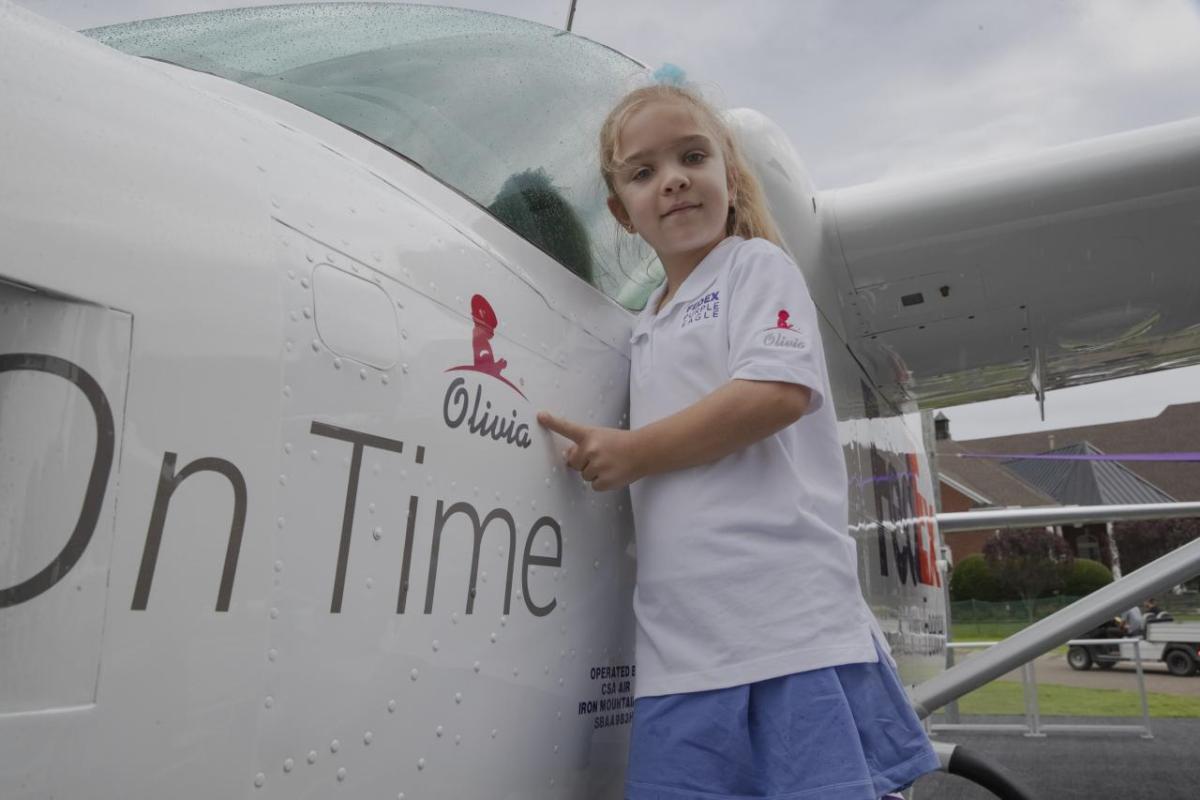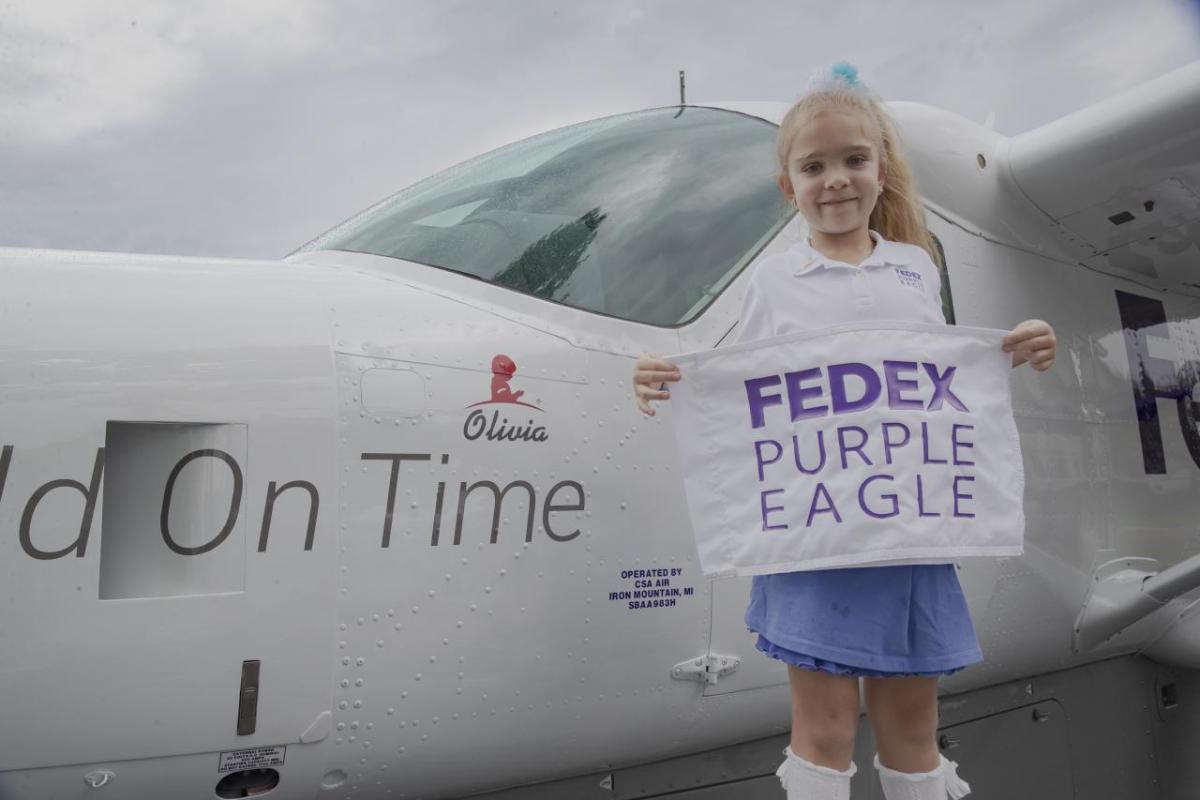 MEMPHIS, Tenn., September 13, 2023 /3BL/ - FedEx Corp. (NYSE: FDX), together with St. Jude Children's Research Hospital®, celebrated the 11th anniversary of the Purple Eagle program at TPC Southwind during the FedEx St. Jude Championship. The program annually names a Cessna Caravan aircraft for a St. Jude patient who is also the child or grandchild of a FedEx team member.
This year's honoree is seven-year-old St. Jude patient Olivia. Soon after her birth, her parents noticed several spots of brown pigmentation on her body. At her six-month checkup, the doctor let her parents know that these spots, called café au lait spots, were signs of a genetic condition called neurofibromatosis. Genetic testing later confirmed the diagnosis. In October of 2021, not long after her family moved to Memphis for her dad's new job at FedEx, she began having seizures. An MRI revealed a grape-sized tumor on her optic nerve, and she was referred to St. Jude Children's Hospital for ongoing care. She continues to see a St. Jude ophthalmologist every three months, while taking medication that has allowed her to remain seizure-free.
Olivia's father, Roman, was surprised when his boss unexpectedly called him in for an in-person meeting, Roman entered the meeting room, not knowing what to expect, and encountered a host of FedEx leadership. They were there to inform him that the 2023 Purple Eagle naming ceremony would be held in honor of Olivia. Roman had donated to St. Jude in the past, never imagining his family would one day be utilizing the hospital's services.
The Purple Eagle program at FedEx began in 2012, when Bill West Jr., vice president of supplemental aircraft operations, wanted to find a way to recognize the work being done at Memphis-based St. Jude and the idea to name a plane in the FedEx trunk fleet for the child or grandchild of a FedEx employee who is also a St. Jude patient was born. Except for the COVID-19 restricted summer of 2020, the program has honored a pediatric cancer patient every summer since.
"The only named feeder planes in our supplemental fleet are the ones that are part of the Purple Eagle program," said West. "These planes are special and help us spread the word about the amazing work being done by St. Jude."
Olivia's plane, like its ten predecessors, will sport her name under the St. Jude Children's Research Hospital logo for the duration of the Cessna Caravan's time in service as part of the FedEx Express supplemental aircraft fleet. There are over 280 feeder turboprop airplanes in the supplemental fleet.
"We are so grateful to FedEx and the Purple Eagle program for offering such a unique way to honor St. Jude patients – a truly memorable experience for the entire family," said Richard C. Shadyac Jr., President and CEO of ALSAC, the fundraising and awareness organization for St. Jude Children's Research Hospital. "The care and treatment developed at St. Jude is made possible because of generous partners like FedEx whose dedication to this mission helps make a difference for the more than 400,000 kids around the world who will get cancer each year."
11 Years of Purple Eagle Honorees
 
Honoree
 Diagnosis
Cessna Caravan Tail Number
2023 
Olivia
Neurofibromatosis
N884FE
2022 
Riley
Acute lymphoblastic leukemia
N986FX
2021
Kenzie
Acute lymphoblastic leukemia
N753FX
2020
No honoree due to COVID protocols
2019 
Reid
Rhabdomyosarcoma and Ectomesenchymoma
CFEXN
2018 
Mya
Sickle cell disease
N981FE
2017
Calvin
Craniopharyngioma
N846FE
2016 
Alyssa
Melanoma
N933FE
2015 
Tyler
Acute lymphoblastic leukemia
N752FX
2014 
Allie
Anaplastic Ependymoma
N987FX
2013 
Hayes
Rare kidney cancer
N981FE
2012 
McKaylee
 Anaplastic Astrocytoma
N773FE
About FedEx Corp.
FedEx Corp. (NYSE: FDX) provides customers and businesses worldwide with a broad portfolio of transportation, e-commerce and business services. With annual revenue of $90 billion, the company offers integrated business solutions through operating companies competing collectively, operating collaboratively and innovating digitally as one FedEx. Consistently ranked among the world's most admired and trusted employers, FedEx inspires its 530,000 employees to remain focused on safety, the highest ethical and professional standards and the needs of their customers and communities. FedEx is committed to connecting people and possibilities around the world responsibly and resourcefully, with a goal to achieve carbon-neutral operations by 2040. To learn more, please visit fedex.com/about.
St. Jude Children's Research Hospital®
St. Jude Children's Research Hospital is leading the way the world understands, treats and defeats childhood cancer and other life-threatening diseases. Its purpose is clear: Finding cures. Saving children.® It is the only National Cancer Institute-designated Comprehensive Cancer Center devoted solely to children. When St. Jude opened in 1962, childhood cancer was largely considered incurable. Since then, St. Jude has helped push the overall survival rate from 20% to more than 80%, and it won't stop until no child dies from cancer. St. Jude shares the breakthroughs it makes to help doctors and researchers at local hospitals and cancer centers around the world improve the quality of treatment and care for even more children. Because of generous donors, families never receive a bill from St. Jude for treatment, travel, housing or food, so they can focus on helping their child live. Visit St. Jude Inspire to discover powerful St. Jude stories of hope, strength, love and kindness. Support the St. Jude mission by donating at stjude.org, liking St. Jude on Facebook, following St. Jude on Twitter, Instagram, LinkedIn and TikTok, and subscribing to its YouTube channel.