Doing the Right Thing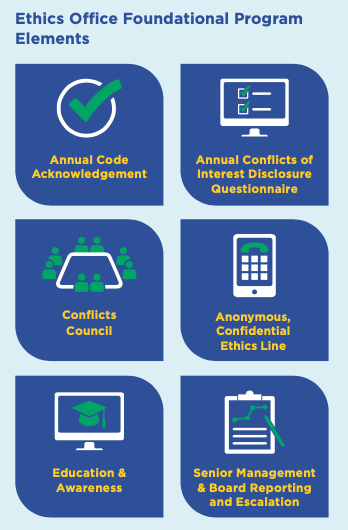 Originally published in the Bank's Environmental, Social and Governance Report
Doing the right thing is central to our ability to achieve our vision to be the One Bank people most value and trust.  Our Code of Business Conduct & Ethics is anchored in our Fifth Third Compass, including our Core Values: Work as One Bank, Take Accountability, Be Respectful and Inclusive, and Act with Integrity. It outlines our responsibility to serve with honesty and integrity, and in compliance with both the letter and the spirit of the law.
The Code of Business Conduct & Ethics is an important document that serves as a guide to help employees understand how to apply our Core Values to the decisions required of them. Every employee is required to review it, comply with it and refer to it regularly—and to sign an annual acknowledgement In 2019, 99% of employees made this acknowledgment. In addition, all employees complete ethics training on an annual basis. In 2019, 99% of employees completed all required ethics training modules.
The Code is the foundation of our ethics program at Fifth Third. This foundation helped Fifth Third to be recognized as one of the 2019 World's Most Ethical Companies. This honor came from the highly respected Ethisphere Institute, a global leader in defining and advancing the standards of ethical business practices It puts us in elite company, as only 128 organizations from around the globe —including only five banks—made the grade Ethisphere scores companies in five categories: ethics and compliance, culture of ethics, corporate citizenship and responsibility, governance and leadership and reputation. 
More about the Ethics program at Fifth Third Bank begins on page 34 of the ESG Report.