Columbus Zoo and Fifth Third Bank Unveil Name of First Hatchling of 2023
2-pronged effort provides a college savings "nest egg" plus a donation to the Columbus Zoo Conservation Fund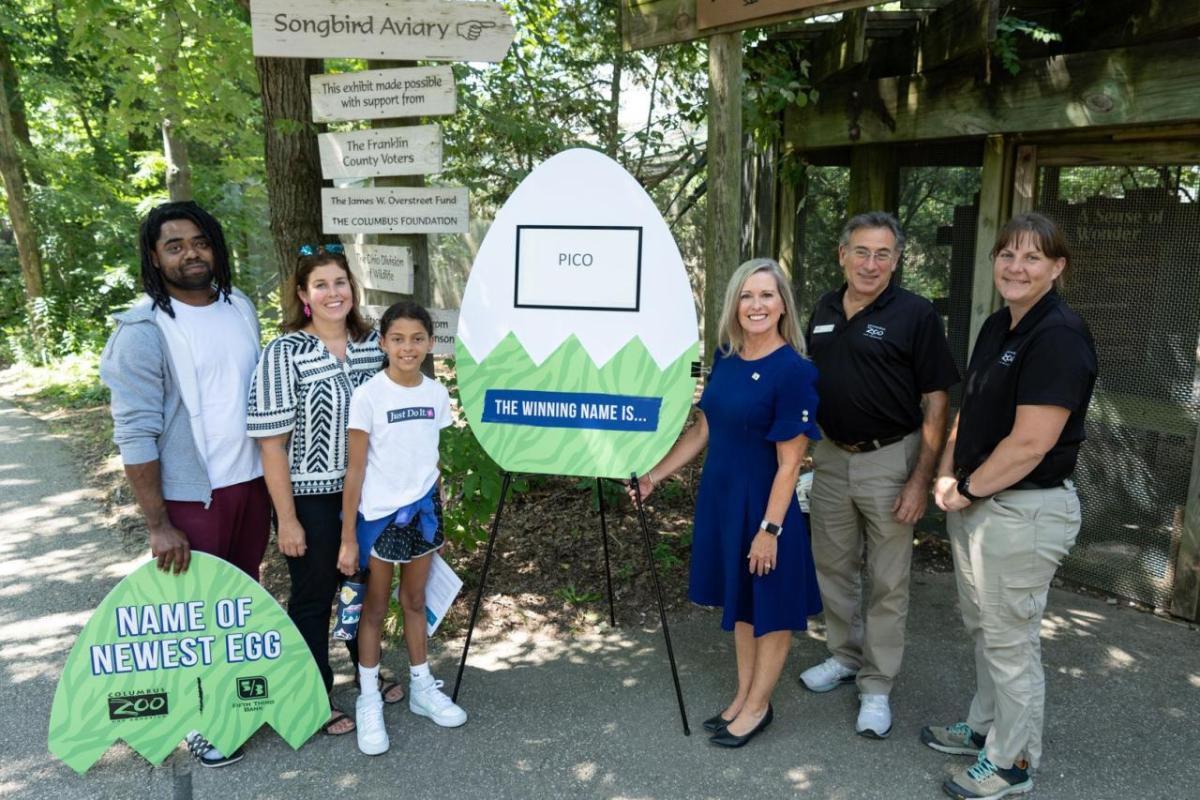 Fifth Third Bank and the Columbus Zoo and Aquarium partnered to give an opportunity for a community member to name the first hatching of 2023 and start their own nest egg. In the photo, to the left of the egg, is the winner Elizabeth Salazar with her husband and daughter. To the right, is Elizabeth Boyuk, Fifth Third's vice president of regional marketing, Dr. Michael Kreger, Columbus Zoo's vice president of conservation, and Nikki Smith, Columbus Zoo's curator of North America region.
POWELL, Ohio, September 1, 2023 /3BL/ - Fifth Third Bank teamed up with the Columbus Zoo and Aquarium to name their first hatchling of 2023 and to provide a chance for the winning name recipient to start their own nest egg. After receiving nearly 700 entries between July 10 and August 9, the winning name of the rose-breasted grosbeak that hatched on May 27 was announced today during an unveiling event. Welcome…Pico!
Elizabeth Salazar submitted the winning name, and her family will receive $530 toward a college savings plan, courtesy of Fifth Third Bank. Fifth Third also made a $530 donation to the Columbus Zoo Conservation Fund.
Fifth Third Bank wanted to build a "nest egg" to not only help with conservation efforts, but to also raise awareness of starting a "nest egg" for college savings. The winner receives a Gift of College gift card to encourage starting a 529 savings program for their family.
"Back to school time is a reminder that each school year brings children one year closer to college," said Fifth Third Bank Director of Marketing Elizabeth Boyuk. "By providing a "nest egg" opportunity to start saving for college, this family can now build off this contribution and continue to add to it and watch it grow."
The Columbus Zoo Conservation Fund supports saving wildlife throughout their range locally, nationally, and worldwide, and exists to fulfill the Zoo's mission of Empowering People. Saving Wildlife.
"We are proud to partner with Fifth Third Bank on this exciting nest egg campaign. Not only does it encourage nurturing families to help grow educational opportunities and knowledge, but it represents our collective commitment to raising awareness about how we can make a difference for the future of wildlife, including songbirds like Pico that we find in our own backyards!" said Dr. Michael Kreger, Vice President of Conservation at the Columbus Zoo and Aquarium.
Rose-breasted grosbeaks are medium-sized songbirds with a stocky build and large triangular-shaped beak. Males are black and white with a bright red marking on their chest while females are brown with a white stripe over their eyes. They are found throughout much of North America, particularly in the east, and are frequent visitors to backyard bird feeders. Rose-breasted grosbeaks can also be identified by their melodious songs and short, distinctive calls, which are sometimes compared to the sound of sneakers on a gymnasium floor.
To learn more about how to start a college education savings account, click here: 529 Education Savings and CD | Fifth Third Bank (53.com)
For additional updates about the Columbus Zoo, events, and more, be sure to follow the Zoo's social media accounts on Facebook, Instagram, Twitter, and TikTok, and visit the website at ColumbusZoo.org.
About the Columbus Zoo and Aquarium
Home to more than 10,000 animals representing over 600 species worldwide, the Columbus Zoo and Aquarium leads by making a positive impact on people, wildlife, and wild places. The Zoo complex is a recreational and education destination that includes the 22-acre Zoombezi Bay water park and 18-hole Safari Golf Club. The Columbus Zoo and Aquarium also manages The Wilds, a 10,000-acre conservation center and safari park located in southeastern Ohio. The Zoo is a wildlife conservation organization with regional, national and global impact, annually supporting conservation and research projects locally and worldwide to continue the mission of Empowering People. Saving Wildlife. A 501(c)(3) nonprofit organization, the Columbus Zoo has earned Charity Navigator's prestigious 4-star rating.
About Fifth Third
Fifth Third is a bank that's as long on innovation as it is on history. Since 1858, we've been helping individuals, families, businesses and communities grow through smart financial services that improve lives. Our list of firsts is extensive, and it's one that continues to expand as we explore the intersection of tech-driven innovation, dedicated people and focused community impact. Fifth Third is one of the few U.S.-based banks to have been named among Ethisphere's World's Most Ethical Companies® for several years. With a commitment to taking care of our customers, employees, communities and shareholders, our goal is not only to be the nation's highest performing regional bank, but to be the bank people most value and trust.
Fifth Third Bank, National Association is a federally chartered institution. Fifth Third Bancorp is the indirect parent company of Fifth Third Bank and its common stock is traded on the NASDAQ® Global Select Market under the symbol "FITB." Investor information and press releases can be viewed at www.53.com. Deposit and credit products provided by Fifth Third Bank, National Association. Member FDIC.