Cainiao Teams Up With Proctor & Gamble To Develop Green Supply Chain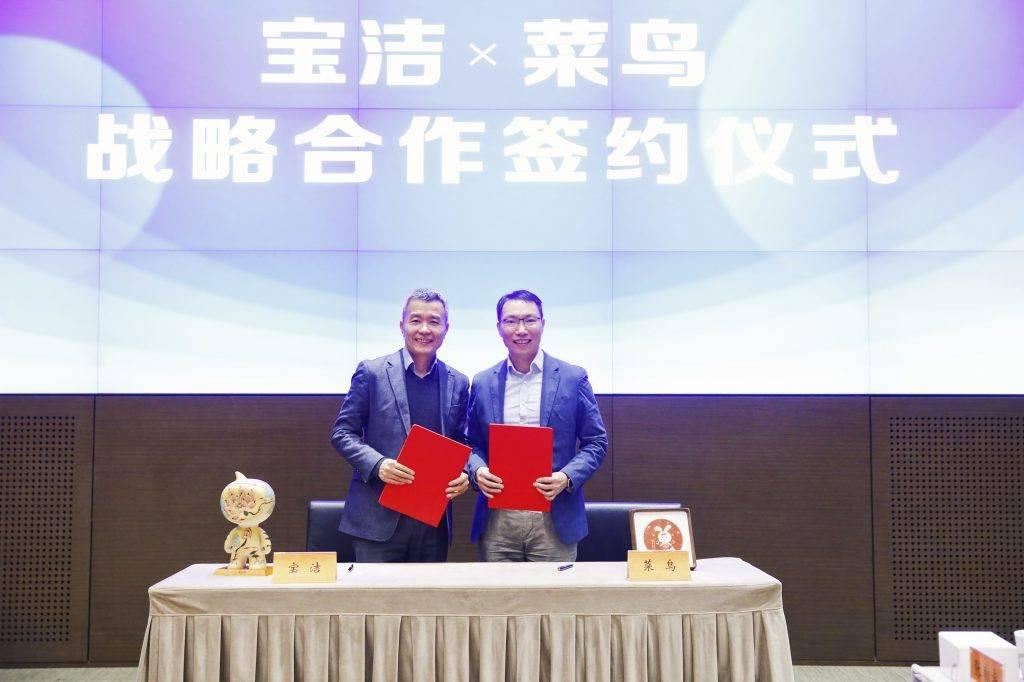 P&G's Randy Young (left) and Cainiao's Wan Lin at signing ceremony. Photo credit: Alibaba Group
Supply chains account for up to 90% of some organizations' greenhouse gas emissions: report
An algorithm will help the companies cut emissions and costs
By Elizabeth Utley and Alison Tudor Ackroyd
Cainiao Group, the logistics arm of Alibaba Group, signed a cooperation agreement with consumer goods company Procter & Gamble (P&G) this week to create an AI-powered supply chain.
The partners aim to reduce transportation costs and carbon emissions. They are deploying a fulfillment algorithm that can predict demand for goods and then consolidates cargo headed for the same address.
Cainiao is leveraging its technology to provide supply chain solutions and will help P&G upgrade its own fulfillment services, Shuai Yong, Vice President of Cainiao Group, noted in a statement.
Cainiao issued its inaugural social responsibility report last year to engage consumers and business partners in sustainable practices for the benefit of people and the planet alike.
The delivery service has developed an end-to-end green logistics system from purchase to delivery, including paperless shipping labels, smart route planning, recycling, and solar-powered warehouses.
These measures are part of a promise made by Alibaba to reach carbon neutrality and halve carbon intensity in its supply chain by 2030.
More companies are examining the environmental impact of their supply chains. Up to 90% of an organization's greenhouse gas emissions, and 50% to 70% of operating costs, are attributable to supply chains, according to a report by research group CDP.
Retailers including Unilever and Nestle have joined forces with Alibaba to transform operations along their supply chains.
New Warehouse
Cainiao and P&G, owners of household brands like Pampers diapers and Gillette razors, are working together in other ways in interest of sustainability.
Earlier this week, the two companies also announced their first jointly built front warehouse. Located in Zhejiang, the site functions as a halfway point between P&G factories upstream and consumers and retailers downstream.
Using the recently unveiled fulfillment algorithm, the company will be able to pinpoint demand and quickly meet it with Cainiao's network of cargo vehicles.
The two companies are developing a solid and lasting foundation for cooperation, said Yin Chao, Vice President of P&G Greater China Supply Chain Operations, in a statement.
During recent major shopping festivals like 11.11, they have also collaborated on using parcels and wrapping methods to cut waste.
Learn more about green logistics in China
Please refer to https://www.alizila.com/esg/ for additional information about Alibaba's sustainability efforts.
View original content here.