AEO and Fifth Third Bank Establish Initiative To Invest in Black Neighborhoods Through Capital Readiness Program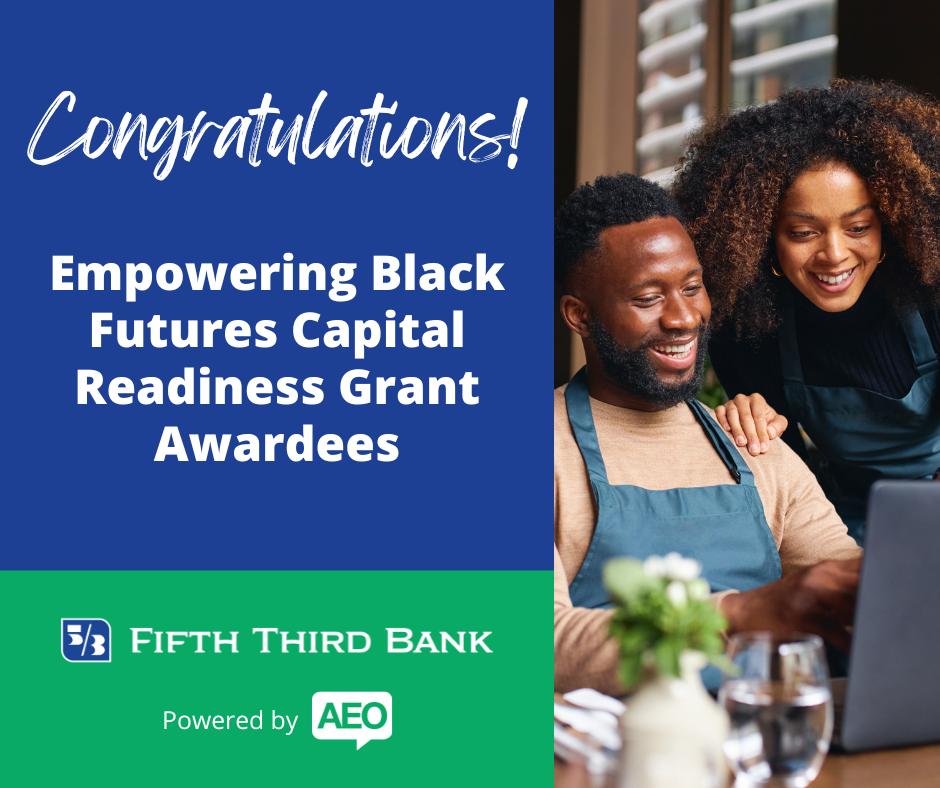 CINCINNATI, February 8, 2023 /3BL Media/ - In partnership with Fifth Third Bank, the Association for Enterprise Opportunity (AEO) is promoting economic mobility in 10 predominantly Black neighborhoods through the Empowering Black Futures Capital Readiness Program. The initiative is part of Fifth Third's larger Empowering Black Futures Neighborhood Program, a $180 million commitment to deliver comprehensive support in lending, investments and philanthropy in neighborhoods across the Bank's retail banking footprint.
Focusing on neighborhoods that have historically experienced disinvestment, AEO selected two entrepreneurs from each neighborhood. The 20 participating entrepreneurs will work closely with AEO over the next several months to stabilize and grow their businesses. Each entrepreneur will complete Business Health Assessments, access personalized learning plans through AEO's online learning platform, RESILI™, and receive trusted guidance with AEO's network of small business coaches in an effort to strengthen key areas of the business that will better prepare them for additional growth capital. Additionally, the selected entrepreneurs will receive $5,300 in small business grant funding from Fifth Third's Empowering Black Futures Initiative.
Empowering Black Futures Credit Readiness Program Grant Recipients:
Prince Uduka
Conrad Shopping LLC
Grove Park – Atlanta, GA
Leah Hernandez
Young Authors Publishing
Grove Park – Atlanta, GA
Deona Frierson
The Excellent Marriage
Historic West End – Charlotte, NC
Jorieka Downey
Grits CLT LLC
Historic West End – Charlotte, NC
Shika Myrickes
Shika & Company Extensions
South Chicago – Chicago, IL
Doreetha Wheatley
South Chicago Hub
South Chicago – Chicago, IL
Arielle Nelson
Saturday Morning Vibes Cereal Bar
Avondale – Cincinnati, OH
Arthur Norman Jr.
Dipped Custom Prints
Near East Side – Columbus, OH
Antoinette Parks
Chef Butcher's Creole Kitchen LLC
Near East Side – Columbus, OH
Raeshawn Bumphers
Pink Poodle Dress Lounge
Gratiot -7 Mile – Detroit, MI
Jameela Simpson
Crumbs Cookie Station
Gratiot -7 Mile – Detroit, MI
Brandon Wright
Wright Way Wrestling
Arlington Woods – Indianapolis, IN
Holly Robinson
Elite Cleaning Professionals LLC
Arlington Woods – Indianapolis, IN
Tiffany Johnson
Kipani's Kloset
Russell – Louisville, KY
Jamila Maddox
Cincinnati Healing Arts LLC
Avondale – Cincinnati, OH
Martina Thompson
Where Futures Begin
Buckeye – Cleveland, OH
Jennifer Sherman 
BeIDT Health
Buckeye – Cleveland, OH
Benea Durrett
Unique Essentials
Russell – Louisville, KY
Kimberly Blackmon
Glowmour Beauty Medispa
East Tampa – Tampa, FL
Natasha Goodley
White & Black Consulting LLC
East Tampa – Tampa, FL
"Business ownership is a key driver of wealth in communities and through generations. I could not think of a better way to advance the broader mission of racial equity than to support wealth creation in communities that have historically experienced wealth extraction," says Connie Evans, President and CEO of AEO. "By positioning Black-owned businesses to obtain capital and grow, we are empowering not just individual entrepreneurs, but entire communities to seize control of their own economic futures."
"We are proud to provide capital readiness grants and technical assistance to these minority-owned small businesses to help them grow and thrive," said Kala Gibson, executive vice president and chief corporate responsibility officer for Fifth Third Bank. "We know that small businesses are the heart of communities, and these impact grants will provide tangible support to help strengthen key areas of their businesses and better prepare them for additional capital."
The program is part of Fifth Third's  $2.8 billion Accelerating Racial Equity, Equality and Inclusion Initiative providing $2.2 billion in lending, $500 million in investments, $60 million in financial accessibility and $40 million in philanthropy which encompasses the Empowering Black Futures Neighborhood Program. The initiative is focused on four strategic pillars to create more equitable outcomes for its customers and communities through strategic investments, access to capital, financial inclusion and education, and social justice and advocacy.
The Empowering Black Futures Capital Readiness Program runs from January through August 2023.
ABOUT AEO
The Association for Enterprise Opportunity is the leading voice of innovation for microfinance and microbusiness. Our mission is to create economic opportunity for underserved entrepreneurs throughout the United States. We engineer transformational change through research, convening, incubation, and advocacy to foster a robust and inclusive marketplace. For more information, please visit www.aeoworks.org
ABOUT FIFTH THIRD BANK
Fifth Third is a bank that's as long on innovation as it is on history. Since 1858, we've been helping individuals, families, businesses and communities grow through smart financial services that improve lives. Our list of firsts is extensive, and it's one that continues to expand as we explore the intersection of tech-driven innovation, dedicated people and focused community impact. Fifth Third is one of the few U.S.-based banks to have been named among Ethisphere's World's Most Ethical Companies® for several years. With a commitment to taking care of our customers, employees, communities and shareholders, our goal is not only to be the nation's highest performing regional bank, but to be the bank people most value and trust.
Fifth Third Bank, National Association is a federally chartered institution. Fifth Third Bancorp is the indirect parent company of Fifth Third Bank and its common stock is traded on the NASDAQ® Global Select Market under the symbol "FITB." Investor information and press releases can be viewed at  www.53.com.
Media Contact
Tiffaney Hardy