From the 2020 Fifth Third ESG Report: Employee Development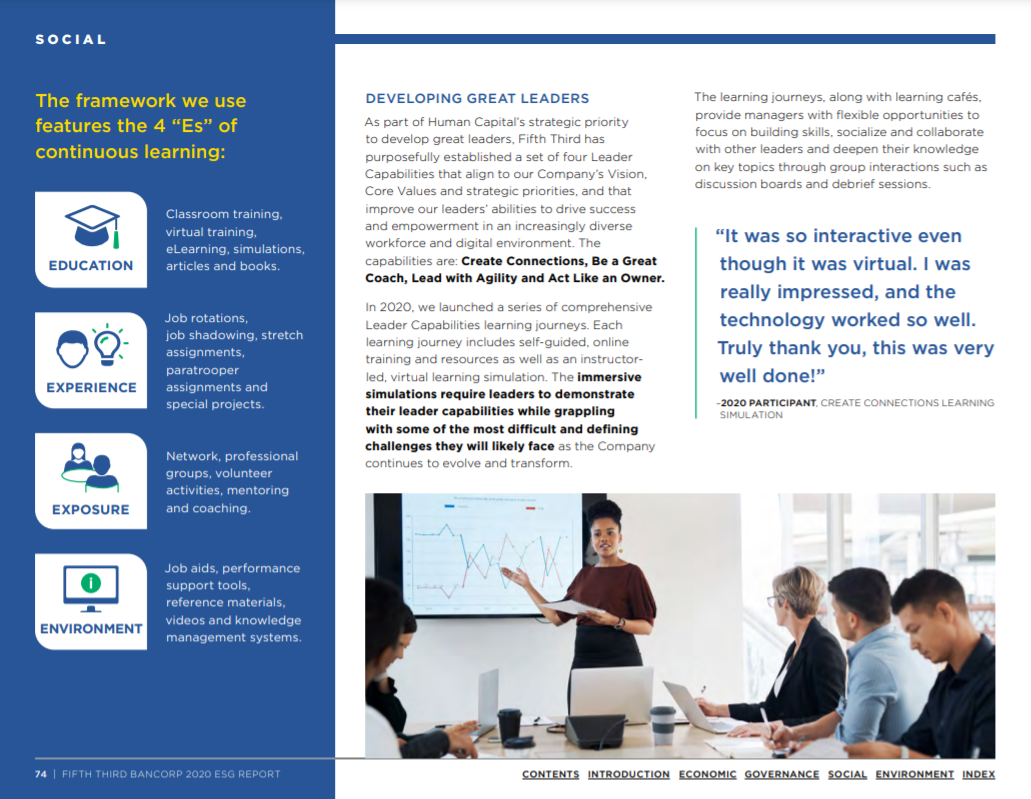 Learning and development programs at Fifth Third are built upon a growth mindset, the belief that everyone's skills and capabilities can be enhanced through dedication and work inspired by a thirst for learning.
We believe that learning and development must be accessible to meet a range of needs for employees and address a work environment in which skills need to evolve rapidly. Thus, we offer a rich mix of education, experiences, exposure, and tools necessary to expand knowledge and skills.
Each year, Fifth Third requires all employees and contingent/contract workers to complete a series of courses related to risk and compliance. Together, these courses support strong risk management behaviors and teach employees how to be accountable for managing risk. Compliance officers and executives of each line of business approve all training specific to an employee's role. A set of courses launch each quarter and employees are allotted time to complete the comprehensive courses during working hours. New employees, whether new to Fifth Third or to a particular position through transfer or promotion are assigned courses differently from existing employees. Our Doing the Right Thing course consists of eight modules linked to our Core Values, Code of Business Conduct and Ethics and the ways we manage risk while interacting with and serving customers.
In 2020, voluntary, on-demand learning opportunities increased and gave employees the opportunity to take advantage of three different resources. LinkedIn Learning offers courses across business, technology and creative categories; Harvard ManageMentor is a learning and performance support resource for critical management skills; and Pluralsight, a technology skills-based platform, focuses on today's most in-demand technologies and tools. These resources are connected through a user-friendly learning experience platform called Degreed. Degreed provides a single, fluid skill development experience, powered by artificial intelligence and aimed at building skills for both today and the future.
DEVELOPING GREAT LEADERS
As part of Human Capital's strategic priority to develop great leaders, Fifth Third has purposefully established a set of four Leader Capabilities that align to our Company's Vision, Core Values and strategic priorities, and that improve our leaders' abilities to drive success and empowerment in an increasingly diverse workforce and digital environment. The capabilities are: Create Connections, Be a Great Coach, Lead with Agility and Act Like an Owner.
In 2020, we launched a series of comprehensive Leader Capabilities learning journeys. Each learning journey includes self-guided, online training and resources as well as an instructor-led, virtual learning simulation. The immersive simulations require leaders to demonstrate their leader capabilities while grappling with some of the most difficult and defining challenges they will likely face as the Company continues to evolve and transform. The learning journeys, along with learning cafés, provide managers with flexible opportunities to focus on building skills, socialize and collaborate with other leaders and deepen their knowledge on key topics through group interactions such as discussion boards and debrief sessions.
WOMEN IN LEADERSHIP
Our Women in Leadership program is an avenue for addressing gender imbalance in leadership positions. It is an integrated development experience for high-performing senior female leaders who have significant impact on the Bank's success. The program is focused on accelerating readiness to lead at the next level and, ultimately, the C-suite. Since its inception in 2015, 40 women leaders have participated in the program, including 10 who graduated in March 2020. Of those, 50% of program graduates have received a promotion or expanded their responsibilities, skills and experience through new roles.
Participants are challenged to look inward, outward and forward to apply their leadership capabilities through skill-building, coaching and exposure to enhance business outcomes. Through this experience, these female leaders gain insight to lead authentically through understanding and promotion of their distinctive strengths and talents. Women in Leadership alumnae stay connected with each other, build community within the Bank and continue to work on their development plans.
Being intentional and transparent in our investment in women benefits not only the women in the program, but the Company as a whole, others who aspire to the program and the sponsors who invest in program participants.
The following excerpt was taken from the Fifth Third Bancorp 2020 Environmental, Social and Governance Report beginning on page 73.